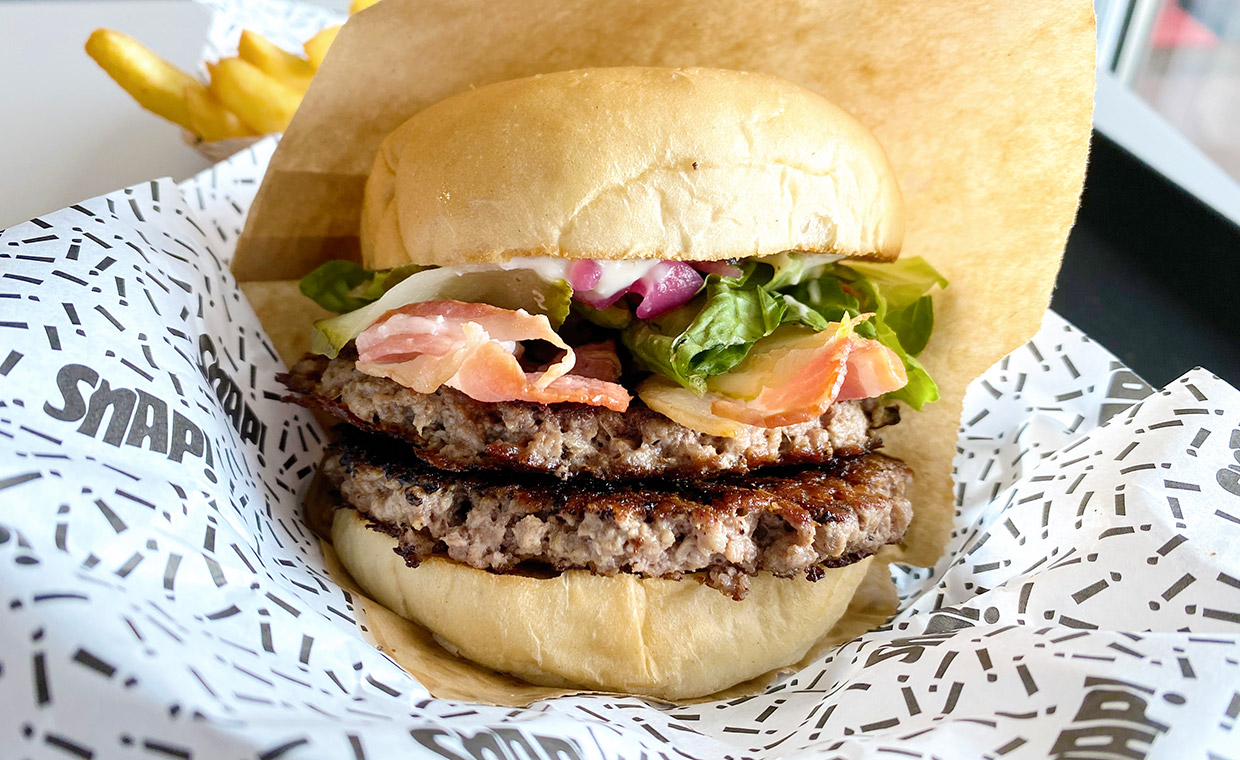 Snap! Burgers & Greens öppnade under sommaren 2020 inuti Ica Maxis lokaler i Haninge, Stockholm. Här serverar de både hamburgare och sallader i sina stilrena och enkla lokaler, och priserna är föredömligt låga. En burgare med 2 stycken köttpuckar på 80 gram vardera kostar 79 kronor, och en meny med tillbehör, kall dryck och kaffe kostar endast 99 kronor. Vi hann faktiskt besöka dem två gånger inför denna recension, och testade både en Cheezy Cheese Burger med cheddarost, dijonnäs, saltgurka och karamelliserad lök, samt en Smokey BBQ Burger med bacon, barbecuesås, picklad rödlök, saltgurka, romansallad och rökt ärtonnäs.
Cheeseburgaren såg verkligen inte aptitlig ut, med osmälta, svettiga och bleka cheddarskivor och kladdig dijonnäs. Brödet var det bästa med måltiden, men det hade inte värmts på insidan och blev snabbt rätt blött. Köttet hade knappt kryddats, och smakade i princip bara torrstekt köttfärs. Dijonnäsen var för vek i smaken och den karamelliserade löken var tyvärr ganska intetsägande. Barbecueburgaren var tyvärr inte särskilt spännande den heller, med supertorrt kött som var på tok för salt och alldeles för finmalet. Baconet var sladdrigt och den tunt långskurna saltgurkan var översaltad.
Pommes fritesen var det bästa med måltiden under våra båda besök. De var frasiga på utsidan och krämiga på insidan, med utmärkt sälta. Men tyvärr så räcker det inte med goda tillbehör och låga priser om själva burgarna inte håller måttet.
In English
Snap! Burgers & Greens opened during the summer of 2020 in the outskirts of Stockholm, inside the ICA Maxi grocery in Haninge. Here they serve burgers and sallads in their clean and spartan restaurant, at an excellent price-point. A burger with two 80 gram patties costs just 79 SEK (9 USD), and a menu with a sideorder, soft-drink and coffee costs 99 SEK (11 USD). We managed to visit them twice before writing this review, and tried both their Cheezy Cheese Burger with cheddar, dijonaise, pickles and caramelised onions, and their Smokey BBQ Burger with bacon, barbecue sauce, pickled red onions, pickles, romaine lettuce and a smokey pea-protein based mayo.
The cheeseburger looked pretty awful, with sweaty, unmelted and pale cheese slices and mayo all over the place. The bun was the best part of this burger, but it hadn't been toasted properly on the inside and quickly became soggy. The patty had hardly been seasoned at all, and tasted mostly of bland and dry beef. And neither the dijonaise nor the onions added very much flavour or texture. The barbecue burger didn't really impress on us either, with an equally dry patty with overly salty and too finely ground beef. The bacon wasn't crispy at all and the long pickle slices were too salty as well.
We actually enjoyed our fries the most during both our visits. They were nice and crisp on the outside, and creamy on the inside – with excellent seasoning. But great sides and low prices aren't enough if the burgers themselves don't hold up.