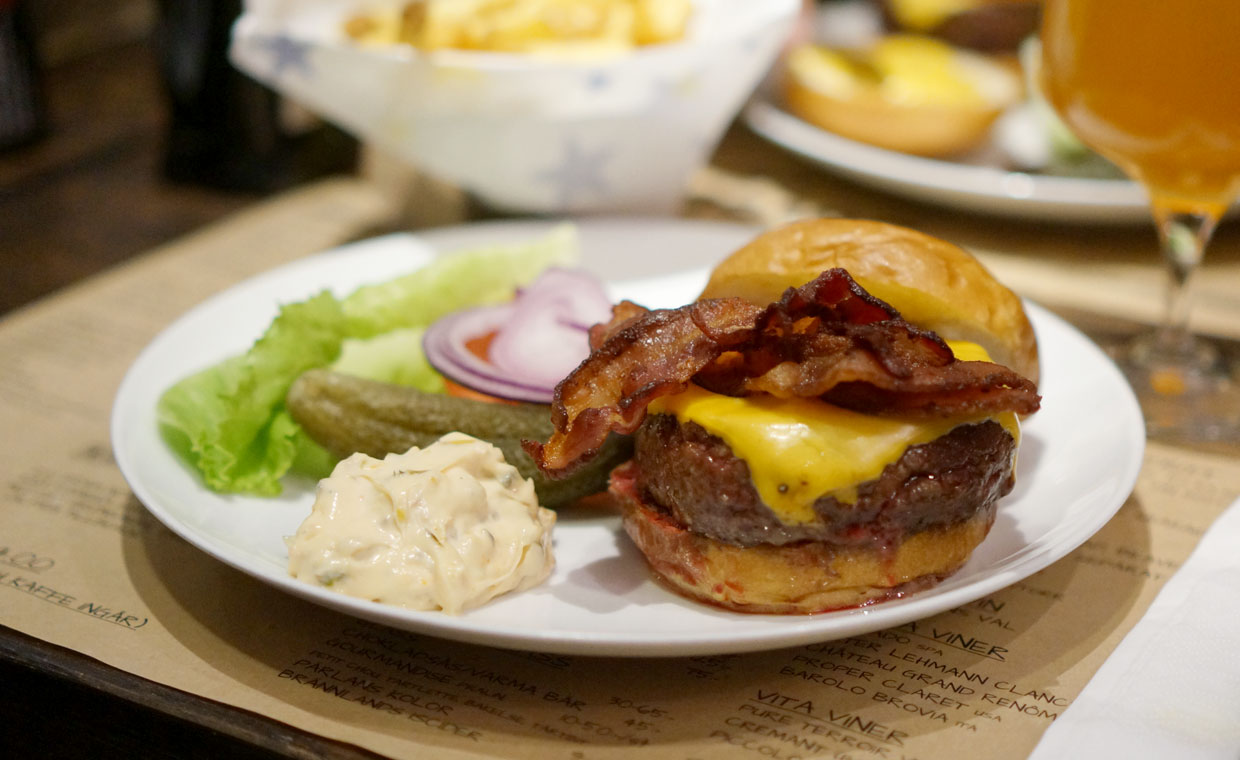 Ute i Sickla köpkvarter ligger Sovel Kött & Grill, och den kombinerade charken och restaurangen fokuserar nästan helt på kött.
Burgaren vi testade kallas enkelt nog för Hamburgaren 4.1 och är en 200 gram tung köttpuck med ost, grönsaker, dressing och två tillbehör som vi själva fick välja från ett stort urval. Men trots de många kolhydraterna, såserna och rörorna kändes det mest passande att välja bacon och pommes frites som tillbehör till vår burgare. För detta fick vi betala 155 kronor.
Det positiva med ett ställe som fokuserar på kött är att de verkligen kan den biten. Köttet var saftigt, gott och nära på perfekt stekt. Tyvärr så har de valt att servera burgaren med alla komponenter utspridda på tallriken, och eftersom alla ingredienser hade olika temperaturer kändes det bara som ett onödigt extra steg. Temperaturproblemet blev värre med tanke på att vissa grönsaker, röror och såser kom direkt från kylen.
Det undre brödet klarade inte heller att stå emot köttsafterna och blev rejält uppblött, men som tur var uppvägde köttets smak detta problem tillräckligt mycket för att vi kunde förlåta detta. Sovel har en hel del att önska, men i skrivande stund serverar de den bästa restaurangburgaren i Nacka-området.
In English
Sovel Kött & Grill is located in the shopping centre Sickla Köpkvarter in Nacka, just outside the centre of Stockholm. The combined deli and restaurant focuses on meat – and of course they have a burger on the menu. Thanks to their meaty focus the hamburger has large 200 gram patty that is cooked almost perfectly. Sadly they have chosen to serve the burger disassembled. The component temperatures differ alot and the bun isn't able to handle the juices, so by the time you've stacked your burger it has already become very soggy. Thankfully the meat is good enough to get this flawed burger a passable grade, and despite these mistakes Sovel still serves the best burger in the Nacka area.