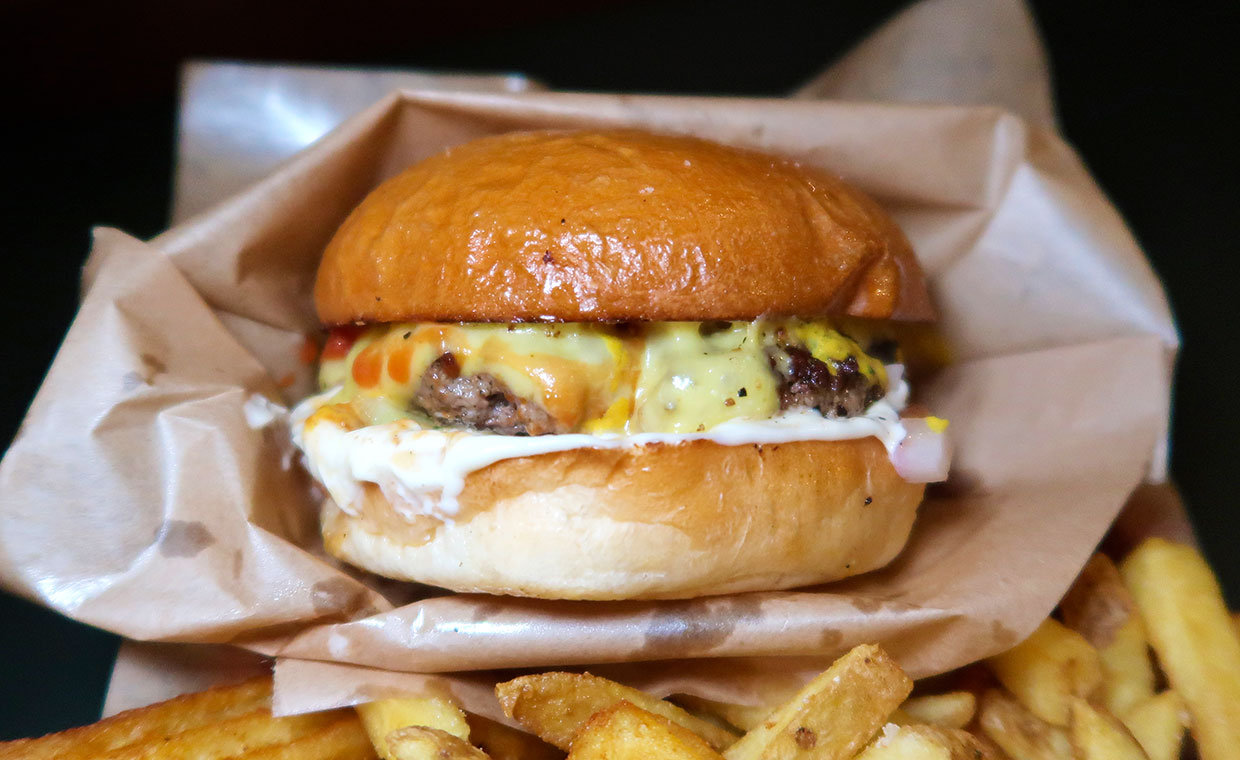 Stekt Burger & Stuff ligger i Täby Centrum, en kort resa norr om centrala Stockholm samt i Södertälje.. Restaurangen trängs i foodcourten med andra restauranger, men har ett flertal egna sittplatser och en meny med sex köttburgare och två vegetariska hamburgare som alla kostar mellan 109 och 125 kronor.
Vi beställde in flera av deras burgare, bland annat "Go'Biten" (med majonnäs, ost, picklad gurka, lök, ketchup och senap) och "Chipoteln" (med chipotledressing, steak sauce, rökt ost, jalapeños, sallad, tomat och lök) med både pommes frites (30 kronor) och sötpotatispommes (40 kronor).
Det lät bra på pappret, och burgarna såg rätt snygga ut när de serverades. Men måltiden präglades av ett ord: "mjukt". Köttet saknade nästan helt stekyta, och hela burgaren var jämnmjuk utan några texturer som bröt av. Inte heller smakerna stack ut särskilt mycket. Det var inte dåligt på något sätt, men det var inga smaker som lyfte. Go'Biten-burgaren var en klassiskt god och lättäten cheeseburgare, men i slutändan rätt förglömlig. Chipoteln hade åtminstone lite hetta och crunch från jalapeñon.
På tillbehörsfronten var det bättre. Den stora portionen pommes frites hade en rejäl och god potatissmak, och sötpotatispommesen var både krämig och fint karamelliserad. Vi lämnade Stekt Burger & Stuff mätta, och kan helt klart tänka oss att äta deras burgare igen nästa gång vi är i Täby Centrum. Men vi ser ingen större anledning att ta en omväg dit enbart för hamburgaren.
In English
Stekt Burger & Stuff have a small restaurant in Täby Centrum, a short trip north of central Stockholm and in Södertälje. They are located in the food court with several other restaurants, housing a bunch of seats and a menu with 8 burgers in total, costing between 109-125 SEK (11-13 USD).
We tried several of their burgers, among them the "Go'Biten" (with mayo, cheese, pickles, onions, ketchup and mustard) and the "Chipoteln" (with chipotle dressing, steak sauce, smoked cheese, jalapeños, lettuce, tomato and onions, with both regular and sweet potato fries (for 3/4 USD).
Everything sounded great on paper, and the burgers looked pretty nice. But our meal could really be summed up with one word, and that word was "soft". The patties hardly had any char whatsoever, and the burger lacked any textures that really stood out. The flavours were pretty similar as well, and we really had to make an effort to find anything special with our meal. It wasn't bad in any way, but everything just felt subdued and held back. The Go'Biten was a classic cheeseburger that we finished pretty quickly, but afterwards we struggled to remember it. The Chipoteln burger at least had some jalapeños that gave it some heat and crunchiness.
The side orders were a bit better at least. The large portion of fries tasted great, and the sweet potato fries were both creamy and nicely caramelised. We were quite content when we left Stekt Burger & Stuff, and probably wouldn't hesitate to eat there again. But it's not as if we'd make an effort to go to Täby Centrum again just for their burger.