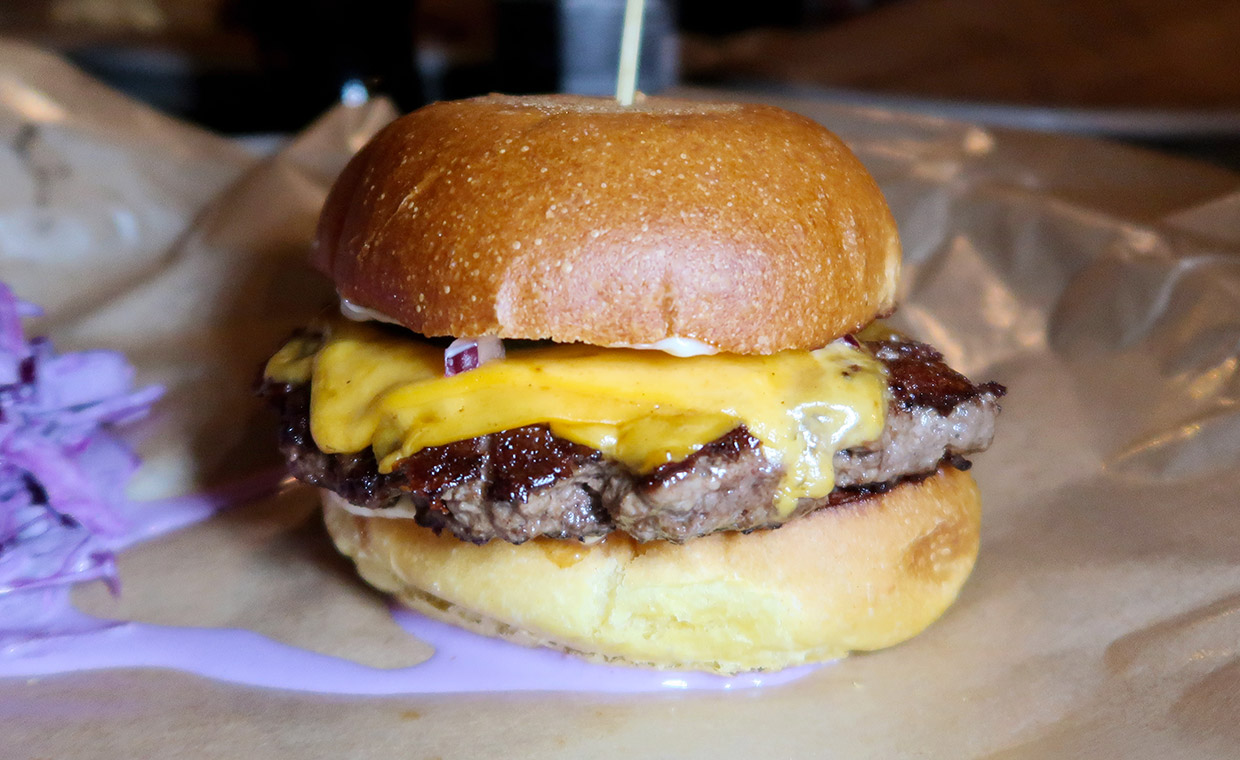 Vi recenserade ursprungligen Supreme Burger under sommaren 2015, när de var nyöppnade. Vårt intryck var positivt överlag, och trots att det fanns en del brister så såg vi potentialen. Betyget blev därför en stark trea.
Lokalen vid Råsunda Torg i närheten av Solna Centrum i Stockholm såg ut ungefär som vi mindes den från vårt förra besök. Det var rymligt och kändes modernt, och personalen var jättetrevlig. Menyn rymmer en handfull olika burgare, och ungefär lika många klassiska street food-alternativ.
Denna gång testade vi en enkel Supreme Cheese, deras tolkning av den klassiska cheeseburgaren, med ost, pickles, majonnäs och rödlök. Den kostade 125 kronor, och då ingick en coleslaw. Vi beställde även in pommes frites, både vanliga och sötpotatis, för 27 respektive 35 kronor.
Burgaren såg riktigt bra ut, men det föll lite platt när vi började äta. Köttet var genomstekt och hade blivit lite stumt och torrt. Och trots att brödet hade värmts på så hade det en ganska tråkig textur och smak. Övriga ingredienser fungerade bra ihop, och överlag så var det ändå en okej burgare. Båda pommes frites-varianterna lämnade dock mycket att önska, då de var rätt smaklösa.
Vårt betyg från första besöket står fortfarande kvar, men det har naggats i kanten. Vi är lite besvikna över att Supreme Burger inte har levt upp till sin potential, och med tanke på den ständigt växande konkurrensen i området så hoppas vi att de höjer snarare än sänker ambitionsnivån i framtiden.
In English
We first reviewed the Stockholm restaurant Supreme Burger back in the summer of 2015, when they were newly opened. And despite a few faults, we saw their potential and left with a positive feeling, awarding them a strong 3/5 grade.
The restaurant by Råsunda Torg, close to Solna Centrum, looked like it did last time, spacious and modern and with great service. Their menu consists of a handful of different burgers and just as many street food alternatives.
This time we opted for a single Supreme Cheese, their version of the classic cheeseburger, with cheese, pickles, mayo and red onions. It cost 125 SEK (13 USD) and included a coleslaw. We also ordered regular and sweet potato fries for 27/35 SEK (approximately 3/4 USD).
The burger looked really good, so we were a bit disappointed when we took our first bite. The patty was overcooked and felt dry and a bit hard. And the bun felt and tasted pretty dull as well, despite being heated on the griddle. But the other ingredients worked fine together, and this was an alright burger overall. Both french fry varieties were a letdown though, as they were practically tasteless.
Our old grade still remains, but is now much weaker. We are a bit sad to see that Supreme Burger haven't lived up to their potential, and now that there are so many great burger joints in the surrounding area they really have their work cut out for them.