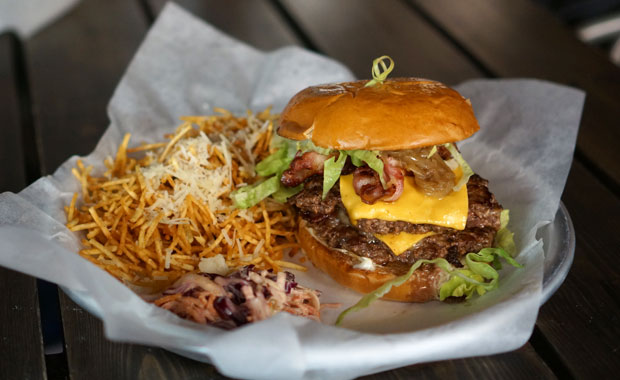 Nyöppnade Supreme Burger ligger vid Råsunda Torg – bara en kort promenad från Solna Centrum.
Hamburgaren med dubbelt kött på 240 gram kostade 115 kronor, men trots att den var prisvärd hade vi hellre valt en enkelburgare för 95 kronor. Eftersom burgaren är rätt platt och bred var själva köttpucken rätt tunn, och den serverades i princip genomstekt med en svag antydan till en rosa kärna.
Briochebrödet var penslat med fett och lätt stekt på insidan, men det blev ändå lite väl uppblött av köttsafterna och dressingen – som visserligen smakade bra och passade ihop med de andra smakerna. Grönsakerna var lite väl grovskurna för att passa till den tunna burgaren, men den stekta löken var mild och söt.
Till burgaren lade vi även till ost och bacon för tio kronor vardera. Osten var väldigt smakrik och passade utmärkt på pucken, men baconet hade gärna fått stekas lite mer för att få lite stadga. Som det var nu påminde det mer om sidfläsk. På menyn finns även prisvärda milkshakes och pommes frites med tillhörande topping.
Vi äter gärna Supreme Burgers kvalitetsburgare igen, men eftersom de har i princip samma patty/bun-ratioproblem som Svenska Hamburgerköket håller vi oss nog till en enkelburgare med ost nästa gång.
In English
Supreme Burger are located in the Solna municipality in Stockholm, and serve quality burgers at a decent price. But since the burger itself is quite wide, the patties are pretty thin and almost completely cooked through. In contrast, the bacon and the brioche bread could have spent a bit more time on the stovetop. However, we really enjoyed their fries (with complementary toppings) and their milkshakes. Next time we'll just go for a single one-patty burger with cheese.