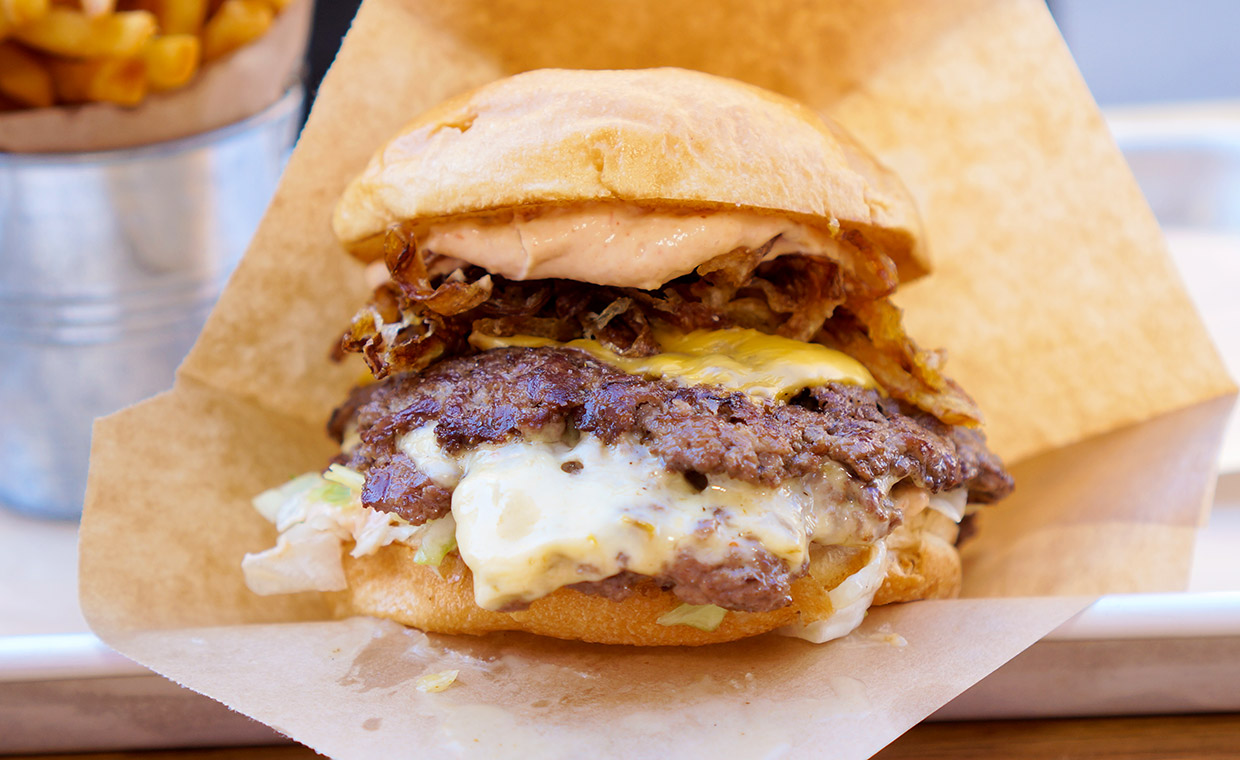 Swedenborgen öppnade i april 2021 på Swedenborgsgatan, snett mittemot pendeltågsstationen Stockholm Södra. Här serveras både hamburgare och pizza, och när vi besökte dem på lunchen fanns en handfull olika alternativ att tillgå, där en 100-gramsburgare med pommes frites och läsk kostade runt 110 kronor. Vi beställde in en enkel Cheese- och baconburgare samt en dubbel Cheeseburgare, där en extra köttpuck kostade ytterligare 30 kronor.
Burgarna som serverades vid vårt bord såg riktigt fina och maffiga ut. Köttet hade en rejäl stekyta och brödet var väldigt fluffigt. Tyvärr så visade det sig att köttet på våra burgare knappt hade kryddats alls med salt och peppar, och inte heller baconet på den ena hamburgaren tillförde någon egentlig sälta. I stället dominerades smakbilden av sötma – från det smöriga briochebrödet och den friterade löken till den lätt kvalmiga burgardressingen och barbecuesåsen. Den söta smakbilden var oväntad, men det smakade ändå gott. Båda burgarna hade däremot vissa texturproblem. Cheeseburgarens täcke av friterad lök var segt och väldigt tuggigt, och de stora mängderna bacon på baconburgaren blev också mest som en hård och seg klump. Det kändes som onödiga missar i en annars ganska bra burgare. Pommes fritesen var god men överfriterad, där en del av dem var så hårt friterade att de bara var ihåliga rör.
Swedenborgen serverar en godkänd burgare och vi förstår varför vi fått en hel del tips om dem, men vi anser att de har en del kvar att jobba med – både vad gäller prisbilden och själva tillagningen – om de ska stå sig i Stockholms hårda konkurrens.
In English
Swedenborgen opened in April 2021 on Swedenborgsgatan, just by the Stockholm Södra commuter train station. Here they serve both burgers and pizzas, and when we visited them during their lunch service they offered a handful different burgers, where a hamburger with a 100-gram patty cost around 110 SEK (13 USD), including French fries and a soft drink. We ordered a single Cheese and Bacon burger plus a double Cheeseburger, where an extra 100-gram beef patty cost an additional 30 SEK (3 USD).
Our burgers looked really big and juicy. The meat had a great crust and the bun was very fluffy. However, the beef was underseasoned, and we hardly got any saltiness from the bacon either. Flavourwise, both of our burgers were pretty sweet, from the buttery brioche bun and the deep-fried onions to the burger and BBQ sauces. We were a bit unprepared for this, but it still tasted quite nice. Both burgers had texture issues as well, seeing as the deep-fried onions were chewy and covered the entire burger like a oniony blanket. The same could be said about the large amounts of equally chewy bacon as well. These mistakes felt unnecessary, seeing as the rest of the flavours were alright. The French fries tasted nice but were overcooked, with some of them just being empty shells without any potato in the centre.
Swedenborgen serve an alright burger that feels marred by what feels like beginner mistakes. They still have quite a bit to go both price-wise and quality-wise if they're going to make it in Stockholm's tough competition.