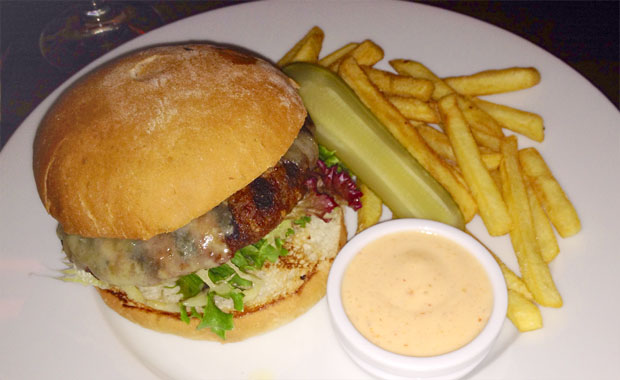 "Högrevsburgare: 189 kronor" står det stolt i menyn. Jag befinner mig i franchisens Gamla Stan-lokaler, och går på misstaget att beställa denna tingest. Det står ju att det är högrev, och då borde väl kocken veta hur en burgare ska tillagas.
Men icke. Resultatet är en hård puck inklämd i ett nästan lika hårt och torrt bröd. Den krispiga saltgurkan ler hånfullt mot mig, stolt över att den inte har tillagats utan förmodligen bara skurits på längden för att garnera tallriken. Den hårdknapriga pommesen har inte samma självförtroende, och måste tryckas ned i dipsåsen för att ens kunna ätas.
Jag lämnar lokalen nedslagen och något skamsen. Jag borde ha vetat bättre.
In English
Come for the beer, but skip the horrible and expensive burger. The prime rib patty is almost as hard and dry as the bread, and the fries are tastelessly bland. Avoid at all costs.