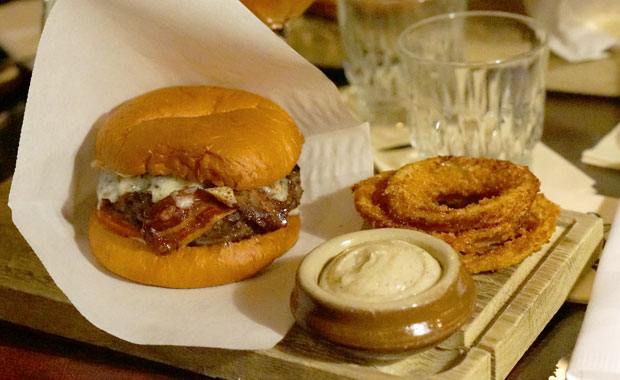 För ett par år sedan, innan burgarhysterin var ett faktum, var Pubologis burgare en riktig snackis. Ett par iterationer senare finner man den idag på systerbaren Tweed. Man hör sällan folk prata om Pubologi-burgaren numera, men innebär det att den gjort sitt?
Tweed bjuder på en exklusiv upplevelse. Allt från de oxblodsfärgade Winchester-fåtöljerna till den höga servicenivån andas kvalitet. Och deras burgare är inget undantag. Den stora stjärnan i showen är den 200 gram stora köttpucken, träkolsgrillad till perfektion. Kombinerad med briochebrödet, pancettan, manchego-osten och tryffelmajonnäsen blir resultatet … Wow. Det är en riktig smakupplevelse.
De tre pankopanerade lökringarna som serverades till lyfte dock inte måltiden ytterligare. Snarare tvärtom. Lökringarna var alldeles för salta för min smak och så tyvärr även prislappen på 225 kronor. Trots utomordentlig service och en väldigt bra burgare kan betyget "bara" bli en fyra. Men som burgarnörd måste du hit åtminstone en gång och njuta av Tweeds förtryffliga burgare och fantastiska drinkar. Och se till att du bokar en av fåtöljerna för bästa möjliga upplevelse.
In English
A couple of years ago everybody was talking about Pubologi's burger, and today that burger can be found at Tweed. It's 200 grams of charcoal grilled perfection, combined with a brioche bun, pancetta, manchego cheese and truffle mayo. It's a great burger, but it's also very pricey at 225 SEK. And you only get three onion rings on the side. It's not an everyday burger, but if you're visiting Stockholm and you wanna treat yourself it's a good choice.