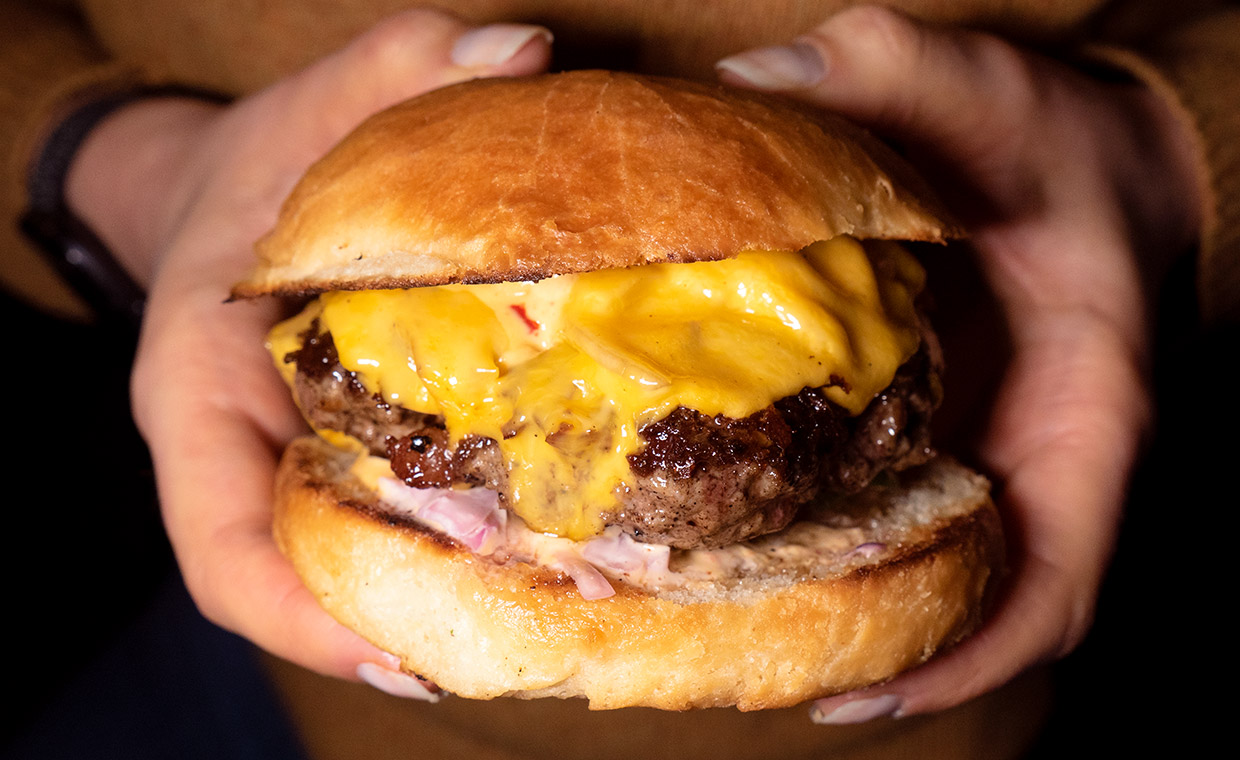 Nyöppnade Värmdö Burger Shack ligger i Hemmesta Centrum, en kort tur österut från Stockholm. Lokalen är enkel, med en stor köksdel vid entrén och några sittplatser längre in. Vi togs emot av den trevliga personalen som snabbt informerade oss om att enbart hade en burgare på menyn nu i början, men att de snart ska servera tolv olika hamburgare. Valet blev därför enkelt; nämligen deras cheddarburgare med 200 gram kött, ost, stekt lök, rödlök, chilimajonnäs, tomat och pickles. Menyn kostade 129 kronor och då ingick även en coleslaw, pickles, valfria pommes frites och en dippsås.
Vi fick även höra att de bakar sitt eget bröd och att ambitionen är att laga så mycket som möjligt själva, vilket såklart är ambitiöst och föredömligt. Därför blev vi lite förbryllade när burgaren såg underlig ut redan vid första anblick. Det hembakade brödet var skrovligt och ojämnt format, och påminde mer om en scone än ett burgarbröd. Det var dessutom spetsat med en grillpinne, vilket alltid är ett varningstecken. Och redan vid första tuggan kände vi hur just dessa farhågor besannats, då köttsafterna hade runnit rakt igenom burgaren och mättat brödet så att det började vittra sönder. Köttet hade en bra stekyta men var knappt kryddat och på gränsen till rått på insidan. De hade malts det riktigt grovt, och endast en gång, och det innehöll väldigt många svårtuggade senor. Chilimajonnäsen smakade knappt något alls, men den stekta löken var i alla fall god. Men det var faktiskt ingen av oss som lyckades äta upp hela sin burgare. Pommes fritesen var faktiskt det bästa med hela måltiden.
Värmdö Burger Shack må ha höga hantverksambitioner, men inget av detta märktes av i själva burgarna. Det finns dock gott om potential, så vi hoppas verkligen att de tar till sig kritiken och börjar servera bättre hamburgare i framtiden.
In English
Värmdö Burger Shack recently opened in Hemmesta Centrum, a short trip east of Stockholm. The restaurant itself is unassuming, with a kitchen area at the front and a few seats in the back. The friendly staff quickly informed us that they they plan to have 12 burgers on the menu shortly, but that they only had one now in the beginning, so we ordered their cheddar burger with a 200 gram patty, cheese, fried onions, red onions, chili mayo, tomato and pickles. We paid 129 SEK (15 USD) for a meal deal, which included a coleslaw, pickles, fries and a dip.
They also told us that they bake their own briche bun variant, and that they aim to prepare most components themselves, which is something we applaud. So we were left a bit surprised when the burger looked a bit strange from the get-go. Their bespoke bun was unevenly formed with an oddly shaped crust, and reminded us more of a scone than a burger bun. It had been skewered with a bbq stick, which always is a warning sign. And after the first bite we could see that the beef juices had run straight through everything and soaked the bun, making it fall apart. The beef patty had a nice crust, but was under-seasoned and almost raw on the inside. It had been ground very coarsely, and only once, and was chewy and sinewy. The chili mayo hardly tasted of anything at all, but we liked the fried onions. But none of us managed to finish our burger. The French fries were actually the best part of our meal.
Värmdö Burger Shack may have a lot of ambition, but none of this was noticeable in our burger. There's still a lot of potential here, so we really hope that they take this criticism to heart and start serving better burgers in the future.