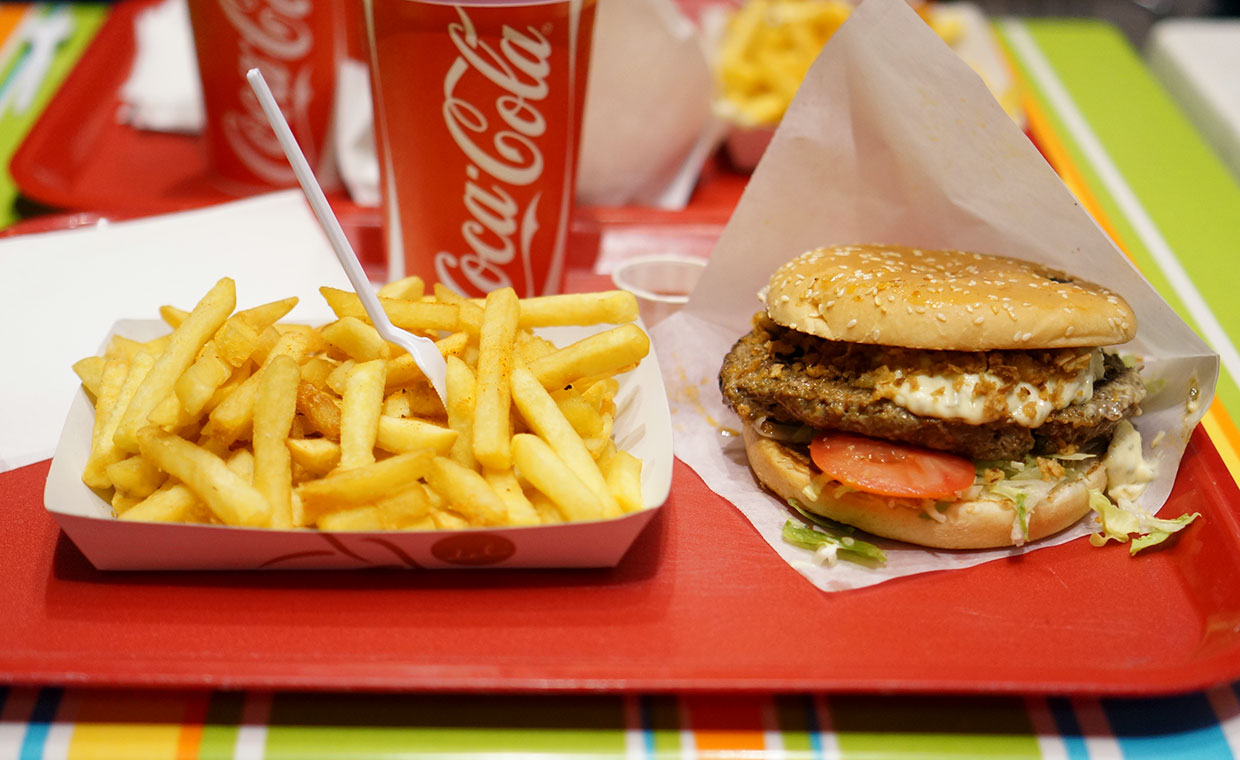 Vegabaren är historisk mark för svenska burgarälskare. Redan 1958 öppnade Erik Engström sin "Drive-in" på platsen och serverade "tillplattade köttbullar" till nyfikna kunder, och sedan 1964 har de hetat Vegabaren. Detta är alltså Sveriges äldsta hamburgarrestaurang.
Det har mängder av burgarvarianter på menyn, men vi hade redan siktat in oss på deras flaggskepp: Sambalburgaren. Namnet kommer av att det färska nötköttet har blandats med Sambal Oelek, vilket ger köttet en extra chillihetta och sälta. I övrigt bestod burgaren av sallad, tomat, rostad lök, bearnaisesås samt generöst med grillkrydda.
Vegabarens Sambalburgare är en klassisk snabbmatsburgare – fast med färskt kött i stället för fryst, och en påminnelse om tiden innan gourmetburgarna gjorde sitt inträde i Sverige. Köttpucken var platt och välstekt, men saftig och faktiskt ganska välsmakande. Bearnaisesåsen var, som vanligt, mest i vägen och tog över alla andra smaker, och pommes fritesen hade en riktigt bra yta, men var rätt smaklösa.
En meny med burgare, pommes frites och en läsk kostar endast 85 kronor, och den mättar ordentligt.
Vi blev mätta och ganska nöjda, men det här är något annat de burgare vi i vanliga fall skriver om. Det här är en burgare för nostalgikern, eller för de som tycker att "burgarsnobberiet har gått för långt". Och troligtvis vet du redan nu om det här är något för dig.
In English
Vegabaren is a piece of burger history in Sweden. They served their first burgers, then referred to as "flat meatballs", way back in 1957. More than half a century later it's still popular, especially amongst bikers, truckers and locals. Their menu offers a lot of different burgers, but the flagship is their "Sambalburgare", in which they have mixed the beef with Sambal Oelek. It also consists of salad, tomatoes, roasted onion, bearnaise sauce and a lot of barbecue spice. The patty was well done, but actually still kinda juicy. The bearnaise sauce turned out to be way to dominant, but as a whole it still tasted alright. The fries had a really nice crisp, but lacked flavour. All in all it's a far step from today's gourmet burgers, but it tasted ok and was really cheap. If you think it's too much snobbery around burgers these days, this might be for you, but otherwise it's really nothing more than a trip down memory lane.