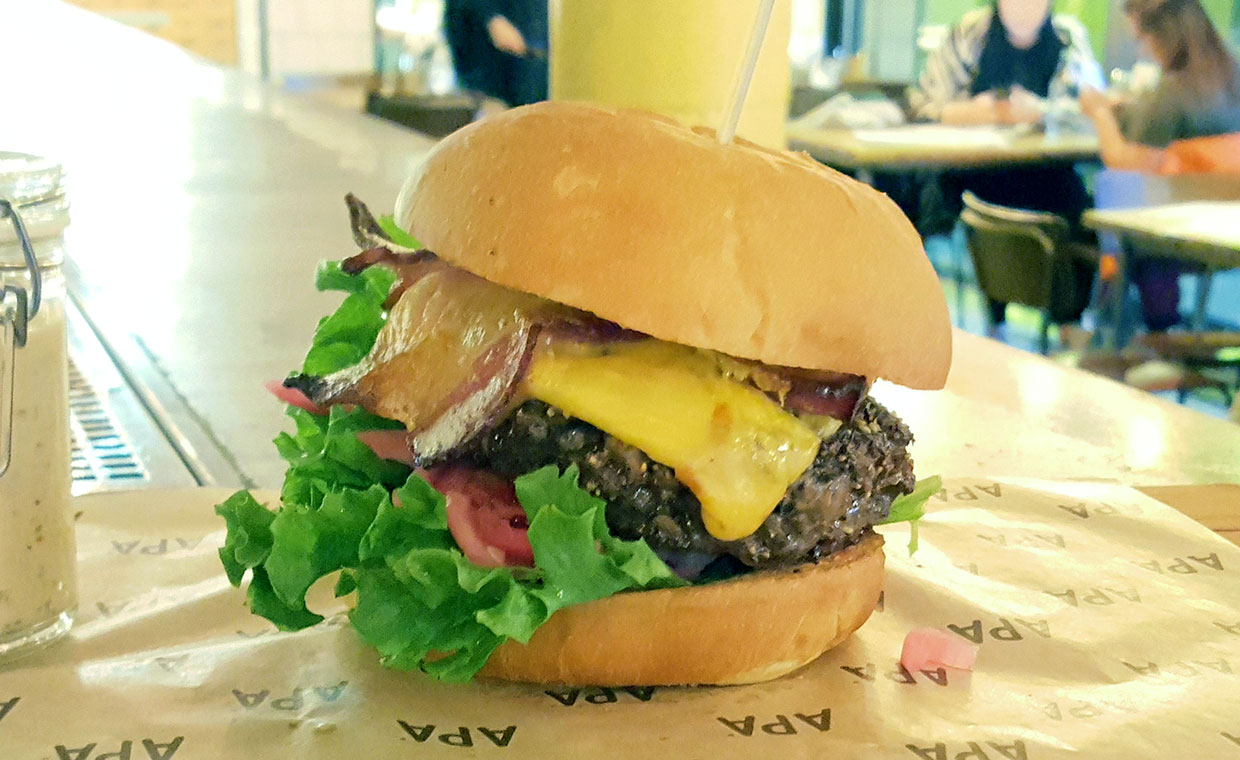 Apa har varit Sundsvalls premiumval när det gäller hamburgare sen öppningen 2015. De har 11 hamburgare på menyn, varav ett vegetariskt alternativ. Alla burgare görs på nymald hängmörad högrev på 150 eller 300 gram, och brödet bakas lokalt av Stenstans Bageri. Det finns även ett glutenfritt bröd som alternativ.
Vi valde den klassiska bacon- & cheeseburgaren med krispsallad, tomat, bacon, cheddar, majonnäs och picklad rödlök för 119 kronor utan dryck eller tillbehör. Trots ett vackert utseende med nersmält cheddar och ett snyggt salladsblad fick våra förväntningar sig en törn när vi kände att brödet på burgaren var kallt. Foul 1.
Köttet smakade däremot fint och var saftigt även om den borde ha varit lite mindre kompakt. Osten var god och både den krispiga salladen och syran från den picklade rödlöken bidrog till en bra balans i burgaren. Vi hade gärna sett lite mer bacon, samtidigt som den kunde fått ligga kvar ett uns längre på stekbordet för rätt konsistens.
Med lite svajig service och en burgare som inte riktigt levde upp till förväntningarna har Apa precis det som krävs för att kamma hem en trea Vi hoppas dock vi slipper kallt bröd nästa gång och att de kanske lägger lite mer kärlek på burgarna överlag.
In English
Apa has been Sundsvall's go-to place for Burgers since 2015. We chose their classic cheese & bacon burger with 150 grams of freshly ground chuck, cheddar cheese, bacon, mayonnaise, tomato, crisp lettuce and pickled red onion. Even though it looked good, our expectations were brought down when we felt the cold bread. The patty was juicy but a bit too compact for our liking. Thankfully, the crispy lettuce, cheese and pickled red onion did a good job of balancing the flavours. The bacon could have been a bit firmer, and we would have liked a larger portion as well. This time APA's burger did just enough for our tastebuds to push it up to a 3-pointer. We just hope that we don't get a cold bun next time we visit Sundsvall.