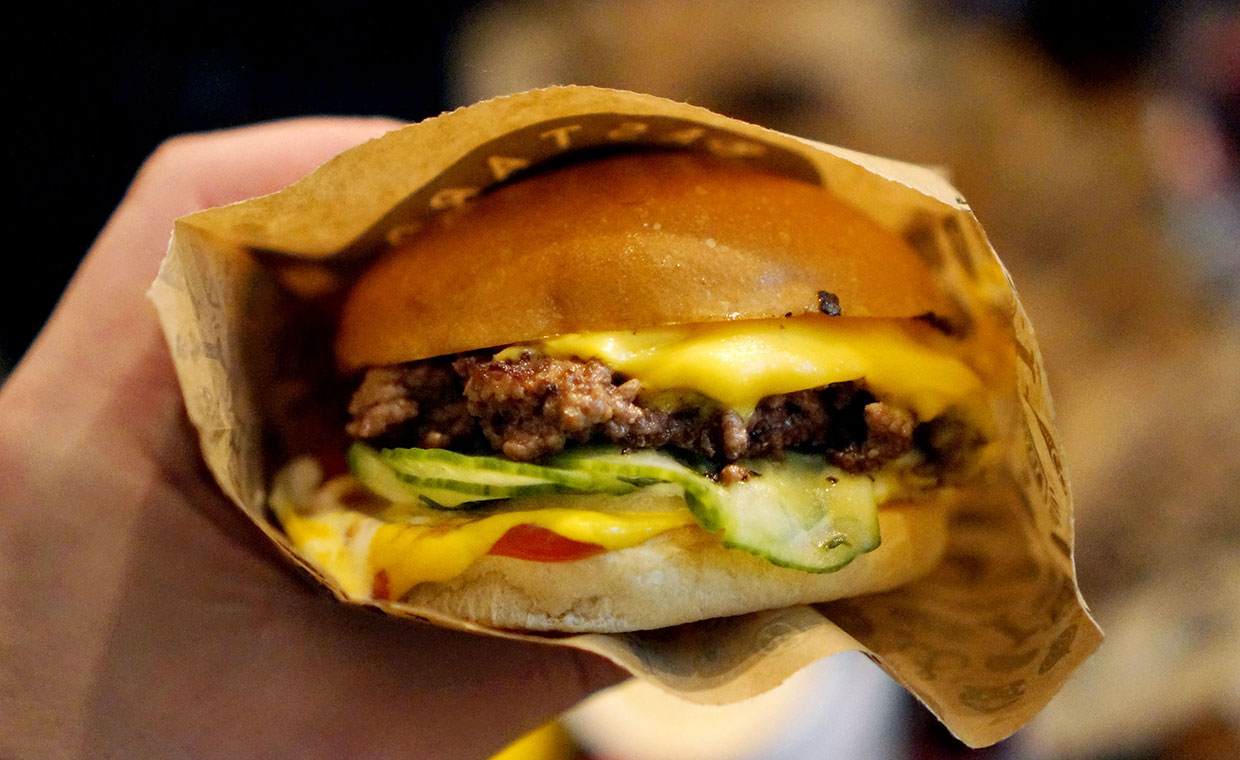 Bastard Burgers öppnade i Luleå under hösten 2016, och sedan dess har de växt explosionsartat över hela landet. I södra Sverige drivs de under namnet Bronx Burgers – det är samma burgare fast med ett annat namn. De använder endast norrländskt kött och lokala råvaror, och verkar lägga ner stor möda på att inte förlora för mycket av sin själ under denna expansionsfas.
Den varierade menyn innehåller flera klockrena alternativ, och de har ofta flera månadens burgare och veganska alternativ. Deras signaturburgare "The Bastard" med dillpickles, dubbla cheddarskivor, ketchup, senap, majonnäs och rå lök smakar till exempel som en perfekt lyxig variant av den klassiska snabbmatscheeseburgaren. En enkelburgare på 120 gram kostar 109 kronor, och en dubbelburgare kostar 149 kronor. På lunchen ingår både dryck och sötpotatispommesfrites, vilket är riktigt prisvärt.
Det här är en riktig streetfoodburgare med mycket smak och en rejäl stekyta. Burgarna har ordentliga mängder smält cheddar och sitter utmärkt i handen med ett fint uppvärmt bröd. Smakerna sitter redan vid första tuggan, med en löst packad och rosastekt köttpuck med massor av köttsafter. Köttet är varsamt kryddat och lever i symbios med det fluffiga brödet som passar köttpuckens storlek perfekt. Vi uppskattade även de andra ingredienserna, mycket för att ingen av dem tog överhanden. Cheddarosten var krämigt god, men den egeninlagda gurkan var den riktiga stjärnan med en förtrollande söt skärpa.
Sötpotatispommesfritesen var dessutom otroligt välfriterad och hade en nästan karamelliserad smak. De använder även vår favoritbarbecuesås Eld och Lågor från Lagrito's på sin Texas-burgare, vilket alltid uppskattas. I dagsläget är det ingen tvekan om att Bastard Burgers är Sveriges bästa burgarkedja, och de tillhör våra favoriter både i och utanför Stockholm.
In English
Bastard Burgers opened in the northern Swedish town of Luleå in 2016, and have seen explosive growth since then all over the country. In the southern parts of Sweden they operate under the name Bronx Burgers – it's the same burger but with another name. Bastard Burgers only use meat from Norrland, and focus on local ingredients. Thankfully, they seem to be making an effort to retain their high quality without losing their soul, which is a relief since they currently serve one of the best burgers in Sweden.
Their menu is balanced and varied, with a nice rotation of monthly creations and vegan options. One of our favourites is their signature burger "The Bastard", with dill pickles, cheddar, ketchup, mayo and raw onions, making it the ultimate version of the classic fast food cheeseburger. A single 120 patty burger costs 109 SEK, with a double burger costing 149 SEK. During lunch hours you also get a soft drink and their amazingly deep-fried sweet potoato fries.
This is a real street food burger, with loads of flavours and an amazing crust. The slightly pink meat centre is super-juicy and tasty. We also love the generous amounts of cheese on most burgers and the great bun. And their dill pickles are not to be missed, with an enchantingly sharp sweetness.
Bastard Burgers are definitely Sweden's best burger chain at the moment, and hold their own in Stockholm as well!