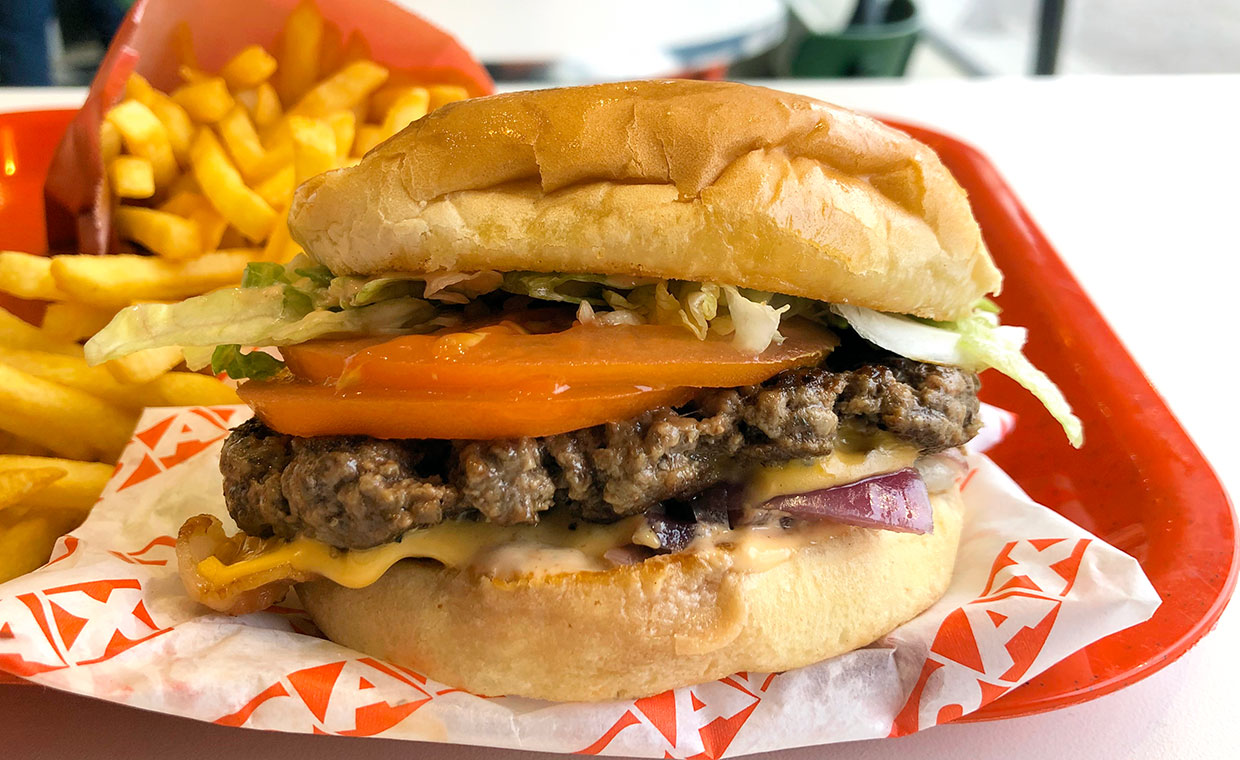 Dax Genuine Burgers har stängt sin verksamhet.
Dax Genuine Burgers är ett klassiskt burgarhak som har stekt burgare sedan 1972 i utkanten av Uppsala. Alldeles nyligen öppnade de även sin andra enhet på en mer central adress i staden. De nya lokalerna osade verkligen klassiskt svenskt gatukök, och utgjorde en rejäl kontrast mot alla coola burgarhak vi brukar besöka runt om i Sverige. Men det kändes ändå ganska uppfriskande att de tar fasta på sitt klassiska ursprung, och menyn var även generöst prissatt.
En burgare med pommes frites och dryck endast kostade 79 kronor, så vi valde deras Sweet Bacon Meal med karamelliserad lök och bacon – samt valde till ost för ytterligare åtta kronor. Vår burgare serverades invirad i papper, och var snygg på snabbmatsaktigt manér. Den kändes även bra i handen och monteringen kändes genomtänkt, förutom att osten låg under köttet. Surdegsbrödet var lite för tuggigt för vår smak och klarade inte riktigt att stå emot dressingen eller köttsafterna. Köttet hade en härlig smak, men den doldes tyvärr en del av den väldigt söta dressingen. Pommes fritesen var klart godkänd, mycket tack vare den medföljande ostdippen.
Dax Genuine Burgers uppdaterade gatuköksburgare är riktigt trevliga. Och deras låga priser och opretentiösa framtoning ger dem en självklar plats i Uppsalas burgarscen.
In English
Dax Genuine Burgers is a classic burger joint that started serving burgers back in 1972 in the outskirts of Uppsala, just north of the Swedish capital. They recently opened a restaurant in central Uppsala, and their new place feels just like the classic burger joints of old. We found the unpretentious setting quite refreshing, and liked that they haven't discarded their roots for something flashier.
Their pricing reflected this as well, with an entire meal with a burger, fries and a soft drink costing just 79 SEK (about 9 USD). We ordered their Sweet Bacon Meal with caramelised onions and bacon, and added some cheese for 8 SEK (1 USD). Our hamburger came nicely wrapped in paper like a true fast-food burger, and had a nice hefty feel to it. It had nice ratios and was well composed, even though the cheese under the patty was a bit baffling. The sour-dough bun was a bit too chewy and couldn't really handle the sauce and the meat juices, and even though the meat was nicely seasoned, the flavours were overpowered by the overly sweet burger sauce. We did enjoy the french fries, much thanks to the cheese dip that also came included with our meal.
Dax Genuine Burgers serve a nicely updated street food burger. Their low prices and easy-going setting make them a nice addition to Uppsala's steadily growing burger scene.