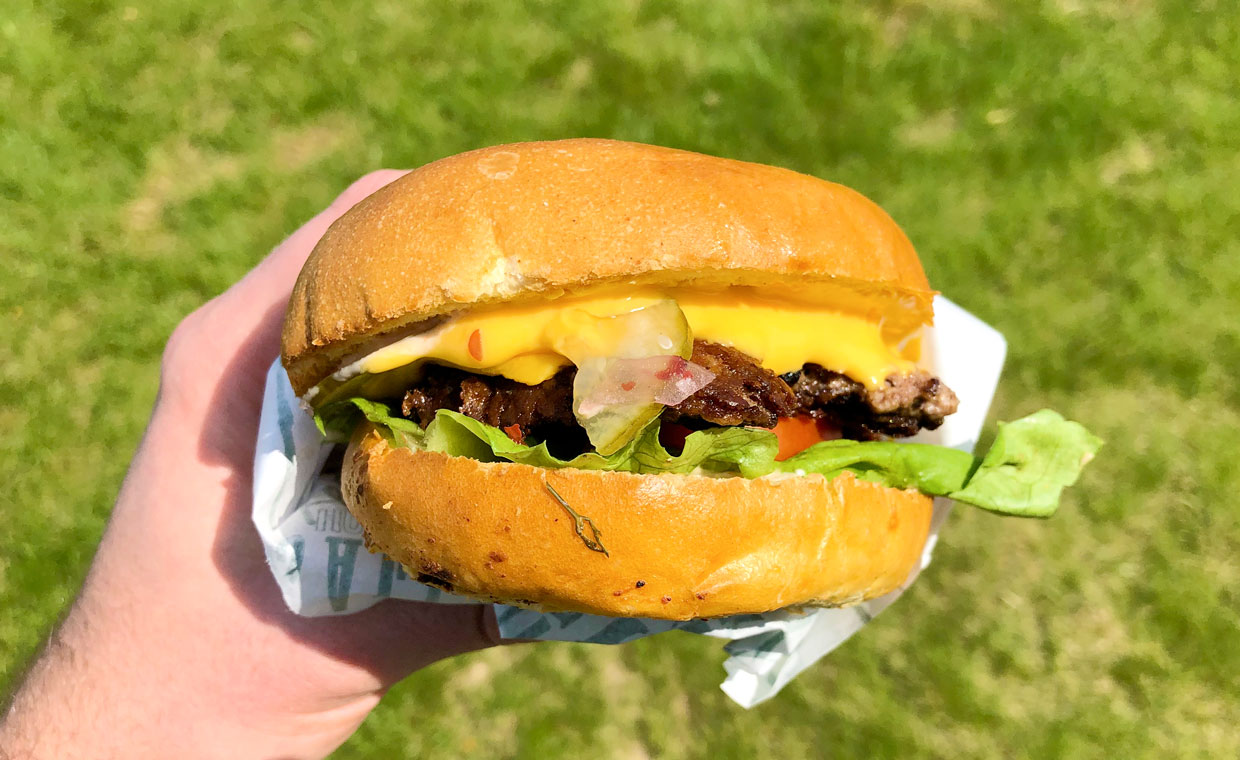 Foodtrucken D'Burgr står vid Sveriges Lantbruksuniversitet i Ultuna, strax utanför Uppsala. Deras meny innehåller totalt åtta olika burgare, med en hamburgare som byts ut månadsvis. Menyn är faktiskt väldigt intressant då de har gjort sina egna tolkningar av klassiska burgare, vilket känns charmigt och uppfriskande.
Prissättningen ligger på mellan 80 till 105 kronor för en enkel 160-gramsburgare, samt ytterligare 35 kronor för dubbla köttpuckar. Vi beställde deras minst sagt ostiga Cheesus Christ-burgare för 85 kronor som innehöll cheddarkräm, tre skivor cheddarost, inlagd lök, dillpicklad gurka, tomat, sallad och deras egen dressing. Den serverades invirad i papper i klassiskt streetfood-manér, och kändes bra i handen.
Det första vi reagerade på var det stora brödet, som kändes alldeles för massivt för den enkla 160-gramsburgaren som vi hade beställt. Brödet var inte heller särskilt följsamt, och visade sig vara ganska torrt redan vid första tuggan. Köttet var hårt stekt och hade nästan för mycket stekyta. Köttpucken knastrade de när vi satte tänderna i den, men smaken var god trots att den inte var särskilt saftig.
Smakmässigt så dominerade annars den stora mängden ost, vilket såklart uppskattades. Men som god tvåa kom den något överraskande gurkan. Det var inget fel på själva gurkan i sig, men ett stort rosépepparkorn hade följt från lagen och lagts på burgaren. Och efter måltiden så smakade allting rosépeppar i flera timmar efteråt, vilket kändes som onödigt slarv vid monteringen.
Missarna till trots så märkte vi att det finns en hög grundkvalitet, men D'Burgr måste finslipa detaljerna om de vill nå hela vägen.
In English
The food truck D'Burgr is located by the Swedish University of Agricultural Sciences in Ultuna, just north of Uppsala. Their menu holds 8 different burgers, with one that changes each month. Most hamburgers were classics but with their own twist, which we found to be charmingly refreshing.
A burger with a single 160 gram patty costs 80-105 SEK (8-11 USD), with an extra patty costing 35 SEK (4 USD). We ordered their super-cheesy Cheesus Christ burger for 85 SEK (9 USD), with a cheddar crème, three slices of cheddar cheese, pickled onions, dill pickles, tomato, lettuce and a house sauce. It came in a nice street food wrapper and felt great in our hand.
The first thing we noticed was the bun, which was far too big for our single patty burger. It wasn't very soft either, and its dryness was obvious as soon as we started eating. The patty had been fried for far too long as well, and its crust was almost too much. It felt crunchy when we ate it, but had a nice taste despite not being very juicy.
Of course, the burger was very cheesy, which we appreciated. But the pickles were a close second, mainly due to the large pink peppercorn from the brine that made everything taste of rosé pepper for hours afterwards. A simple mistake perhaps, but still one that marred our experience somewhat.
Despite a few mistakes, we could see that D'Burgr are capable of delivering high quality burgers. But these grievances must really be ironed out if they want to be ranked any higher.