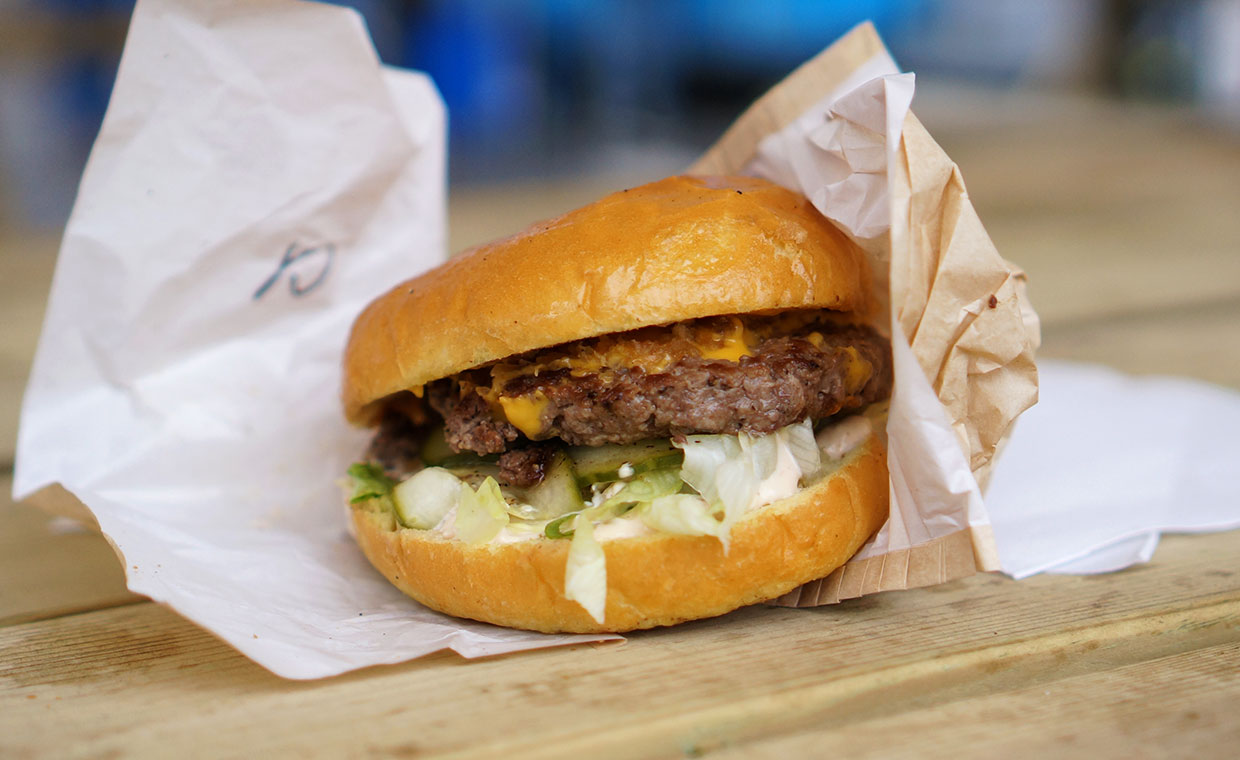 Mitt i ett industriområde utanför Uppsala står en restaurangvagn som serverar en av Sveriges mest hajpade burgare. En gråkall vårdag åkte vi dit för att se om Dylan's Grill kunde leva upp till de höga förväntningarna.
I den lilla vagnen trängdes tre personer. Personalen berättade att deras mest populära burgare var Cowboy, med stekta jalapeños och BBQ-glaze. Vi beställde både den och ett par andra varianter – däribland originalburgaren med picklad gurka, stekt lök, tomat, sallad, ost och dressing. Prisnivån var låg, sannolikt tack vare platsen, men kvaliteten visade sig vara hög. Brödet var bra rostat, hade utmärkt konsistens och höll ihop precis som det skulle. De smashade köttpuckarna på 90 gram hade en härlig stekyta och god smak. Och ytterligare en puck kostade bara 16 kronor extra!
Tillbehören på originalburgaren – sallad, lök, ost med mera – hade tyvärr inte så mycket smak, med undantag av den picklade gurkan som därför blev dominant. Vi gillade både deras Cowboy och deras Pacific – med avokado och pico de gallo – bättre än originalet just för att de smakade mer och kändes bättre balanserade. Kombinationen av hög kvalitet och lågt pris gör att vi stämmer in i lovsången – Dylan's Grill är väl värd sitt goda rykte och bör besökas – omvägen till trots.
Uppdatering: Dylan's Grill har numera två restauranger i Uppsala. Vi har testat dem och anser att kvaliteten är något lägre än tidigare.
In English
Dylan's Grill is located in an industrial area outside of Uppsala, and serve one of Sweden's most talked about burgers from a small blue wagon. We ordered a couple of different burgers from their menu, thanks to the low price. And thankfully the quality was consistently high. The buns were toasted, had good texture and held up perfectly. The smashed 90 gram patties had a nice flavour and a good crust, and a second patty only cost 16 SEK extra. The toppings on the original burger (cheese, pickled cucumber, fried onions, tomatoes, salad and dressing) was unfortunately a bit bland, with the exception of the pickles that stood out and became dominant. We actually preferred some of their other burgers, such as the Cowboy with fried jalapeños and a BBQ glaze, and the Pacific with avocado and pico de gallo, just because they had more and better balanced flavours. That being said, all burgers were really good and Dylan's Grill really deserves the praise they have been given. It's not that easy to get there, but it's well worth the detour.