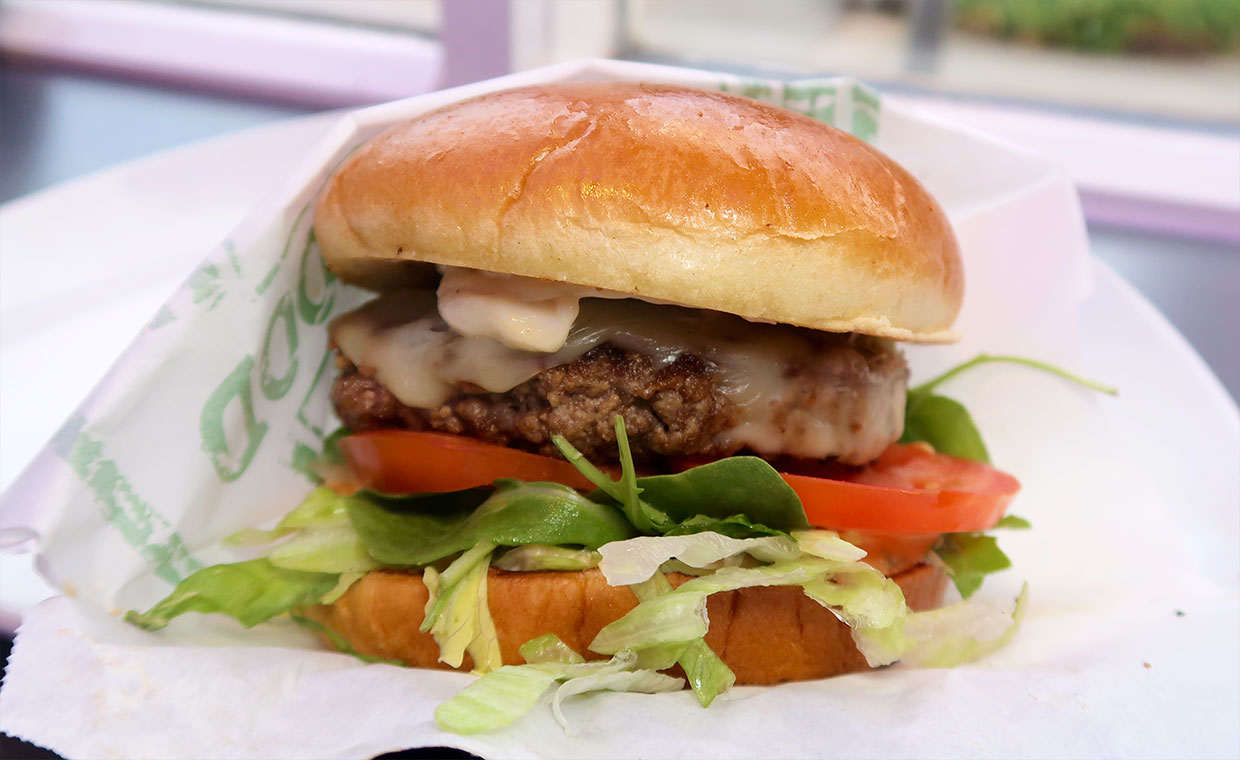 Aram's Burger är en grillkiosk belägen i Skallberget, ett par kilometer norr om Västerås centrumkärna. Här finns en handfull sittplatser såväl inomhus och utomhus, och på menyn trängs ett tiotal högrevsburgare med ytterligare ett tiotal nötköttsburgare på fryst kött, samt kycklingburgare, vegetariska burgare och annan klassisk gatuköksmat som kebab och korv.
Det märks att högrevsburgarna är ett senare tillägg då den menyn är mer oortodox och fantasifull än den klassiska menyn (där de använder fryspuckar). Vi föredrar som alltid att recensera burgare utan alldeles för många och dominanta toppings, för att bedöma kvaliteten på de grundläggande delarna. Den mest "klassiska" hamburgaren vi hittade på högrevsfronten var en mozzarellaburgare med mozzarellaost, hamburgerdressing, rödlök, färsk gurka, tomat och isbergssallad för 85 kronor inklusive dryck. Inte helt oväntat så blev det en rätt blek smakupplevelse, och det var egentligen bara den söta hamburgerdressingen som smakade någonting. Köttet var av den färdigformade, överarbetade varianten och erbjöd främst tuggmotstånd. Brödet var helt okej och grönsakerna var fräscha, men de tillförde mer textur än smak. Pommes fritesen kostade 25 kronor, och de var av vanlig pappliknande gatukökskvalitet.
Vi blev trevligt bemötta och vi gissar de boende i området som hittat en favorit i den omfattande menyn gärna tar en burgare här, men tillskottet av rätt tråkiga högrevsburgare räcker inte så värst långt. Om du inte redan är stammis så är det sannolikt ingenting för dig.
In English
Aram's Burger is a small burger kiosk in Skallberget, a few kilometres north of central Västerås, Sweden. They have a handful of indoor and outdoor seats, and their menu consists of classic grill kiosk fare (such as sausages, kebab and burgers with frozen patties), plus several chuck patty burgers.
The chuck burgers seem to be a new addition, seeing how that menu is much wilder than the regular menu (with frozen patties). As always, we chose a simple burger for our review in order to really get a feel for the underlying quality, and the most classic alternative we could find was their mozzarella burger. It contained mozzarella cheese, burger sauce, red onions, cucumber, tomato and lettuce, and cost 85 SEK (9 USD) including a soft drink. Unsurprisingly, this was no taste explosion, and it was the sweet burger sauce that stood out the most. The preformed and overworked patty was a bit chewy and didn't taste of much. Both the bun and fresh vegetables added some texture, but were pretty bland as well. The french fries cost 25 SEK (just under 3 USD) and were of the typical cardboardy grill kiosk variety.
We enjoyed the friendly service the most, and we're sure that local customers won't complain that much, but their pretty boring fresh burgers didn't do much to wow us. If you're not a regular, there's no real reason to travel here for their hamburgers.