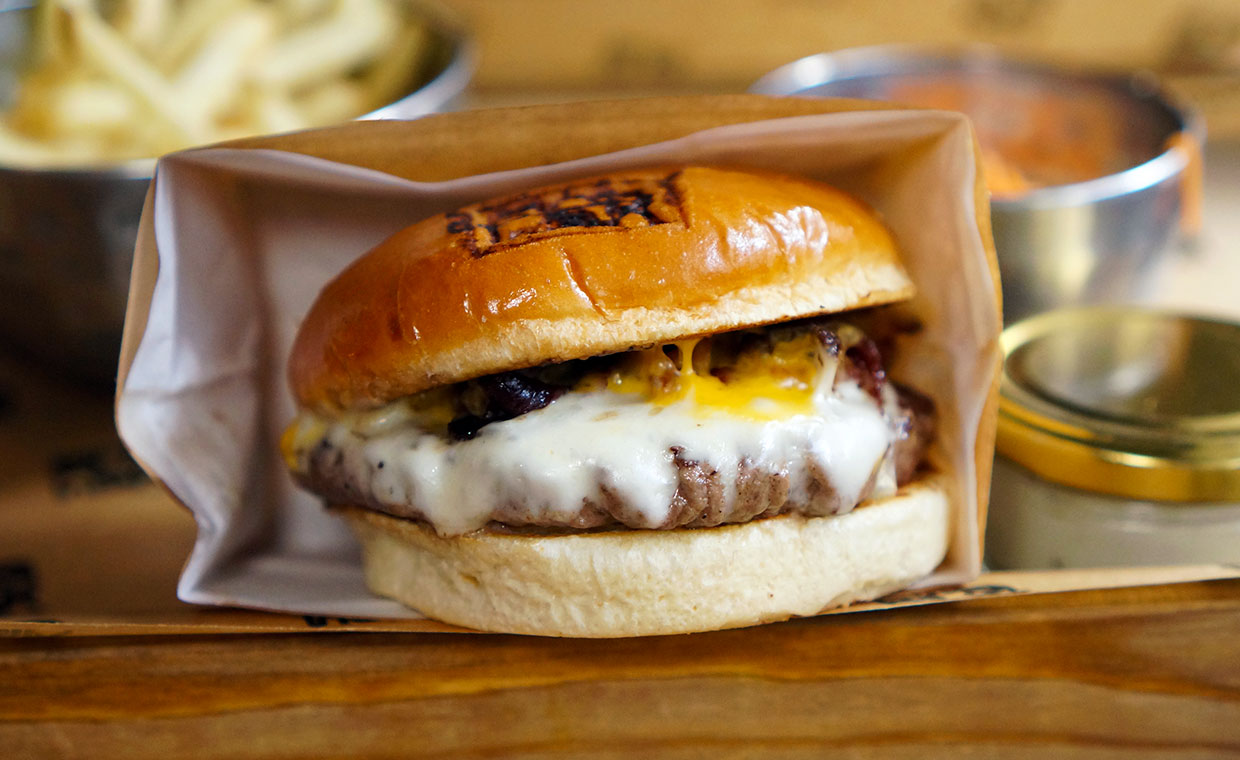 Bra Hak ligger mitt i Västerås, precis bredvid Svartån. Den rymliga lokalen är trivsamt inredd med vitmålade bjälkar och en hel del träinslag. Fokus ligger på burgare med lokalt kött från gårdar i Västmanland, och utöver de sju köttburgarna så har de vegetariska och en vegansk variant. De har även en kycklingburgare och en fiskburgare på menyn.
Alla burgare kostade 169 kronor, och då ingick även pommes frites, coleslaw och en tryffeldipp. Vi beställde in Hemmakär med dressing, silverlök, bifftomat, ost, sallad och västeråsgurka, samt Stammis med ost, bacon, silverlök och majonnäs.
Det första vi slogs av var hur snyggt sammansatta burgarna var, med klanderfri presentation och deras logotyp inbränd på varje bröd. Köttet var dessutom väldigt fint med en rosa kärna i mitten, men borde ha haft lite mer stekyta. Vissa delar var även lite torra, medan några tuggor var saftiga. Hemmakär-burgaren hade inte så många smaker som stack ut, men vi uppskattade renheten hos Stammis med sina få ingredienser. Vi tyckte dock att baconets rejält rökiga köttsmak och konsistens tog över, och hade önskat att det var krispigare.
Den bleka pommes fritesen var överraskande god, och tryffeldippen var dekadent utan att bli övermäktig. Bra Hak serverar några av de bästa burgarna i centrala Västerås, och är helt klart bättre än bara bra.
In English
Located in the town centre of the Swedish city of Västerås, Bra Hak have a snazzy restaurant where they focus on burgers. They've got 7 beef burgers and 2 vegetarian, 1 vegan, 1 chicken and 1 fish burger.
A menu with a burger, french fries, coleslaw and a truffle dip cost us 169 SEK, and we ordered their Hemmakär (dressing, silver onions, tomato, cheese, lettuce and pickles) and Stammis (cheese, bacon, silver onions and mayo) burgers.
The burgers were excellently presented, with their logo nicely branded on the bun. The patties had a nice, pink centre, but lacked a proper crust and could have tasted a bit more. We also found that the meat quality was a bit uneven, with some super juicy bites and some that were a bit drier. The Hemmakär burger didn't have much character, but we did enjoy the purity of the Stammis, even though the generous piece of bacon was a bit overpoweringly smokey and slightly chewy.
Much to our surprise, we really enjoyed the pale french fries, and the truffle dip was decadent without taking over. Bra Hak serve some of the best burgers in Västerås, and definitely come recommended.