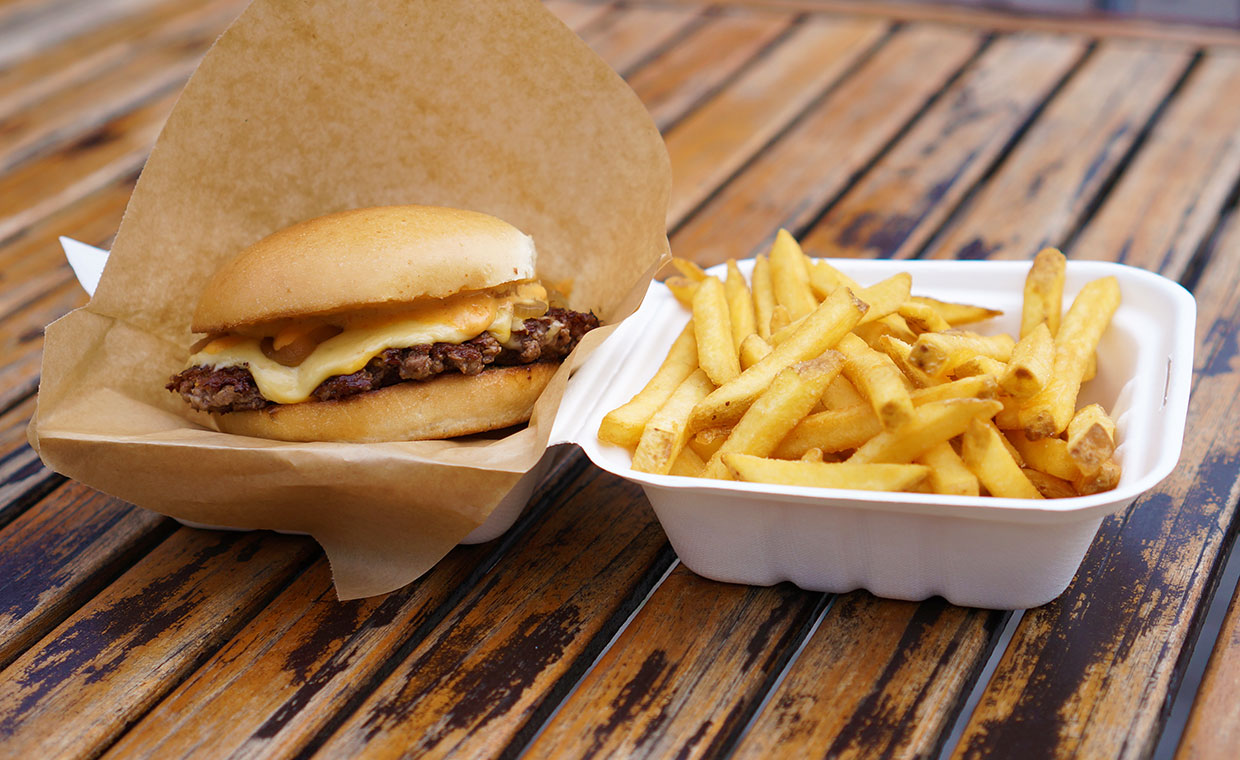 Chucky Burger ligger belägen i en traditionell grillkiosk i ett villaområde strax norr om centrala Västerås. De har enbart en uteservering, vilket såklart kan vara begränsande vid dåligt väder, men de flesta av deras kunder verkar antingen vara från området eller bilburna. De har numera även en restaurang i Erikslund.
Menyn rymmer ett tiotal olika burgare, inklusive ett vegetariskt alternativ, plus en handfull olika tillbehör. Vi beställde deras Favorit för 85 kronor med ost, stekt lök och dressing, samt deras Porky's för 90 kronor med ost, stekt lök och rökt sidfläsk. Vi beställde även en rejäl portion pommes frites för 25 kronor.
Burgarna såg lovande ut, men två enkla missar tystade tyvärr våra förväntningar ganska snabbt. Brödet var för hårt uppvärmt och ganska knaprigt både på utsidan och insidan, och köttet var så generöst saltat på båda våra burgare att vi hajade till direkt. Sidfläsket på Porky's var dessutom lite för tjockt och tuggigt, med en kasslerliknande känsla, och dressingen på Favorit påminde mer om en rosa gyrossås än en klassisk burgardressing. Pommes fritesen fick godkänt mycket tack vare att de var ganska prisvärda om man köpte en meny med läsk, men gjorde egentligen varken från eller till.
I grunden var burgarna rätt bra, men vi hade svårt att fullt ut uppskatta dem av ovanstående skäl. Trots dessa missar med bl.a. kryddningen så kunde vi se att Chucky har lyckats med många andra delar, och kvaliteten var faktiskt tillräckligt hög för att vara godkänd. För oss var de kanske inte värda omvägen utanför centrala Västerås, men med bättre kvalitetskontroll skulle de kunna bli riktigt bra.
In English
Chucky Burger is a small Swedish burger joint whose grill kiosk is located in a residential area just north of central Västerås. They only have outdoor seating, making them vulnerable to bad weather, but it seems like most of the clientele is local or at least car based.
Their menu consists of 10 different burgers, including a vegetarian option, and a generous amount of sides. We ordered their Favorit for 85 SEK with cheese, fried onions and dressing, and a Porky's for 90 SEK with cheese, fried onions and bacon. We alse ordered a large portion of fries for 25 SEK.
The burgers looked promising, but two obvious mistakes really ground our gears. The buns had been heated too much, making them crisp on both sides, and the patties were almost overwhelmingly salty. Also, the bacon in the Porky's was thick and quite chewy, and we didn't really care for the dressing on the Favorit either. The fries were alright, mainly thanks to them being quite cheap if you also buy a drink.
We could actually see the quality in the other components shine though, so it was a pity that our experience was ruined somewhat by these slip-ups. For us they weren't really worth the detour outside of central Västerås, but if they up their quality control we still think that they could be a real contender in the city – hopefully in time for their upcoming expansion.