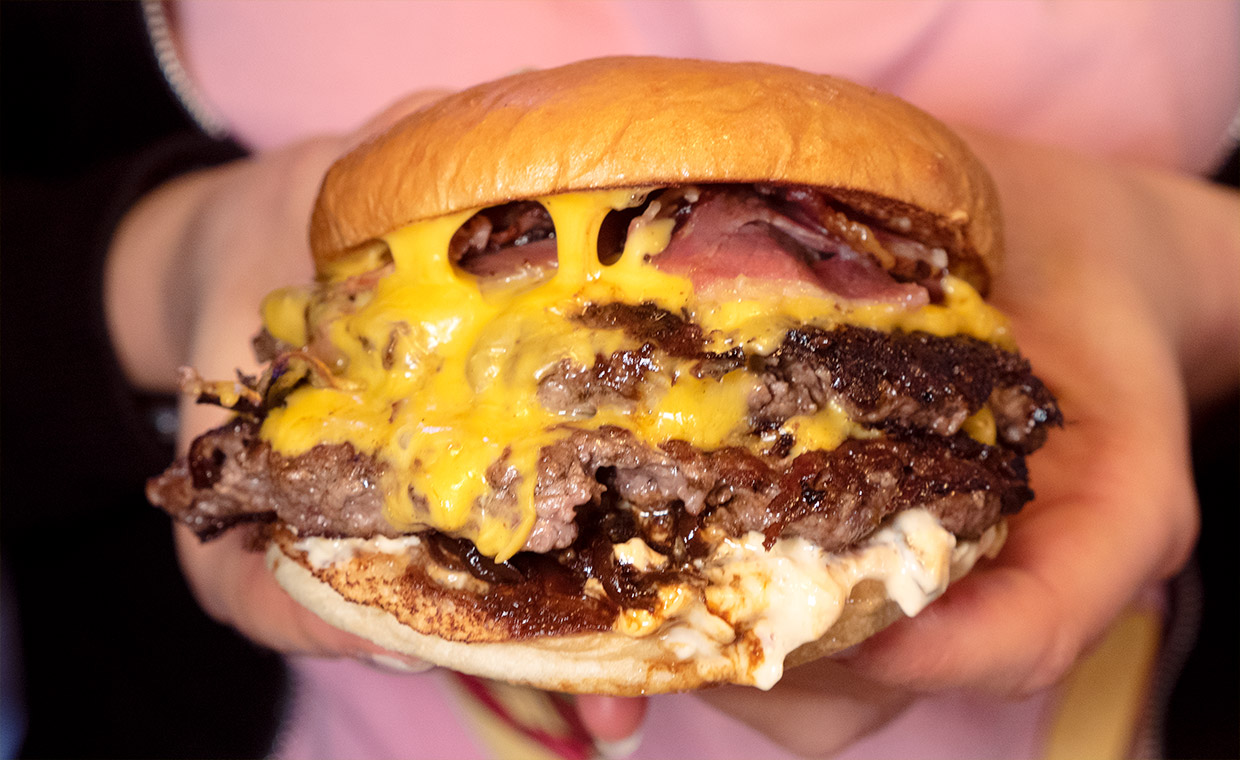 Första gången som vi besökte Hamburgeriet i Västerås var 2017, och då hade de bara ett litet bås längst in på Ica Vallby. Sedan dess har de expanderat och öppnat en riktig restaurang i en stor och nybyggd lokal i Kopparlunden. Även menyn har ändrats, från lappar där du själv väljer ingredienser till en riktig meny med färdigkomponerade burgare. Denna gång beställde vi in en dubbel Bacon Cheeseburger med bacon, dubbel ost, husets sås och stekt lök samt en dubbel Hot Mess med dubbel ost, chipotlemajonnäs, färsk jalapeño och picklad rödlök. Burgarna kostade 119 kronor styck och i priset ingick även vanliga pommes frites. Vi valde att uppgradera en portion till Garlic fries med Grana Padano-ost, rökt vitlöksmajonnäs och vårlök för ytterligare 35 kronor.
Hamburgarna hämtades direkt från det öppna köket, och låg fint upplagda på brickor. Köttet såg ut att vara välstekt och båda burgarna såg riktigt saftiga ut. Det första vi noterade var det otroligt mjuka brödet, som kommer från ett närliggande bageri. Det var fluffigt, smakrikt och ordentligt rostat – en riktig fullträff. Köttet hade en fin stekyta, och smakade riktigt gott. Däremot så var köttpuckarna lite för kompaka för vår smak, och köttet i vår baconburgare hade saltats lite för lite. Utöver detta så tyckte vi att smakerna uteblev något; såserna smakade väldigt lite, och trots jalapeñon så bjöd inte vår Hot Mess på någon som helt styrka. Vi gillade smakerna och baconet i vår Bacon Cheeseburger, men den var lite för mjuk överlag rent texturmässigt. Pommes fritsen var välfriterade, och trots att de saknade salt så var det lätt åtgärdat. Och våra Garlic fries var riktigt goda.
Burgarna på Hamburgeriet är prisvärda och håller hög kvalitet, och om du befinner dig i norra Västerås så finns det fortfarande en riktigt stabil hamburgare att hämta här.
In English
Our first visit to Hamburgeriet in Västerås was in 2017, and back then they were tucked away inside the large convenience store in Ica Vallby. Since then they've expanded to a large and newly built restaurant in Kopparlunden. They've also changed their menu, from choosing your own toppings to choosing burgers from a real menu. This time we ordered a double Bacon Cheeseburger with bacon, double cheese, house sauce and fried onions plus a double Hot Mess with double cheese, chipotle mayo, fresh jalapeños and pickled red onions. Our burgers cost 119 SEK (14 USD), including an order or regular fries. We also upgraded one of our sides to Garlic fries with Grana Padano cheese a smoked garlic mayo and spring onions for an additional 35 SEK (4 USD).
Our burgers came directly from the open kitchen area, neatly served on trays. The beef patties had a nice crust and looked really juicy. The first thing we noticed was the super soft bun from a local bakery. It was fluffy, tasty and excellently toasted on the inside, and a real highlight of our meal. The patty's had a proper crust and tasted nice, but we would have preferred them a bit looser and less compact, and our bacon burger's patty needed more salt. Our sauces were a bit lacking in the taste department as well, and even though our Hot Mess included fresh jalapeños it wasn't spicy at all. We liked the flavours and the bacon in our Bacon Cheeseburger, but it was a bit too soft overall. The French fries were properly fried with a nice crisp, and even though they could have done with more salt this was easily remedied. The Garlic fries were really good too.
Hamburgeriet serve high quality burgers at an excellent price-point, and if you're in the north parts of Västerås you really can't go wrong with their burgers.