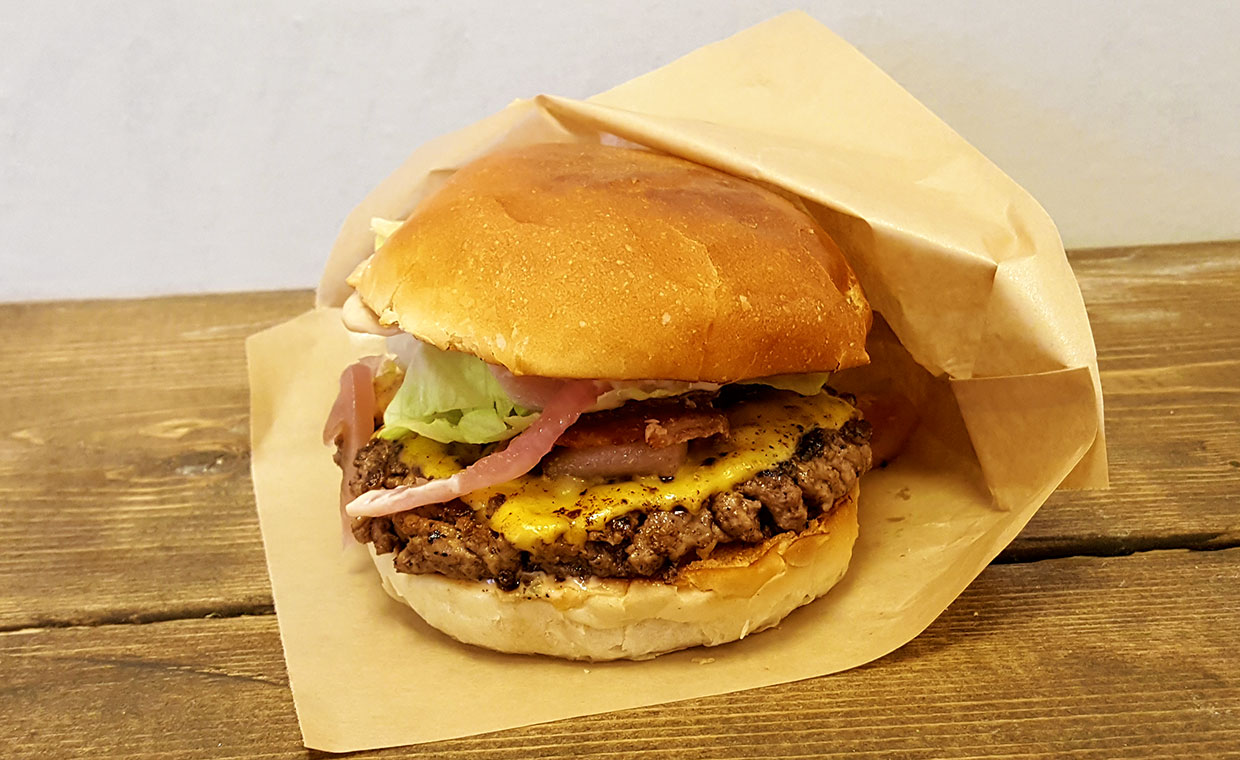 Vi har fått många tips om det diskret undangömda burgarstället Hamburgeriet längst in på Ica Vallby i Västerås, så det vi hade höga förväntningar när vi kom på besök. Deras meny består av ett antal kundfavoriter, samt möjligheten att bygga sin egen burgare. Den pratsamme kocken berättade att han laborerat med ett antal olika blandningar av kött innan han bestämde sig för 100 procent högrev av god kvalitet för sina burgare.
Vi beställde en enkel burgare med en köttpuck på 150 gram, cheddar, bacon, isbergssallad, picklad rödlök och srirachamajonnäs. Burgaren såg lovande ut och vi högg in med stor entusiasm. Brödet från Stenugnsbageriet i Köping var mycket gott, och var fluffigt och fint på insidan trots ett något frasigt yttre. Köttet var saftigt och lagom packat med en rejäl stekyta och mycket smak, även om lite mer salt och peppar inte hade skadat. Den krispigt fräscha salladen, det knapriga baconet och den trevliga cheddarsmaken från den välsmälta osten bidrog till att vi verkligen uppskattade den här burgaren. Srirachamajonnäsen passade dessutom perfekt på burgaren och bidrog med en fin harmoni med sin hetta.
En burgare med krispiga pommes frites och en dippsås kostar 89 kronor, vilket gör Hamburgeriet till ett solklart val för alla i närheten av Västerås.
In English
Our expectations were high when we finally got to try the hidden burger gem Hamburgeriet in the Swedish town of Västerås. We chose a burger with a 150 gram patty of 100% chuck, iceberg lettuce, pickled red onions, cheddar, bacon and sriracha mayonnaise. It cost 89 SEK with fries and a dip sauce, which is great value. The burger looked promising, with a juicy patty with a heavy char wich we enjoyed, even though it could have done with a bit more salt and pepper. The locally baked bread was a bit crisp on the outside but soft and fluffy on the inside. And the fresh lettuce, nicely melted cheddar and tasty salty bacon made this a great burger. The homemade sriracha mayonnaise was the glue that held it together and added a nice touch of heat. Don't miss out if you're in the area!