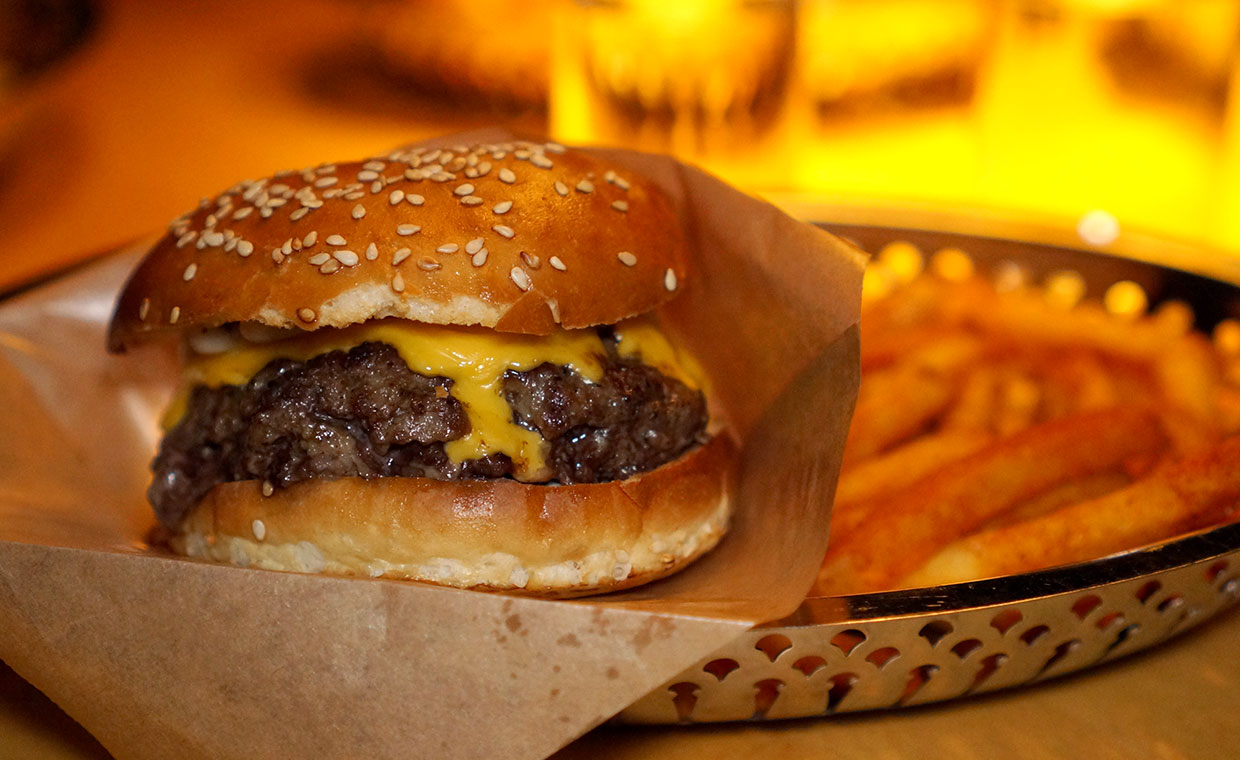 Vi har fått tips om att besöka NOM Bar & Restaurant i Västerås i flera år nu, så det kändes kul att äntligen få chansen att sätta tänderna i deras burgare. I den trevliga lokalen serveras främst kötträtter, och deras enda cheeseburgare med pommes frites och tryffelmajonnäs kostade väl tilltagna 225 kronor.
När burgaren serverades på vårt bord så såg den verkligen riktigt bra ut. Den hade gyllenbrunt bröd i bra storlek, en rejäl köttpuck och härligt smält ost. Redan vid första tuggan var det uppenbart att alla ingredienser var av god kvalitet, men det fanns en hel del saker som vi inte gillade.
Det vackra briochebrödet var nämligen torrt, med en väldigt tunn och hård skorpa som verkligen störde vid varje tugga. Bottenbrödet hade inte heller rostats ordentligt, vilket gjorde att den blev helt genomblöt av köttsafterna efter bara ett par tuggor. Köttet var visserligen gott och saftigt men kändes ojämnt lagat. Det var smakrikt och saftigt i mitten, men ytterkanten var riktigt torr och smaklös. Pommes fritesen var också av hög kvalitet, men hade bokstavligen talat bombarderats med paprikapulver som tog över all smak.
Sammanfattningsvis kan vi säga att vi verkligen känner av kvaliteten i ingredienserna, men med så här många fel på nästan samtliga delar tillsammans med den höga prissättningen så halkar NOM Bar & Restaurant tyvärr efter sina konkurrenter.
In English
People have been recommending the burger from NOM Bar & Restaurant in Västerås to us for years now, so it felt great to finally pay them a visit. Their nicely designed restaurant focuses primarily on meat, and their only burger is a cheeseburger with fries and a truffle mayo for 225 SEK.
The burger looked really good, with a nicely sized golden bun, a hefty patty and nicely melted cheese. And even though it was obvious from the start that they had used high-quality ingredients, we did notice several things that we didn't like.
The beautiful bun was dry, covered with a thin and hard crust that was present throughout the meal. The bottom bun hadn't been toasted properly either, and the meat juices soaked through it after just a few bites. The actual patty was nicely seasoned and tasted good, but was unevenly cooked – juicy in the middle but with dry and tasteless edges. And to top it off, the fries had been great if they hadn't been covered with a thick layer of paprika powder that smothered all other flavours.
As we said, the ingredients were great, but we encountered far too many mistakes throughout the meal. With such a high price-point, we're afraid that NOM Bar & Restaurant just can't keep up with the local competition.