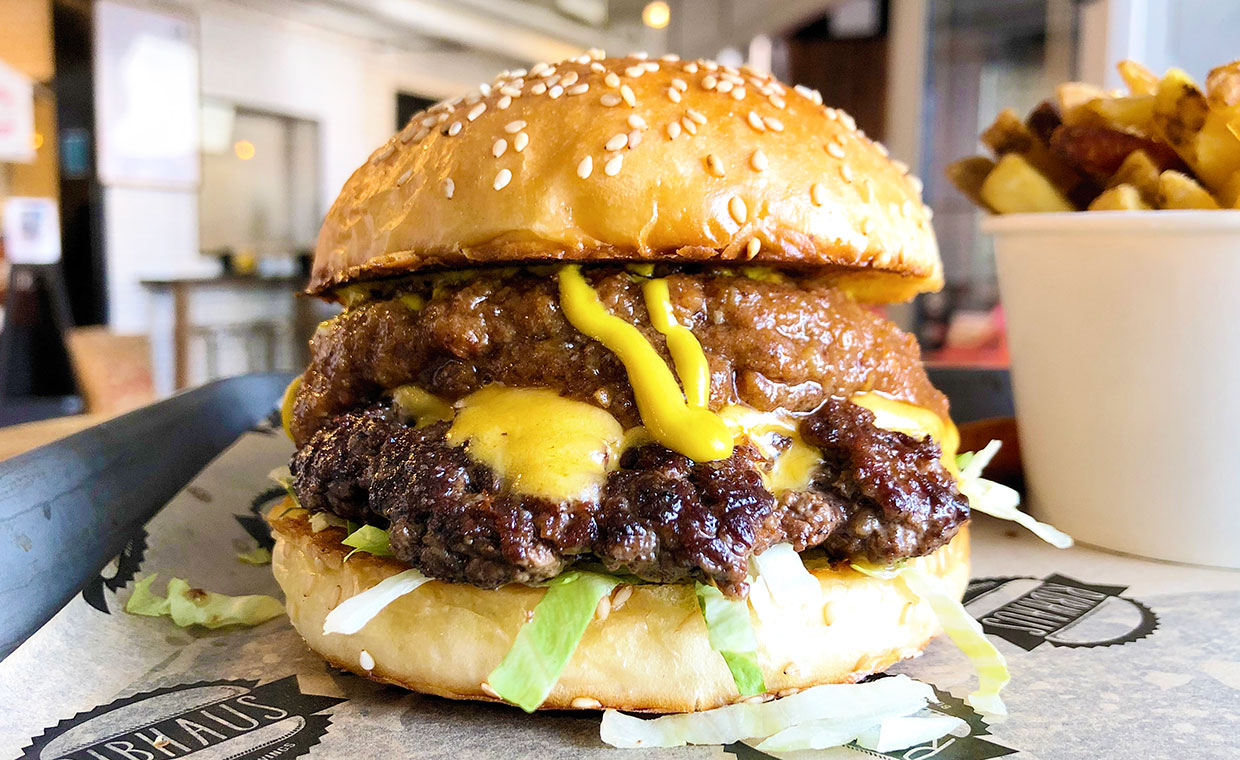 När vi testade RibHaus för första gången 2015 blev vi både bländade och fascinerade av deras asiatiska influenser, och de var självklara deltagare när vi anordnande vårt första Stockholm Burger Fest under 2016. Som ni hör så har vi en historia tillsammans, och vi kände att det var hög tid att uppdatera vår gamla recension.
RibHaus har lokaler i Saluhallen Slakteriet strax utanför Västerås, och intressant nog även en lokal i Sydkoreas huvudstad Seoul. Deras välkomponerade meny består av sju burgare (varav en är en månadsburgare) samt kycklingvingar, tillbehör och milkshakes. Denna gång testade vi deras Bacon Jamm-burgare med en köttpuck på 150 gram, dubbel ost, baconsylt, senap och strimlad sallad för 95 kronor, samt mixade pommes frites för ytterligare 20 kronor.
Burgaren serverades på en bricka och var en total fröjd för ögat. Det sesamprydda brödet hade en fin färg och en snygg välvning som gjorde att den passade perfekt i handen. Första tuggan var riktigt bra, och det var uppenbart att alla komponenter var gjorda från grunden. Baconsylten, som de inte hade snålat med, hade en sötma och sälta som spelade perfekt med den syrliga senapen, och tillsammans skapade de en rejäl smaksensation. Och den strimlade salladen gav en nödvändig fräschör och textur så att den mäktiga baconsylten inte tog överhanden.
Även köttet var riktigt bra med en rejäl stekyta och en tillfredsställande kryddning som lyfte köttsmaken. Det nybakade briochebrödet lyckades tyvärr inte hålla ihop hela vägen genom måltiden, och borde ha rostats mer för att stå emot safterna lite bättre, men det var vår enda egentliga kritik. Pommes fritesen var även de riktigt goda, med ett tillfredsställande krisp samt ett mjukt och gott inre.
RibHaus har kommit en lång väg sedan vi testade deras burgare för första gången på Hornstulls Marknad. Fyra år senare kan vi konstatera att de inte bara serverar Västerås bästa burgare, utan även en av de bästa hamburgarna i Sverige.
In English
When we at RibHaus for the first time back in 2015 we were both fascinated and intrigued by their Asian influences, and they were given contestants when we organised the inaugural Stockholm Burger Fest in 2016. As you can see we've got some history, and it was about time for us to update our old review.
RibHaus have one restaurant in the Saluhallen Slakteriet market outside central Västerås, and interestingly enough one in the South Korean capital Seoul. Their carefully crafted menu consists of 7 burgers (with one monthly variety) plus chicken wings, sides and milkshakes. This time we ordered their Bacon Jamm burger with a 150 gram patty, double cheese, bacon jam, mustard and shredded lettuce for 95 SEK (10 USD) and their mixed fries for 20 SEK (2 USD).
Our burger came served on a tray and looked absolutely wonderful. The sesame bun had a nice colour and shape, fitting perfectly in our hand. And it didn't take more than a bite to see that each and every ingredient was top notch. The generous amount of bacon jam was sweet and savoury  in a way that worked great with the tangy mustard, and the end result was fantastic. And the shredded lettuce added some much-needed freshness and texture that stopped the bacon jam from becoming overpowering.
The meat tasted great too, with a nice char and excellent seasoning that really enhanced the beefiness.  The newly baked brioche bun could have been a bit more toasted though, since it couldn't really handle all the juices. But that's really our main criticism, and the fries were top notch as well; soft and tasty on the inside but nice and crispy on the outside.
RibHaus have come a long way since we first tried their burgers back in Hornstulls Marknad, and 4 years on it's plain to see that not only do they serve the best burgers in Västerås, but also some of the best hamburgers in Sweden.