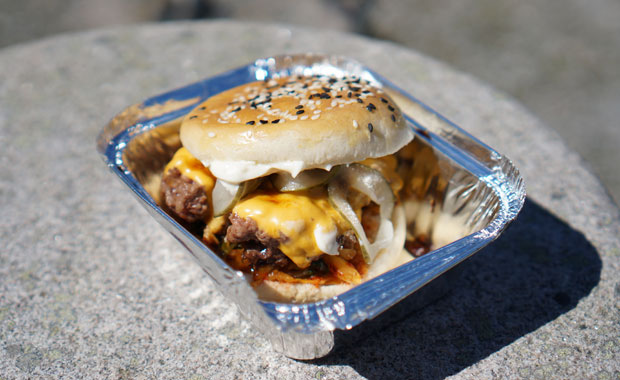 RibHaus har sitt ursprung i streetfoodburgare med smakinspiration från Korea och Japan. Under sina första år serverade reste de till olika event i Stockholm och Västerås, men 2016 öppnade de en restaurang i saluhallen Slakteriet i Västerås, där de har utökat menyn med kycklingvingar och liknande. Men fokus ligger fortfarande på hamburgarna, som verkligen lyckas hitta rätt balans med de asiatiska smakerna.
Vi har en förkärlek för deras signaturburgare Doctor Seoul, med en ssamjang-glacerad 150-gramsburgare med ost, kimchi, inlagd gurka och vitlöksmajonnäs. Det är en härlig smakresa som bjuder på lite av allt. Den känns somrig, vilket är perfekt för en burgare i streetfood-stil.
Under våra besök har köerna ringlat sig långa, och trycket har varit högt. Det kan vara en förklaring till att brödet, som Ribhaus själva är stolta över, ibland blir lite torrt och trist. Men bortsett från mindre missar och det faktum att det grovmalda köttet gärna vill falla isär lite väl mycket har vi bara ett annat problem med vår burgare – och det är att vi snabbt ätit upp den och vill ha en till.
In English
RibHaus have their roots firmly planted in the street food scene, and serve burgers inspired by Japanese and Korean cuisine. They started out as a street food vendor, serving burgers from a tent at various events in Västerås and Stockholm, but in 2016 they opened a brick and mortar restaurant in the Slakteriet food hall in Västerås. Their expanded menu now also boasts chicken wings and several sides, but burgers are still their main dish.
We are somewhat infatuated with their signature burger Doctor Seoul, with its ssamjang glazed 150 g patty with cheese, kimchi, pickles and garlic mayo. It's a great taste trip that makes us dream of the summer months in East Asia.
The queues have always been deservedly long when we've visited them, which has sometimes led the buns to be a bit dry and the meat to fall apart a bit too easy. But apart from this our main problem has been that the burgers are so good that just one isn't enough.