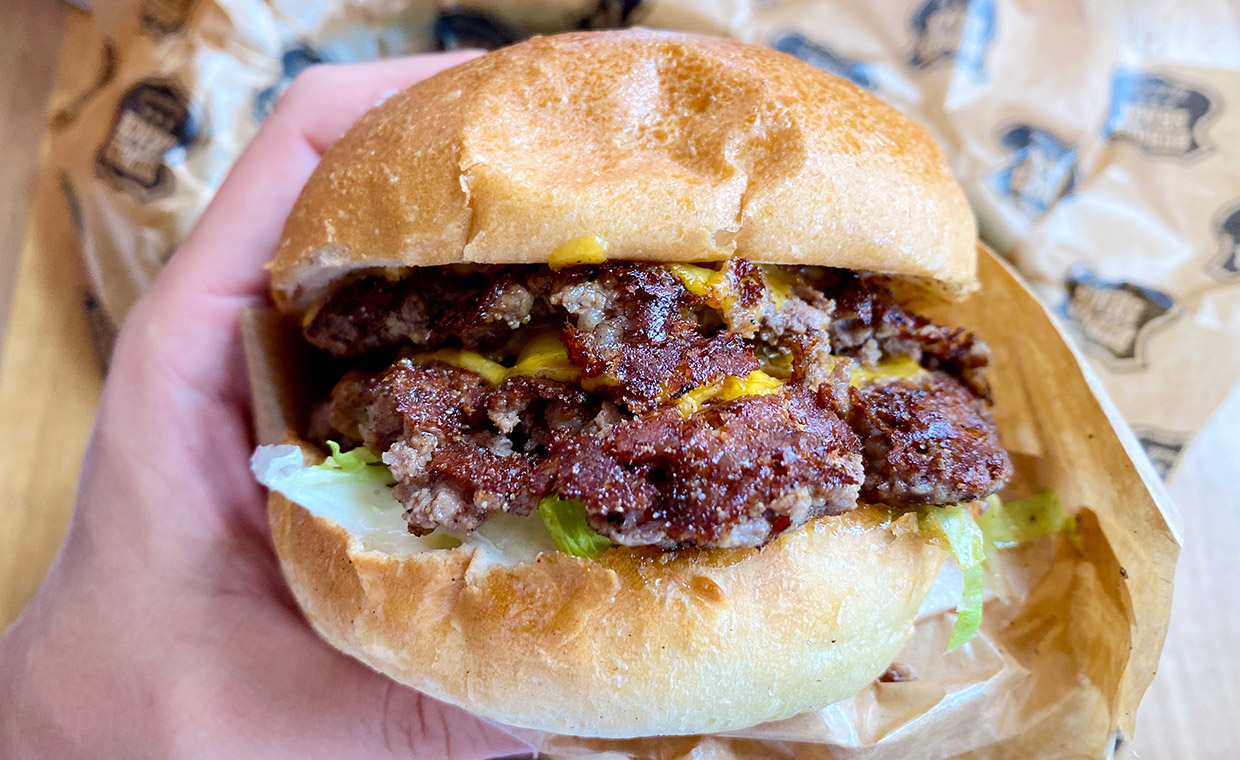 Populära Burger Shack har serverat hantverksburgare i Västervik sedan 2017, och vi har fått många tips genom åren att besöka dem. Restaurangen ligger vackert belägen precis vid hamnområdet, och den lilla lokalen är inredd med Americana-detaljer från golv till tak. Burgarmenyn innehåller en handfull olika burgare som alla kan fås med stekost, och det finns dessutom ett par renodlade vegetariska varianter, samt en vegansk. De flesta ingredienser, som köttet och brödet, produceras lokalt, och burgarna serveras med en enkelpuck på 180 gram eller två 125-grammare. Det sistnämnda valet kostar 45 kronor extra, en ganska rejäl prisökning för endast 70 gram mer kött.
Valet föll på en dubbel Classic med totalt 250 gram kött, cheddarost, sallad, tomat, silverlök och majonnäs för 160 kronor. Burgaren serverades i ett något överdimensionerat och luftigt bröd, och det första vi noterade var den utmärkta stekytan på de två stora puckarna. Köttet var rejält kryddat med både salt och peppar. Det var på gränsen till för mycket, men det gifte sig fint med den goda köttsmaken. Däremot hade köttet gärna ha fått vila lite innan montering, då hela måltiden blev ganska blöt. Som tur var så var brödet som skapt för att hantera detta och fångade upp alla köttsafter som inte runnit ut. Smakmässigt så fungerade de enkla ingredienserna väl, men vi lade till lite senap och ketchup för att balansera smakerna. På tillbehörsfronten så briljerade både deras Oreo-milkshake för 55 kronor och deras Mixed Fries för 40 kronor, men deras Spicy Cheese Fries med ost, jalapeños och chiliflingor för 55 kronor var en besvikelse på grund av det hårda osttäcket som gjorde allt svårätet och ganska oaptitligt.
Vi förstår verkligen varför Burger Shack är så pass uppskattade. De är helt klart en av våra nya favoriter på ostkusten och vi ser redan fram emot att besöka dem igen.
In English
The popular Burger Shack has served craft burgers in the Swedish coastal city of Västervik since 2017, and we've received many tips about them over the years. The Americana filled restaurant is located in the picturesque harbour district, and their burger menu consists of a handful of different burgers. They can be ordered with regular beef patties or with a cheese-based patty, and there are a couple of vegetarian and a vegan option. Most ingredients, such as the beef and buns, are locally sourced, and the patties come as a single 180-gram or two 125-gram patties. Since the latter cost an additional 45 SEK (5 USD), it's quite a drastic price-hike for just 70 grams more beef.
We ordered a double Classic burger with 250 grams of beef, plus cheddar, lettuce, tomato, white onions and mayo for 160 SEK (18.5 USD). The burger came served in a very big and airy bun, and the first thing we noticed was the excellent crust on both patties. The beef had been aggressively seasoned with salt and pepper. There was almost too much seasoning, but it turned out to work really well with the flavours from the beef. The patties would have benefited from resting a bit before assembly, seeing as the whole meal got a bit wet. But thankfully the large bun complemented this part really well, and soaked up all of the juices that hadn't run out already. Tastewise we enjoyed the simple choice of ingredients, even though we chose to add some mustard and ketchup ourselves to balance everything out. In regards to the sides we loved their Oreo milkshake for 55 SEK (6.5 USD) and their Mixed Fries for 40 SEK (4.5 USD), but their Spicy Cheese Fries with cheese, jalapeños and chili flakes for 55 SEK (6.5 USD) were a let-down due to the hard layer of cheese on top that made it difficult to eat as well as a bit unappetizing.
We really understand why Burger Shack Västervik are so well-liked. They're definitely one of our new favourites on Sweden's east coast, and we look forward to visiting them again.