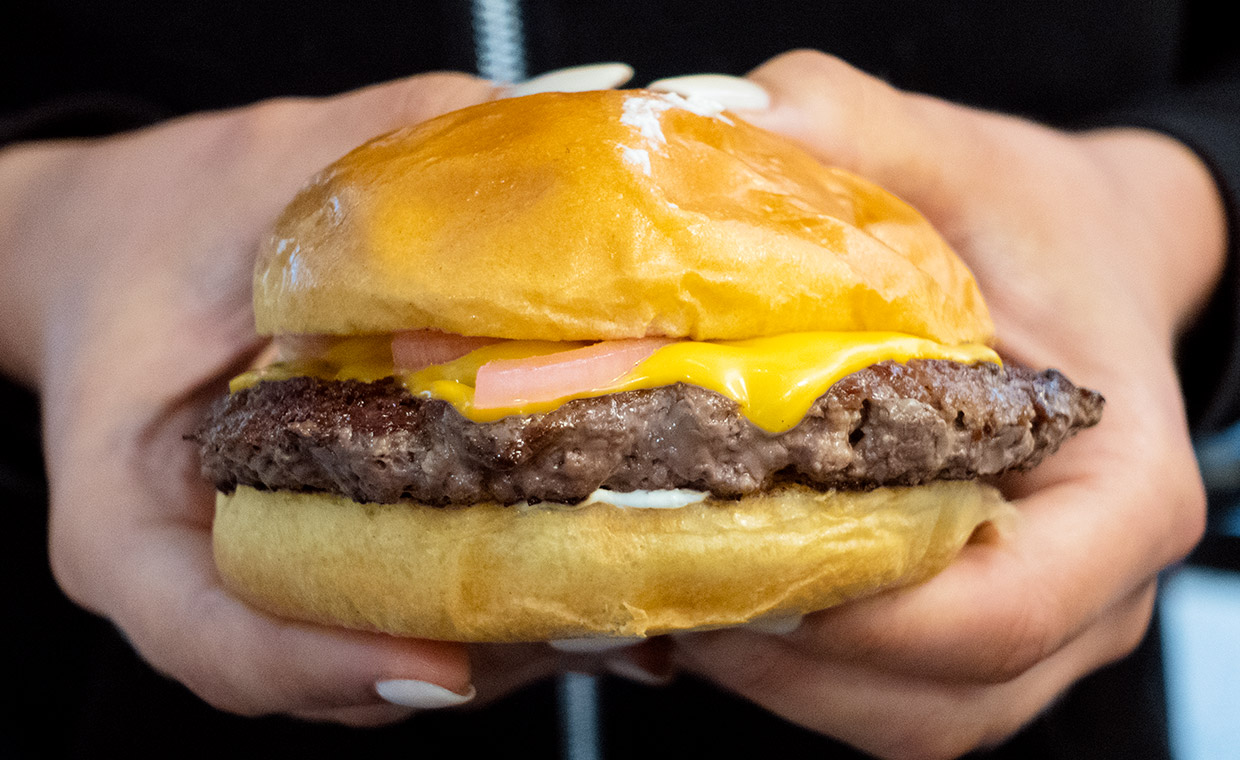 Lilla Trädgårn på Gotland har en sommarrestaurang i Ljugarn och en foodtruck utanför Stora Coop i Visby. Restaurangen brukar ha flera olika rätter på menyn, medan foodtrucken har ett mer avskalat utbud. Vi beställde in två olika burgare; en Chili med cheddar, chilimajonnäs, jalapeños, picklad rödlök, rå silverlök och sallad samt en Creamy Jalapeño med dubbel cheddar, färskost, jalapeños och picklad rödlök. Båda burgarna kostade 109 kronor styck. Vi har ätit hamburgare på underliga platser och i alla typer av väder, men kände ändå att personalens engagemang var otroligt lågt. Ja, vi stod på regnig parkering, men detta är inget nytt för oss. Men när våra hamburgare serverades märkte vi att kökspersonalen och kassapersonalen nog hade ungefär samma entusiasm, för hamburgarna såg ganska tråkiga ut.
Det bästa med burgarna var själva köttet – en 180-gramsköttpuck gjord på en blandning av svensk högrev och bringa – och det märktes att de har lagt mycket jobb på det. Köttpuckarna hade en tydlig och fin köttsmak som trädde fram snyggt. Det mjuka briochebrödet och cheddarosten tillförde däremot inte särkilt mycket, och beskrivningen i menyn att de använder noga utvalda råvaror ekade lite tomt. Överlag så hade burgarna mått bra av lite mer salt och olika konsistenser, då de var ungefär jämnmjuka hela vägen igenom. Creamy Jalapeño var visserligen krämig, men den behövde lite mer balans med olika texturer. Ingen av burgarna hade heller någon som helst styrka – vilket vi ändå förväntade oss med tanke på deras namn.
Lilla Trädgårn serverar en godkänd burgare som definitivt är prisvärd. De är värda ett besök om du är i närheten, men det här är inget du behöver vallfärda till Gotland för.
In English
Lilla Trädgårn on the Swedish island Gotland have a summer restaurant in Ljugarn and a food truck outside the Stora Coop grocery store in Visby. The restaurant usually has several dishes on the menu, while the food truck's offerings are a bit more scaled back. We ordered two different burgers; a Chili with cheddar, chili mayo, jalapeños, pickled red onions, raw white onions and lettuce and a Creamy Jalapeño with double cheddar, cream cheese, jalapeños and pickled red onions. Both burgers cost 109 SEK (12.5 USD). We've eaten burgers in strange locations during all kinds of weather conditions, but we felt that the staff here were unnecessarily unenthusiastic. Sure, we were standing in a rainy parking lot, but this was nothing new for us. But when our meal arrived we realised that the kitchen staff and the people who took our order must have felt about the same amount of enthusiasm, because both our burgers looked a bit boring.
The best part of our burgers were the beef patties, 180 grams of Swedish chuck and brisket, and we could see that they'd spent time and effort on it. We really appreciated the flavours from the distinct beefiness. The soft brioche bun and the cheddar didn't add much though, and the menu's promise of carefully selected ingredients felt a bit like empty words. Overall, our burgers could have done with more salt, and also some more different textures. The Creamy Jalapeño was creamy, but needed to be balanced out. And no burger had any noticeable heat, which we would have expected considering their names.
Lilla Trädgårn serve a decent burger that's definitely worth its price. They deserve a visit if you're nearby, but there's no real reason to travel to Gotland just to eat there.