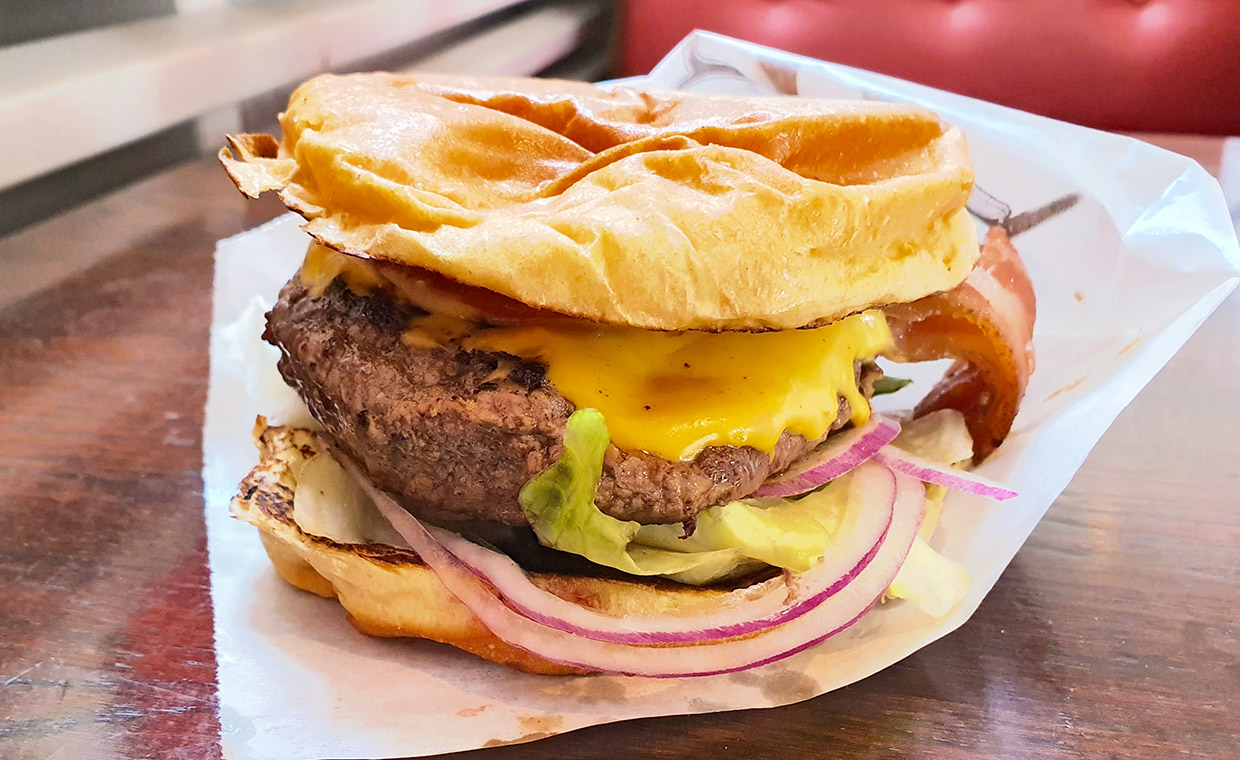 Mel's Diner är en hamburgerrestaurang i 50-talsstil med två restauranger på Gotland. Vi besökte den som ligger i Visby hamn, och hittade 20-talet burgare på menyn. Bland dessa fanns en halloumiburgare, och inga andra vegetariska eller veganska alternativ. Vi beställde en Candy 150, som bestod av en högrevspuck på 150 gram, cheddar, bacon, sallad, dressing, lök och tomat. Priset för burgaren med en portion pommes frites och läsk var endast 79 kronor, vilket kom som en trevlig överraskning.
När burgaren anlände såg den riktigt tråkig och hopklämd ut, men rent smakmässigt var den som tur var snäppet bättre. Det supermjuka briochebrödet smakade gott, men hade blivit hoptryckt innan servering. Själva köttet var i alla fall saftigt och gott, men hade mått bra av lite mer kärlek från både salt- och pepparkvarnen. Cheddarosten var mild och krämig, salladen bidrog med krispighet och dressingen var god, men inga av dessa ingredienser stack ut. Däremot märkte vi av baconet, som tyvärr var hamburgarens akilleshäl. Vi hade hoppats på lite knaprig sälta, men vårt bacon var lite för mjukt och sladdrigt för vår smak.
Mel's Diner serverar en helt okej burgare, men det vi gillar mest är nog att de använder kvalitetsingredienser och har låga priser. De har en bra grund att stå på, men de behöver bli bättre på detaljerna om de vill vara mer än en billig hamburgerdiner.
In English
Mel's Diner is a burger restaurant with a 50's diner feel with two restaurants on the Swedish island Gotland. We visited their Visby harbour location, and found a menu consisting of about 20 different burgers (but only one vegetarian option; a halloumi burger). We ordered a Candy 150, with a 150 gram chuck patty, cheddar, bacon, lettuce, burger sauce, onions and tomato. The price for a burger with fries and a soft drink was just 79 SEK (9 USD), which came as a very pleasant surprise.
But when our burger arrived it looked pretty sad and a bit rough. Thankfully it tasted better than it looked. We did like the super soft brioche bun, but it had been squashed in the kitchen before being served. The meat itself was nice and juicy, but could have done with more salt and pepper. The cheddar was mild and creamy, the lettuce added some nice crispy and the burger sauce was quite tasty, but nothing really stood out. We did notice the bacon however, seeing as it was the meal's biggest letdown. We were hoping for some salty and crispy smokiness, but this was a bit too soft and chewy for our taste.
Mel's Diner serve an alright burger, and we mostly liked their low price point and the fact that they use quality ingedients. But while we appreciate these things, they really need to get the details right and give their burgers some more attention if they want to be more than just a cheap burger diner.