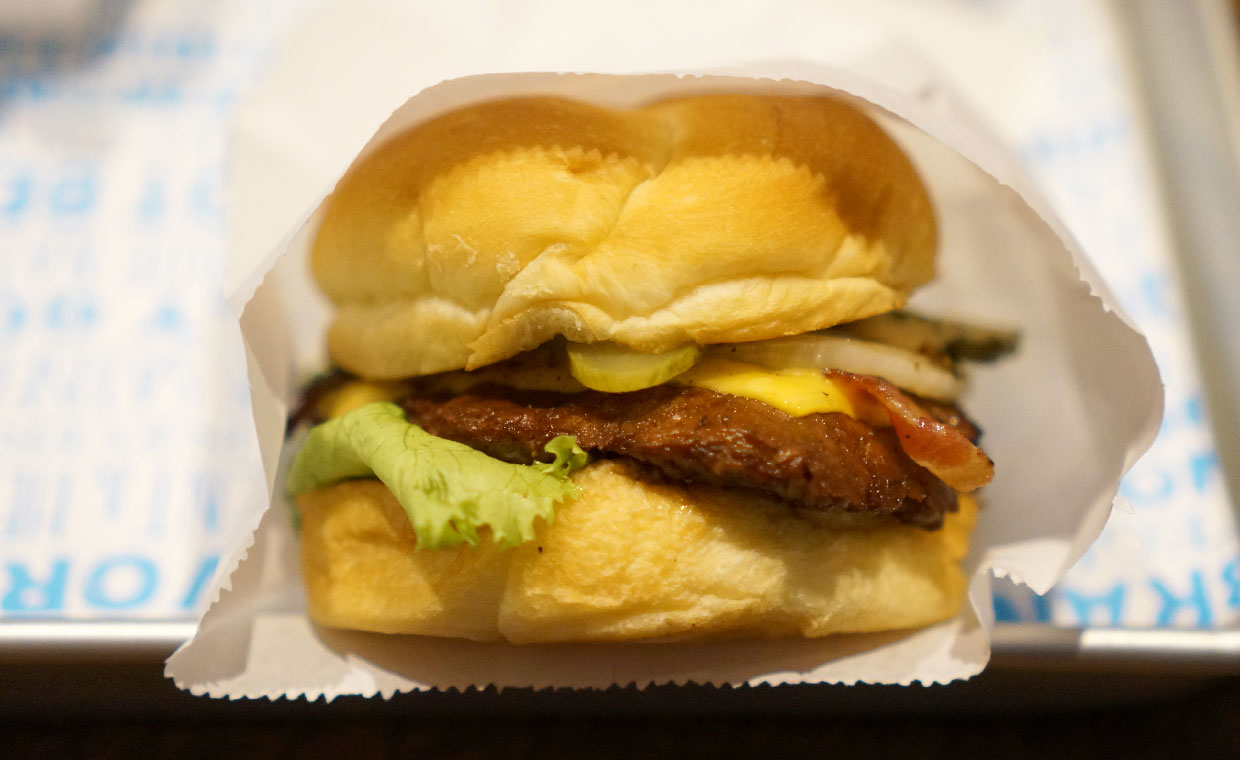 Burger Fix ligger i det centrala Da'an-distriktet i Taipei och gav ett riktigt bra första intryck med sin fräscht inredda lokal. Beställningen skedde smidigt genom ett pedagogiskt formulär, där vi enkelt kryssade i vilken basburgare vi ville utgå ifrån och vad som skulle vara på den. Eftersom vi även fick välja vilken stekgrad vi ville ha på köttet valde vi såklart medium-rare. Prisnivån på burgarna låg på 50-80 kronor (beroende på om man vill ha en eller två köttpuckar) utan pommes frites.
Bacon- och cheeseburgaren vi fick in hade byggts ihop med omsorg och presenterades snyggt i en klassisk pappersficka. Köttpucken hade en fin rosa kärna, och smakade mycket bra även om den kunde ha varit en aning saftigare. Brödet var riktigt fluffigt, men hade kunnat rostats en stund till för att undvika underdelens soggighet mot slutet av måltiden. Pommes fritesen var väldigt bra med helt rätt krispighet och en naturlig och god potatissmak.
Burger Fix verkligen bryr sig verkligen om att göra laga så goda burgare som möjligt med sitt ekologiska kött, sitt nybakade bröd samt att de inte lämnar något åt slumpen. Detta är ett förstklassigt burgarhak som absolut är värt ett besök om du någon gång befinner dig i Taiwans huvudstad.
In English
Burger Fix in Taipei gives you a great impression from the start with its newly renovated restaurant. You order by filling in a form, selecting which ingredients you want on your burger and specify how you want your patty to be cooked. The bacon cheeseburger we ordered were beautifully assembled and you could see that the person that made this burger had done it with care and passion. The patty had a nice pink center with a nice meaty taste. The fluffy bun had a great texture and taste, but could have been roasted a bit more to handle the meat juices better. The fries were really good as well, with excellent crispiness and a nice natural potato taste. We really recommended a visit to Burger Fix if you visit Taiwan's capital city.