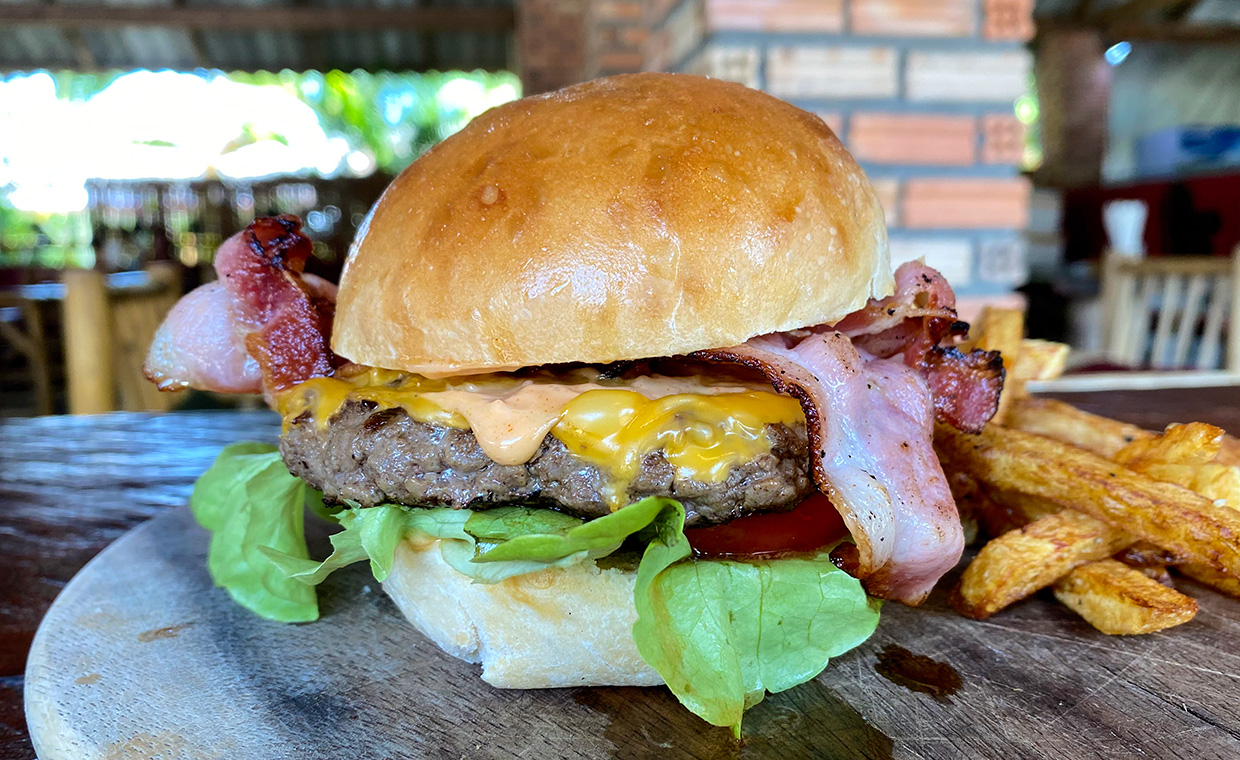 Det var svårt att hitta en vettig burgare i den thailändska provinsen Krabi, och våra efterforskningar visade inte prov på något ställe som verkade särskilt lovande. Men så stötte vi på restaurangen French Bakery i Koh Lanta, som utöver sina pizzor och croissanter faktiskt hade en hamburgare som var värd att testa. Brödet bakas nämligen färskt varje dag, och köttet är importerat från Frankrike. Vi beställde en baconburgare med cheddar, bacon, sallad, tomat och dressing för 290 baht (90 kronor), inklusive en portion pommes frites.
Burgaren vi serverades såg faktiskt helt okej ut, och vi slogs direkt av att köttet var av hög kvalitet med fin doft och smak. Köttpucken på 150 gram var rosastekt, men hade behövt mer salt och peppar på stekbordet. Brödet doftade nybakt, men var lite tungt och tråkigt. Det var nämligen ett ganska smaklöst vetebröd, som inte passade så bra med de övriga ingredienserna. Baconet var lite mjukt, men hade en rökig sälta, och dressingen var förvånansvärt god med en angenäm sötma som fungerade bra med det övriga. Däremot var pommes fritesen friterad på alldeles för låg värme och var därför supersoggiga och oljiga.
French Bakery lyckas nästan nå en godkänd nivå, men faller på målsnöret. Men de är inte ett katastrofalt val om du befinner dig i Klong Nin och vill äta en burgare som omväxlings skull.
In English
Finding a decent burger in Thailand's Krabi province was no easy feat, and research from our side didn't really turn up anything promising. But then we ran across French Bakery in Koh Lanta, that not only serve freshly baked croissants and pizzas, but also a burger that looked worthwhile. They bake their buns daily, and the meat is imported from France, so we ordered a bacon burger with cheddar, bacon, lettuce, tomato and dressing for 290 baht (9 USD), which included an order of fries.
Our burger actually looked pretty promising, and we immediately noticed the beef's high quality and meaty flavour. The 150 gram patty was pink in the centre, but could have done with some more salt and pepper. The bun smelt newly baked, but was a bit heavy and lacked taste. This was due to it being a wheat roll without much flavour, which didn't complement the other ingredients very well. The bacon was a bit soft, but was smokey and salty, and we appreciated the sweet dressing that worked really well overall. The fries on the other hand had been deep-fried in too cold oil, and were super soggy and greasy.
French Bakery's burger is alright, but doesn't really make the grade. But if you're near Klong Nin with a hankering for a burger, you could do much worse than paying them a visit.