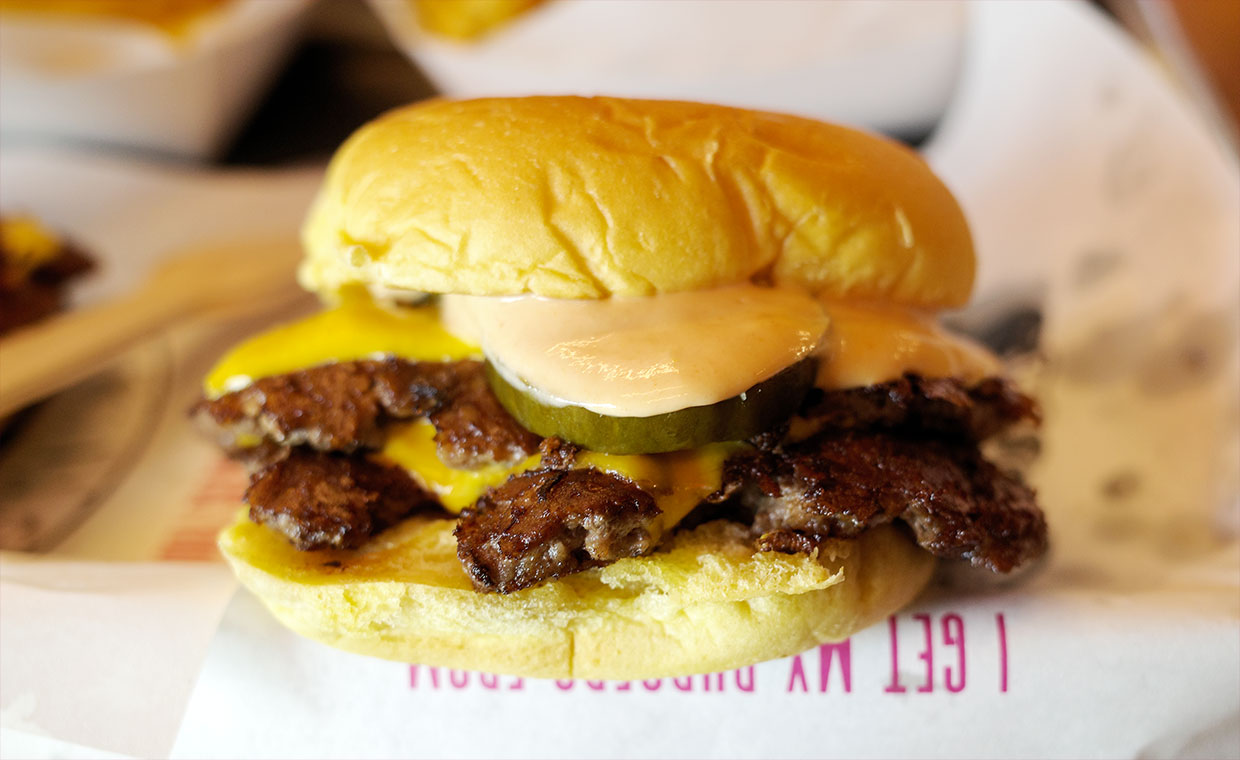 I den nya exklusiva stadsdelen Jumeirah Lake Towers i Dubai har burgarhaket Pickl haft sina lokaler sedan sent 2018. Här serverar de en fokuserad burgarmeny med köttburgare, beyond-kött och friterad kyckling som är prissatt från 30 AED (cirka 75 kronor) och uppåt. Lokalen är snyggt och fräsch inredd med en coolhet som andas streetfood. Vi beställde in en dubbel cheeseburgare med pommes och läsk för 60 AED (cirka 150 kronor), och burgaren serverades anspråkslöst på en bricka tillsammans med alla tillbehör och såg oerhört inbjudande ut.
Det mjuka följsamma potatisbrödet gjorde att burgaren kändes perfekt i handen. Brödet var helt fantastiskt med en lätt seghet och bra bett som höll ihop hela burgaren snyggt. De smashade köttpuckarna hade en riktigt bra stekyta som pryddes med två smälta ostskivor, ett par pickles och deras husdressing. Det här var riktigt bra, och det var ett sant nöje att äta denna anspråkslösa streetfood-burgare. Den picklade gurkan var givetvis bra den också, vilket vi nästan förväntade oss med tanken på burgarhakets namn.
Vi skulle gärna ha sett mindre av dressingen på burgaren, för även om den var god tog den över alldeles för mycket av smakbilden. Vi misstänker att detta är anledningen till att köttsmaken förblev lite för anonym i slutändan. Detta är givetvis smådetaljer, men det är något som måste ses över för att nå vårt högsta betyg.
Pickl serverar utan tvekan en av de bästa burgarna i Dubai, och det säger en hel del med tanke på den överraskande starka burgarkulturen här i staden.
In English
Pickl opened shop in the new and exclusive Jumeirah Lake Towers area in Dubai back in 2018, where they serve a small number of burgers made from beef, beyond meat and fried chicken, costing 30 AED (8 USD) and upwards. The interiors looked fresh and modern, and really enhanced the street food feeling. We ordered a double cheeseburger with fries and a soft drink for 60 AED (16 USD), and our meal came neatly served on a tray and looked really inviting.
The soft potato bun felt great in our hand, and had a delightful chewy softness that held everything in place. The smashed patties had a really nice crust and had been covered with two slices of cheese, a couple of pickles and their house sauce. And the flavours were all there, making this street food burger truly amazing. The pickle was super as well, which we'd come to expect seeing as the restaurant was named after it.
We would have preferred a bit less sauce. It tasted nice, but was a bit too overwhelming and overshadowed the beef flavours. We're nitpicking here, but this is what separates a great burger from a marvellous one. But with that being said, Pickl serve one of the best burgers in Dubai – no small feat seeing as the city is home to several top notch burger joints.