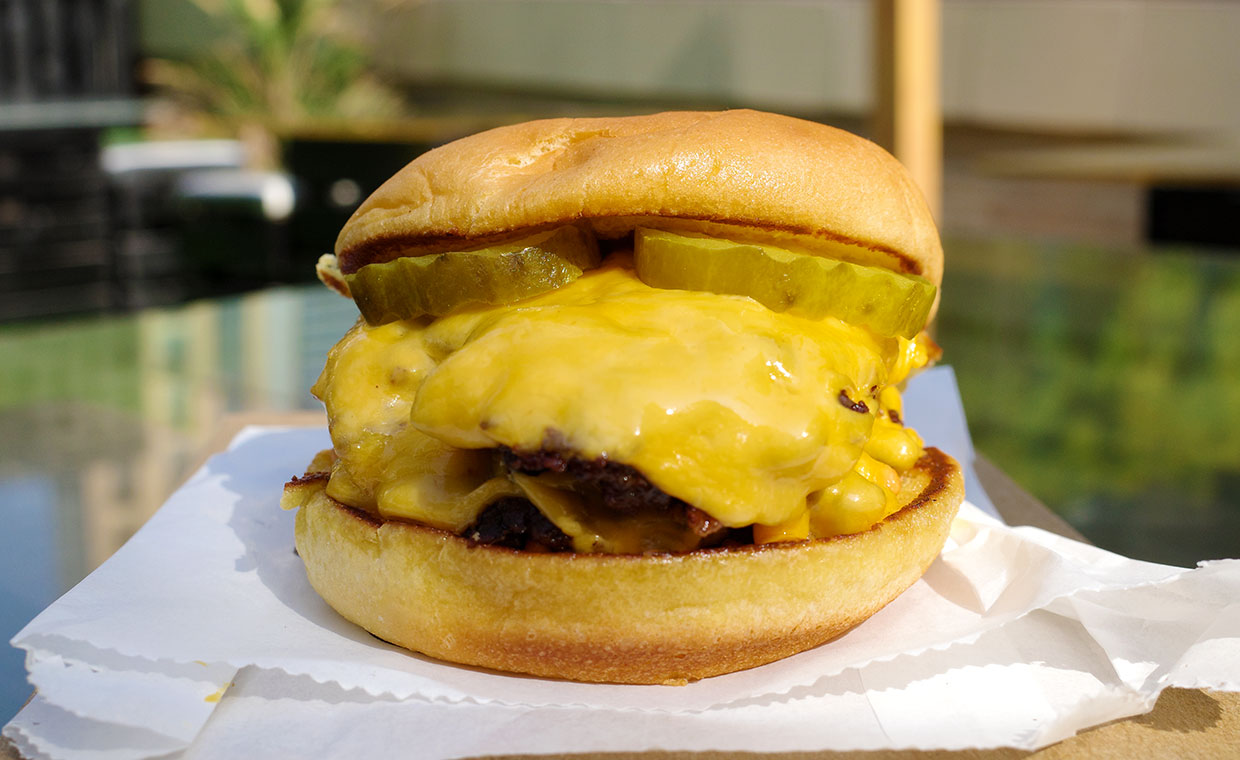 SALT är utan tvekan ett av de mest välkända burgarhaken i Dubai, och de har med sina kromade matvagnar och smashade puckar av Wagyu-biff gjort sig ett namn även internationellt. Sedan starten 2014 har de även expanderat till städer som Abu Dhabi och Riyadh.
Menyn är kittlande minimalistisk med endast tre sliders; original med ost, originalsås och pickles, Hook-burgaren med ost, Hook-sås, jalapeños och sallad samt en burgare med friterad kyckling, ost och Cheetos. Varje beställning innehåller två sliders och vi valde att testa deras originalburgare i dubbelt utförande, det vill säga två sliders med dubbla köttpuckar (120 gram kött per burgare), för totalt 48 AED (cirka 120 kronor). Vi beställde även en portion pommes frites för 13 AED (33 kronor).
Burgarna med tillbehör serverades i en stadig papplåda med tillhörande pappersfickor. Allt var omsorgsfullt konstruerat där allt låg på rätt plats, med ost som hade smält snyggt över de smashade köttpuckarna. Hamburgarna hade en otroligt mjuk munkänsla, och smörigheten från brödet gav allt en vacker rundhet. Även köttet imponerade med sin saftighet och den rejäla stekytan som vi alltid är svaga för. Pommes fritesen hade dessutom en fin krispig textur samt en rejäl potatissmak.
Den enda svaga länken var egentligen samma problem som de flesta sliders faktiskt lider av, nämligen balansen mellan ingredienserna. Den picklade gurkan hade en fin syrlighet och ett krispiga bett, men den var för tjock och tog över alldeles för mycket. Om burgaren hade varit i normalstorlek skulle inte detta vara ett problem, men nu störde det tyvärr helhetsupplevelsen.
SALT är ett givet besök nästa gång du besöker Dubai och är sugen på en riktig kvalitetsburgare, och det är bara detaljmissar som gör att de inte får vårt högsta betyg.
In English
SALT are without a doubt one of the most well-known burger joints in Dubai, and their chromed food trucks and smashed Wagyu sliders have made them internationally known. They opened back in 2014, and have even expanded to other cities such as Abu Dhabi och Riyadh.
Their minimalistic menu contains three sliders; the original with cheese, original sauce and pickles, the Hook burger with cheese sauce, Hook sauce, jalapeños and lettuce and a chicken fillet burger with cheese sauce, lettuce plus Cheetos sauce and crumbs. Each order contains two sliders, so we ordered their double original with two sliders containing double 2 oz patties each for 48 AED (13 USD). We also ordered some fries for 13 AED (3.5 USD).
The burgers and sides came served in sleeves in a sturdy paper box. Everything was meticulously constructed, and the cheese had melted nicely over the smashed patties. The mouthfeel was incredibly soft, and the buttery bun really complemented the flavours. We were impressed by the juicy beef and its excellent crust – a feature we're always fond of. The fries added to the meal with some great texture and deep potato flavours.
The only real weakness was the ingredient ratio, which is a common problem for sliders. The pickles had a crispy bite and added some much-needed acitidy, but they were too thick and were overpowering. If this had been a regular sized burger it wouldn't have mattered, but here it was a bit overwhelming.
SALT are a must-visit the next time you're in Dubai and want to eat a top-notch burger, and they are just a few adjustments away from reaching our top score.