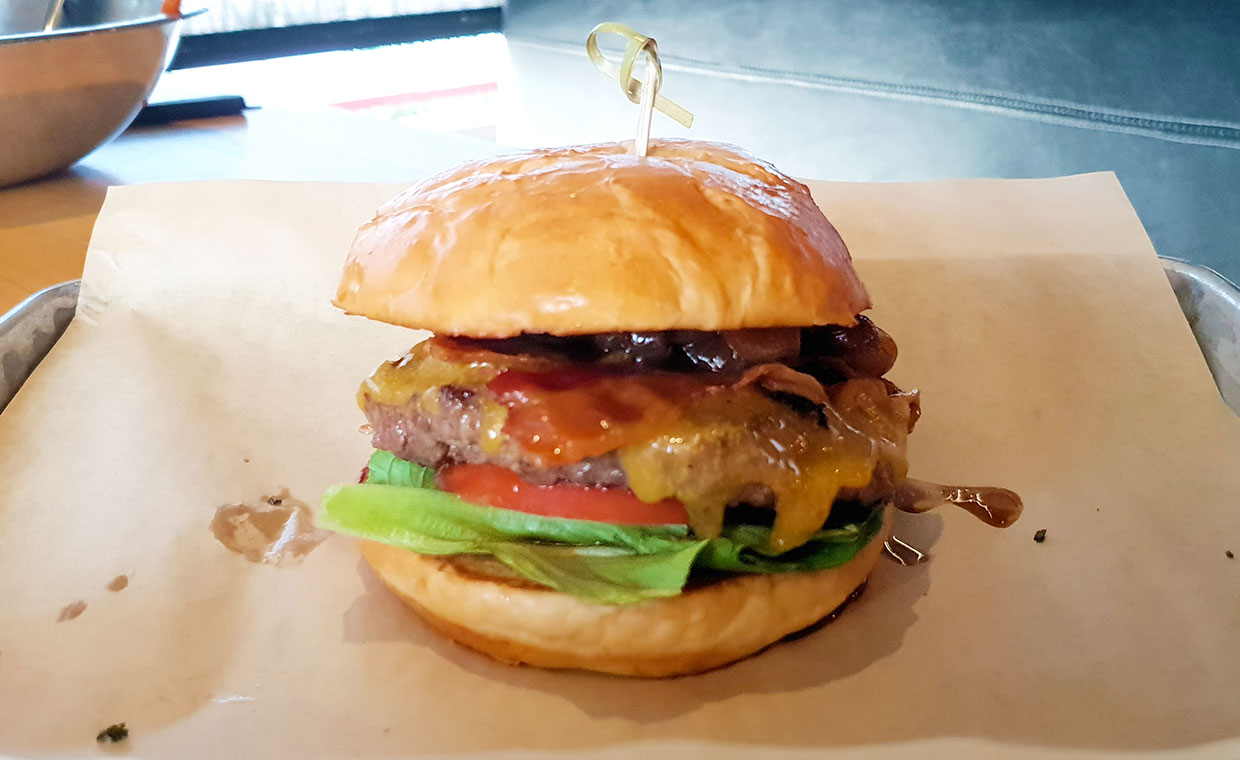 Hopdoddy är en medelstor amerikansk hamburgerkedja med ett 30-tal restauranger i USA. Köttet mals varje dag och brödet bakas dagligen i de olika restaurangerna. Menyn består av 14 hamburgare med både vegetariska och veganska alternativ, och vid vårt besök föll valet på deras Goodnight/Good Cause-burgare för 9 dollar (cirka 90 kronor) där en dollar gick till välgörande ändamål.
Burgaren bestod av Angus-kött, Tillamook-cheddar, sallad, tomat, karamelliserad lök, barbecuesås, jalapeños och deras "sassy sauce". Hamburgaren såg trevlig ut och var perfekt greppvänlig. Trots alla ingredienser så var köttsmaken rejält tydlig, och den var dessutom utmärkt kryddad med salt och peppar.
Vi uppskattade även den krämiga kvalitetscheddarn och den söta barbecuesåsen som harmoniserade snyggt mot alla vassa jalapeños. Sassy-såsen var okej och påminde om traditionell hamburgerdressing, och vi hade gärna sett lite mer av den på burgaren. De färska grönsakerna gjorde måltiden rätt fräsch. Brödet var egentligen det enda vi egentligen hade att anmärka på, då det var lite väl fluffigt och hade svårt att hålla formen mot alla ingredienser.
Hopdoddy är helt klart en av de bättre snabbmatskedjorna i USA, och vi rekommenderar definitivt ett besök om du stöter på en av deras restauranger.
In English
Hopdoddy is a medium-sized chain of U.S. burger restaurants with about 30 locations nationwide. They grind all meat and bake their buns in-house each day, and the menu consists of 14 different burgers with several vegetarian and vegan alternatives. We ordered a "Goodnight/Good Cause" burger for 9 USD, with one dollar going to a local charity.
Our burger consisted of a Angus beef patty, Tillamook cheddar, lettuce, tomato, caramellised onions, BBQ sauce, jalapeños and their "Sassy Sauce". The hamburger looked nice and felt great when we picked it up, and despite the many ingredients we could really taste the high-quality and excellently seasoned beef flavours.
We also enjoyed the creamy cheddar and how the sweet barbecue sauce worked with the sharpness from the jalapeños. The sassy sauce was like a regular burger dressing, and we could actually have done with some more of it on the burger. The fresh vegetables were nice and crisp, and our only main concern was the bun, which was a bit too fluffy and couldn't handle all of the ingredients.
Hopdoddy is without a doubt one of the better burger chains in America, and we definitely recommend a visit if you come across one of their restaurants.