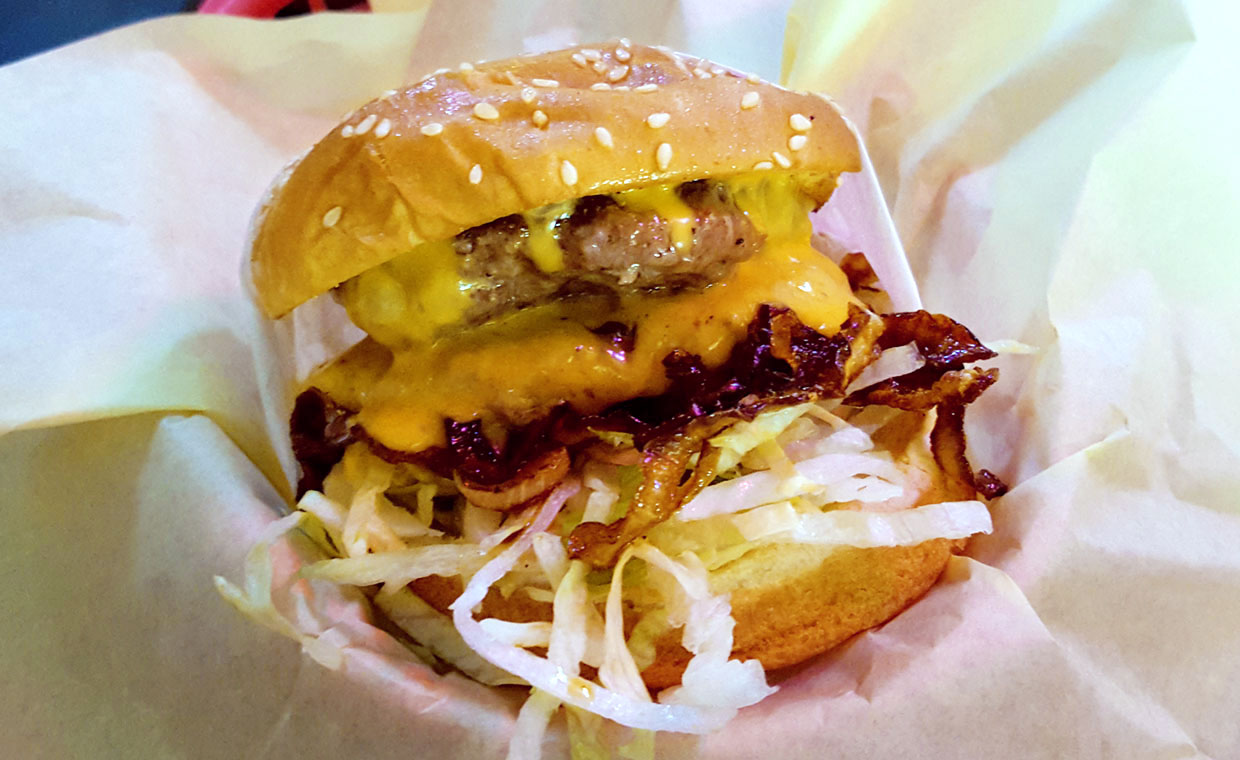 George's Bar & Grill är ett enkelt hamburgerhak mitt ute i öknen i Kaliforniens Cathedral City, som ligger i Coachella Valley. Det är nog mest känt bland burgarälskare på för att George Motz – burgargurun och författaren av boken Hamburger America – har utnämnt burgarna som bland de bästa i hela USA.
Vi slog oss ner i de slitna röda vinylbänkarna och beställde en cheeseburgare med dubbelt kött gjort på 100 procent lokal högrev, american cheese, majonnäs, isbergssallad och en rejäl hög med stekt gul lök i ett sesambröd. Medan vi väntade på burgarna lyssnade vi roat på när ägaren Ed stod vid stekbordet och slängde käft med stammisarna.
Efter att beundrat burgarna när de anlände så var det dags att hugga in. Vi förstår snabbt att den här burgaren verkligen inte behöver ketchup för att smaka bra, vilket är tur då det är lite av ställets gimmick att håna kunder som vill ha det. Köttet var stekt underbart medium-rare och smakade helt otroligt gott. Det hade en kraftig köttsmak och var dessutom väldigt saftigt. Salladen var krispig och osten bidrog med en fin konsistens och smak och skapade en utmärkt helhet. Vi uppskattade även den frikostiga högen med hårdstekt lök som gav burgaren en lite annorlunda karaktär. Vi som normalt sett föredrar en smörig brioche fick vika oss för att även det utmärkt stekta sesambrödet höll högsta klass och hanterade köttsafterna föredömligt.
Om du befinner dig i närheten av Palm Springs så är ett besök på George's Bar & Grill väl värd omvägen, för här serveras verkligen en förstklassig burgare.
In English
George's Bar & Grill in California's Cathedral City is perhaps most known for being named one of the best burger joints in the U.S. by George Motz – burger guru and author of the book Hamburger America. We ordered a double cheeseburger made from local chuck, with american cheese, mayo, iceberg lettuce and a hefty amount of fried onions in a sesame bun. It tasted amazing (no need for ketchup here – the condiment is banned) and was a perfect medium rare with a distinctly meaty flavour. The cheese was creamy and the salad perfectly crispy; and we especially liked the almost charred onions. And even though we usually prefer a brioche bun we were floored by the toasted sesame bun that did everything we'd hoped it would. If you're near Palm Springs and want an amazing burger, don't miss out!