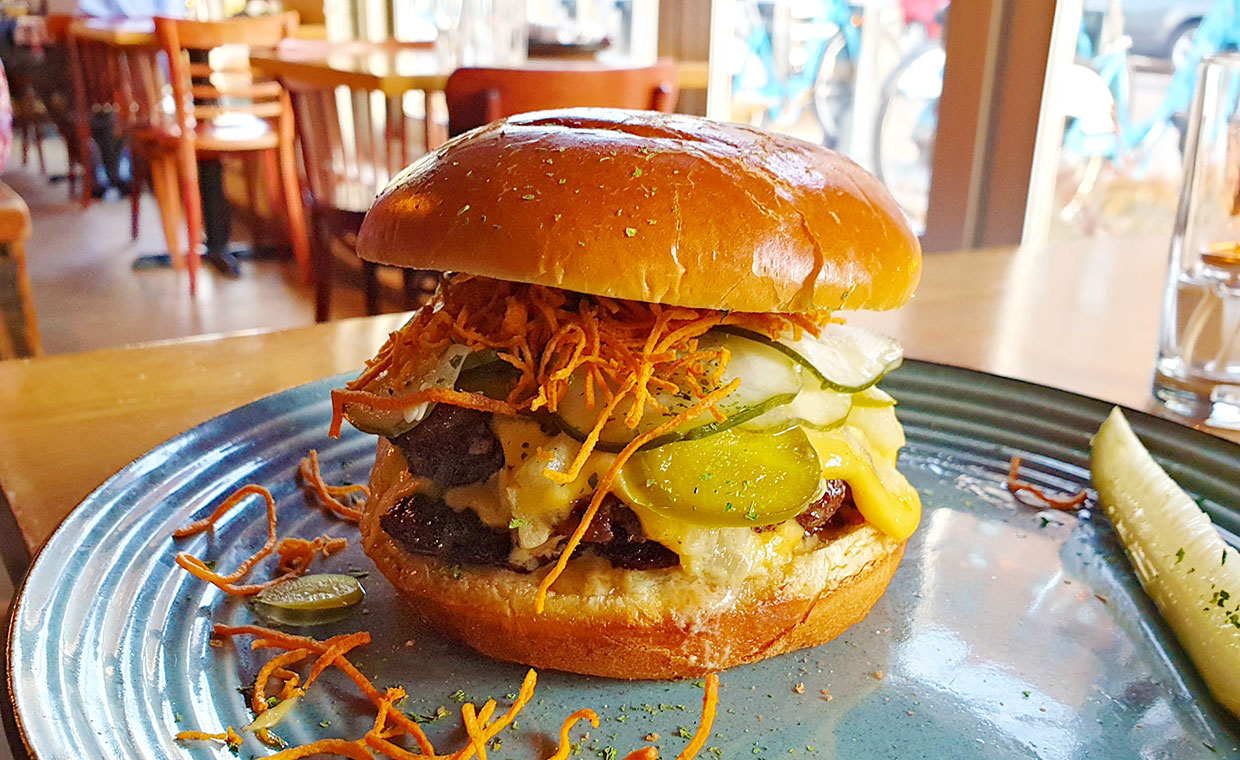 Mott Street är egentligen är en asiatisk fusionrestaurang, men blev snabbt berömt när Thrillist utsåg deras burgare som bäst i Chicago, och USA:s sjunde bästa burgare under 2017. Så det var med stora förväntningar vi besökte deras restaurang i Wicker Park. Deras Mott Burger serveras endast vid baren, och är inget för hamburgerpuritanen. Burgaren består av dubbla puckar högrev, misosmör, hoisinaioli, picklade jalapeños, dillpickles, amerikansk ost och shoestring fries på sötpotatis. Ingen enkel sak, men ändå en riktig skönhet. Priset ligger på 14 dollar (130 kronor) för enbart burgaren.
Och den bjöd på en rejäl smaksensation redan vid första tuggan. De saftigt välkryddade högrevspuckarna harmoniserade perfekt med bettet från jalapeñon, den krämiga osten och den krispiga sötpotatisen på toppen. Både misosmör och hoisinaioli är något som hör till ovanligheterna när vi testar burgare, men de bidrog med en fantastisk umamismak. Det fluffiga brödet höll dessutom inne alla köttsafter anmärkningsvärt väl.
Mott Streets burgare må bjuda på många olika smaker, men efter att vi hade ätit den så förstod vi hur de olika ingredienserna samspelade. Den kvalar visserligen inte in på vår topplista för USA, men det är helt klart en av Chicagos bästa burgare.
In English
Mott Street is an Asian fusion restaurant, but they quickly rose to fame when Thrillist named their burger as the best one in Chicago, and number 7 in The United States back in 2017. So our expectations were of course high when we visited their restaurant in Wicker Park. Their Mott Burger can only be eaten in their bar area, and is not for the burger purists out there. Costing 14 USD without any sides, it contained double chuck patties, sweet potato shoestrings, hoisin aioli, pickled jalapeños, dill pickles, miso butter and american cheese. This was no simple burger, but it was a real beauty.
And the first bite packed a real punch, flavour wise. The juice and well-seasoned patties worked in great harmony with the bite from the jalapeños, the creamy melted cheese and the crispy sweet potato shoestrings. Miso butter and hoisin aioli aren't the most common ingredients on a burger, but they added an excellent umami fullness. And the fluffy bun held everything in place without falling to pieces.
Mott Street's burger brings a lot of flavours to the table, but when we'd finished our meal we really understood how well they all worked together. Perhaps not one of the best burgers in the U.S., but they definitely serve one of the best hamburgers in Chicago.