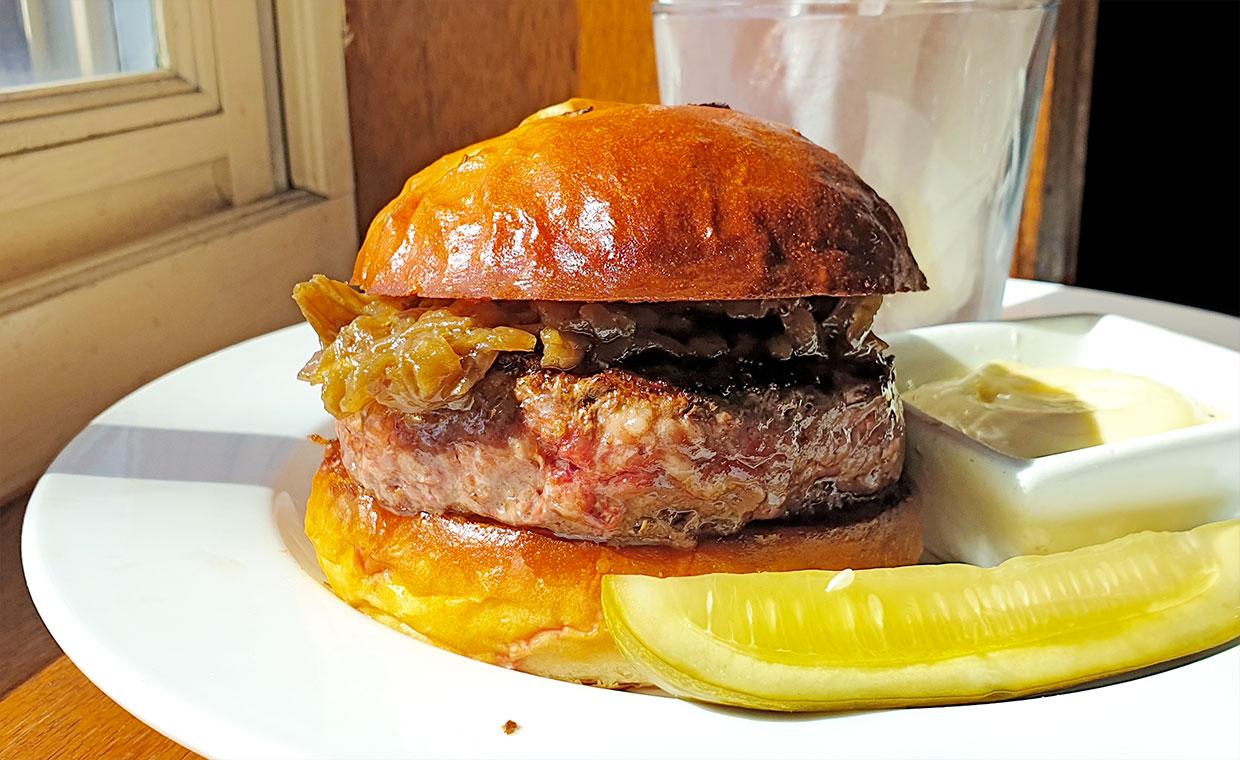 Owen & Engine är en engelsk gastropub i utkanten av i Chicago som har rykte om sig att servera en av stadens bästa hamburgare. Deras enda hamburgare består av 226 gram kött med en 60/20/20-blandning av högrev, bringa och short ribs från en lokal gård. Denna puritanska skapelse serverades med endast kött, bröd och en stor hög karamelliserad lök. Pommes fritesen med vinägermajonnäs och en pickle låg vid sidan av.
Vi beställde standardburgaren medium rare och fick den serverad precis som önskat. Hamburgaren var snygg att se på med sin tjocka köttpuck mellan det mjuka och fluffiga potatisbrödet och högen med glänsande karamelliserad lök på toppen. Och det räckte med en tugga för att vi skulle förstå varför det inte behövdes någonting mer. Det otroligt saftiga köttet hade en kraftig stekyta och var helt perfekt rosastekt inuti. Den fantastiska köttsmaken gifte sig dessutom fint med sötman från den långsamt karamelliserade löken. Det rostade och lagom stora potatisbrödet höll inne safterna från köttet och löken och bidrog till att balansera smakerna.
Det märks att allt har gjorts från grunden med otrolig detaljrikedom, och om du orkar ta dig en bit utanför Chicagos stadskärna får du uppleva en bit burgar-nirvana för blotta 20 dollar (190 kronor). Owen & Engine serverar utan tvekan en av Chicagos bästa hamburgare.
In English
Owen & Engine is an English gastro pub in the outskirts of Chicago, and word has it that they serve one of the Windy City's best burgers. Their only burger on the menu has a 1/2 pound patty with a 60/20/20 blend of locally sourced chuck, brisket and short ribs. This simple creation only contains the bun, a patty and a large pile of caramelized onions, with fries, a vinegar mayo and a pickle on the side.
Our burger came medium rare, just as we'd ordered it. It looked great with its thick patty in the soft and fluffy potato bun and the heaping of glistening onions. And one bite was all it took for us to understand that this burger didn't need anything else. The super juicy meat had a really nice char and was perfectly pink in the middle. And the intense beef flavour worked great with the subtle sweetness from the slowly caramelized onions. The potato bun was nicely toasted and was just large enough to handle all the juices from the meat and onions, and balanced out the flavour excellently.
The attention to detail and artisanal approach was obvious, and if you feel like leaving central Chicago you'll find a piece of burger nirvana for just 20 USD. There's no doubt that Owen & Engine serves one of Chicago's best burgers.