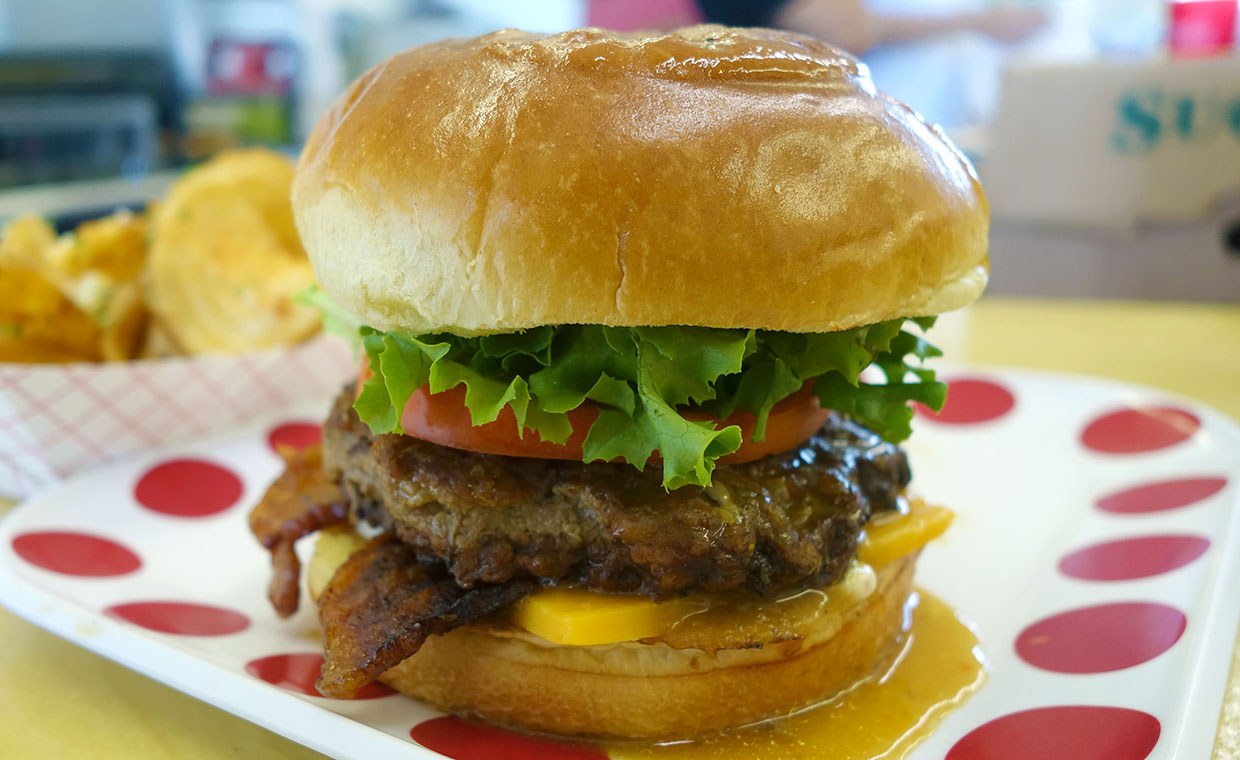 I tv-programmet Världens bästa burgare åkte Johan Jureskog till Hawaii och utmanade Burgers and Things på en burgarduell. Dess ägare Ernesto Limcaco gick vinnande ur striden, vilket de stolt skröt om i fönstret när vi besökte dem.
Burgers and Things ligger några kilometer utanför Honolulu på ön Oahu, och där beställde vi deras klassiska Juicy Burger med cheddarost och karamelliserat rosmarinbacon för 11,5 dollar – alltså knappt hundra kronor. Till detta beställde vi även deras vitlökskryddade pommes frites. Servicen var exceptionellt trevlig, och vi kände att det här kunde bli något riktigt bra.
Döm av vår förvåning när vi upptäckte att de inte serverar köttet direkt efter tillagning. Istället bräseras det i en varmhållningsugn som ligger i lokalen. Ugnen fylldes inte ens på under vårt halvtimmeslånga besök, och när tallriken kom in från köket tog servitrisen fram en köttpuck och hällde en köttbuljong över den. Enligt dem själva skulle detta göra burgaren saftig, men det tuggiga pannbiffsliknande köttet smakade faktiskt knappt något alls och växte bara i munnen. Det kändes direkt pinsamt att höra dem skryta om denna tillagningsmetod som om den vore ett lyft för maträtten. Tydligen gick det att få specialburgare med kött som tillagades vid beställning, men ingen burgare undgick buljongen.
Ostskivan vi köpte till var osmält och hård, men baconet och briochebrödet var åtminstone goda. Vitlökspommesfritesen var också bra, även om 4 dollar var lite väl tilltaget. Burgers and Things är tyvärr inte i närheten av att vara världens bästa – eller ens Hawaiis bästa – burgare.
In English
Burgers and Things are located a few kilometres outside central Honolulu on Oahu, Hawai'i, and are perhaps best known for beating Swedish chef Johan Jureskog in his burger tv show. We ordered their classic Juicy Burger with cheddar and caramellized rosemary bacon for 11.50 USD, with a side of garlic fries. The friendly service got our hopes up, but we were left disappointed when we saw that the meat was braised in a heater oven and wasn't made to order. During our 30 minute stay the oven didn't get refilled, so we have no idea how long our patty had been there. Apparently the specials were made to order, but all burgers were braised in a meat jus before being served, which gave our chewy patty an almost boiled mouthfeel. There were some upsides though, such as the tasty bacon and the brioche bun. We also liked the garlic fries, even though 4 USD was a bit pricey. This was far from being the best burger on the island, but at least it wasn't the worst.