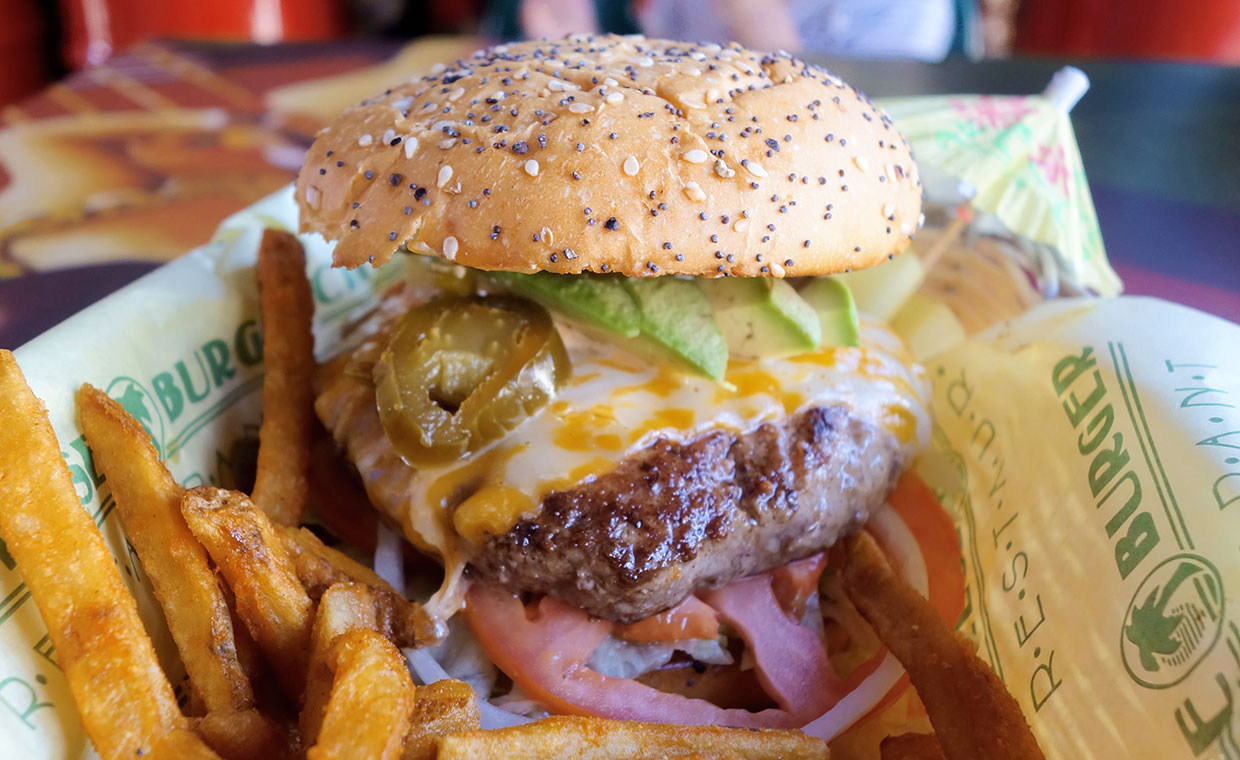 Det finns faktiskt två hamburgerkedjor i USA som heter Cheeseburger in Paradise; en på fastlandet och en på de hawaiianska öarna Oahu och Maui. Vi har testat den sistnämnda – närmare bestämt restaurangen som ligger i den turisttäta orten Lahaina.
Båda restaurangerna har fantastiska utsikter, och är perfekta om du vill njuta av solnedgången på någon av paradisöarna. Vi beställde deras traditionella Cheeseburger in Paradise-burgare med ost, sallad, tomat, lök, thousand island-dressing. Vi lade dessutom till extra avokado och jalapeños för lite extra krämighet och hetta.
Alla deras burgare steks medium, vilket såklart lät lovande. Men tyvärr så smakade det knappt något, utan smakerna i varje tugga dominerades av den nästan sura tomaten som låg under den 225 gram stora köttpucken. Brödet var tråkigt och kallt, och osten gjorde varken från eller till. Den lokala och söta Maui-löken var däremot god, jalapeñosarna och avokadon likaså. Men det var nästan det enda som var bra, då den rätt fattiga portionen pommes frites var överfriterad och den medföljande lökringen var jättehård och smakade bara frityrolja.
Vår cheeseburgare med två tillbehör och pommes frites kostade 17 dollar (motsvarande 140 kronor), vilket är på tok för mycket för en burgarmåltid av denna kvalitet. Cheeseburger in Paradise ska helst besökas för utsikten, och inte för hamburgarna.
In English
There are two burger chains in the US called Cheeseburger in Paradise, and we visited the one located in Hawai'i. Their Lahaina restaurant boasts an amazing view over the water, and is amazing for taking in the sunset. We ordered their classic Cheeseburger in Paradise burger with cheese, lettuce, tomato, onions and thousand island dressing, as well as extra avocado and jalapeños for 17 USD including fries. Their meat is cooked medium, but the 1/2 lb patty was devoid of flavour and each bite was dominated by the almost sour tomato slice. The bun was cold, and the cheese didn't really do anything. However, we did like the sweet Maui onions, and also the creamy avocado and spicy jalapeños. But these were the only stars of the show, outshining the small oily portion of fries and the hard accompanying onion ring. Cheeseburger in Paradise is worth a visit for the view, but don't expect much of the burgers.