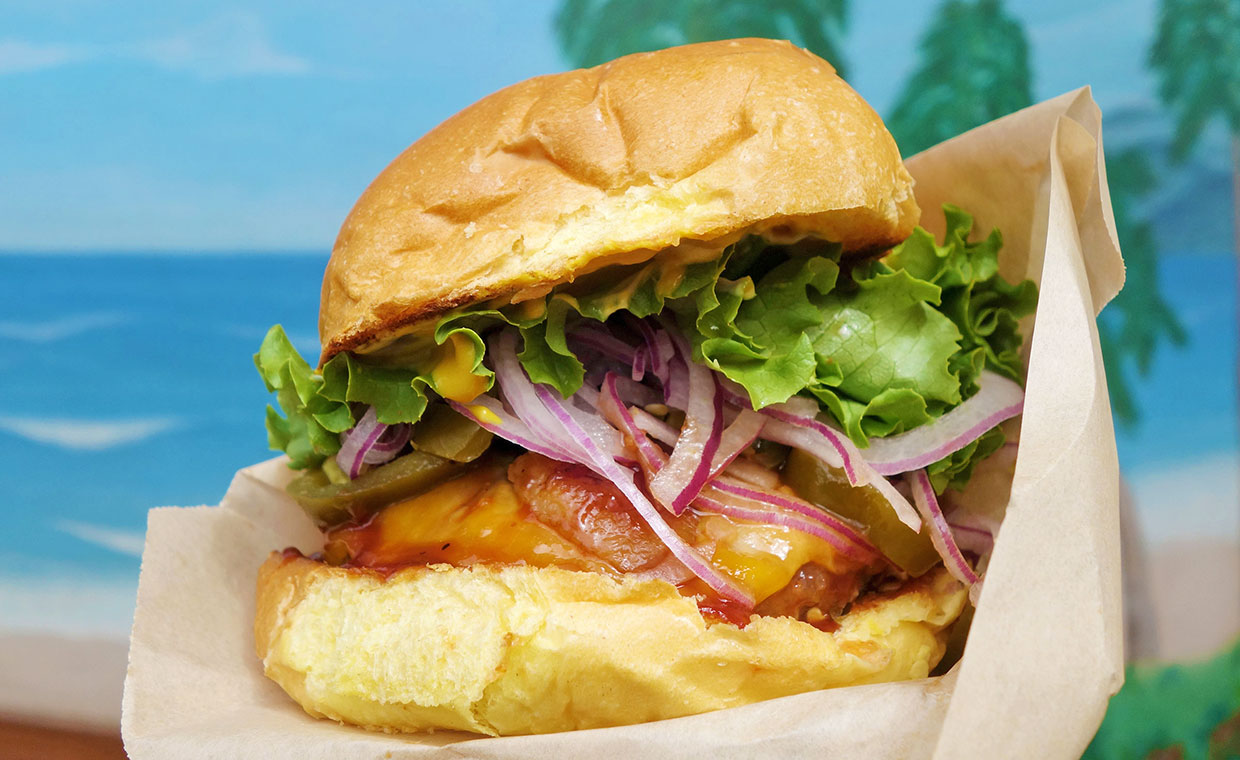 Stewz Maui Burgers ligger i närheten av Kihei på den hawaiianska ön Maui, precis intill de populära Kamaole-stränderna. Och från det här oansenliga hålet i väggen serveras de bästa burgarna vi testade under vår senaste resa till Hawaii.
Vi beställde en Hana-burgare, som bestod av en köttpuck på 170 gram lokalt kött, cheddar, bacon, jalapeños, rödlök, sallad, barbecuesås, senap och majonnäs. Priset för detta var 9,50 dollar, alltså knappt 80 kronor. Den serverades mediumstekt med en fin, rosa kärna i mitten. Köttet var något överarbetat och aningen tuggigt, men det var ändå ganska saftigt med en god smak.
Jalapeñosarna var föredömligt knapriga och starka, baconet var knaprigt och den väldigt finskurna rödlöken bidrog med en subtil krunch. Däremot låg cheddarosten som ett hårdsmält täcke över köttet, och störde under hela måltiden. Brödet, som var av hawaiiansk sweet roll-typ, var väldigt fluffigt och lite sött, men det hade mått bra av att vara uppvärmt. Det var tyvärr även lite för stort, så ration mellan kött och bröd blev inte så bra. Men osten och brödet var egentligen de enda bristerna.
På tillbehörssidan briljerade både sötpotatispommesfriten och lökringarna gjorda på den söta Maui-löken – båda var perfekt friterade. Stewz Maui Burgers är väl värda ett besök nästa gång du är på Maui, förslagsvis efter ett besök på stranden eller det lokala ölbryggeriet Maui Brewing Company.
In English
The small burger joint Stewz Maui Burgers is located by Kihei and the Kamaole Beach Parks on Maui, Hawai'i. We ordered their Hana burger for 9.50 USD, with a 6 oz patty from local beef, cheddar, bacon, jalapeños, red onions, bbq sauce, mustard and mayo. It was served medium with a nice, pink centre, but the meat was a bit tough and chewy. Thankfully it tasted really nice, and was still quite juicy. We especially liked the hot and crunchy jalapeños, the crispy bacon and the thin slices of red onion, but were a bit let down by the hard cheddar and the oversized sweet roll bun that messed up the patty/bun ratio. The sweet potato fries and local maui onion rings were a real treat, and we'd be happy to return just for them. Stewz Maui Burgers serve the best burger we've had on Hawaii, and we highly recommend a visit before or after a visit to the beach or Maui Brewing Company.