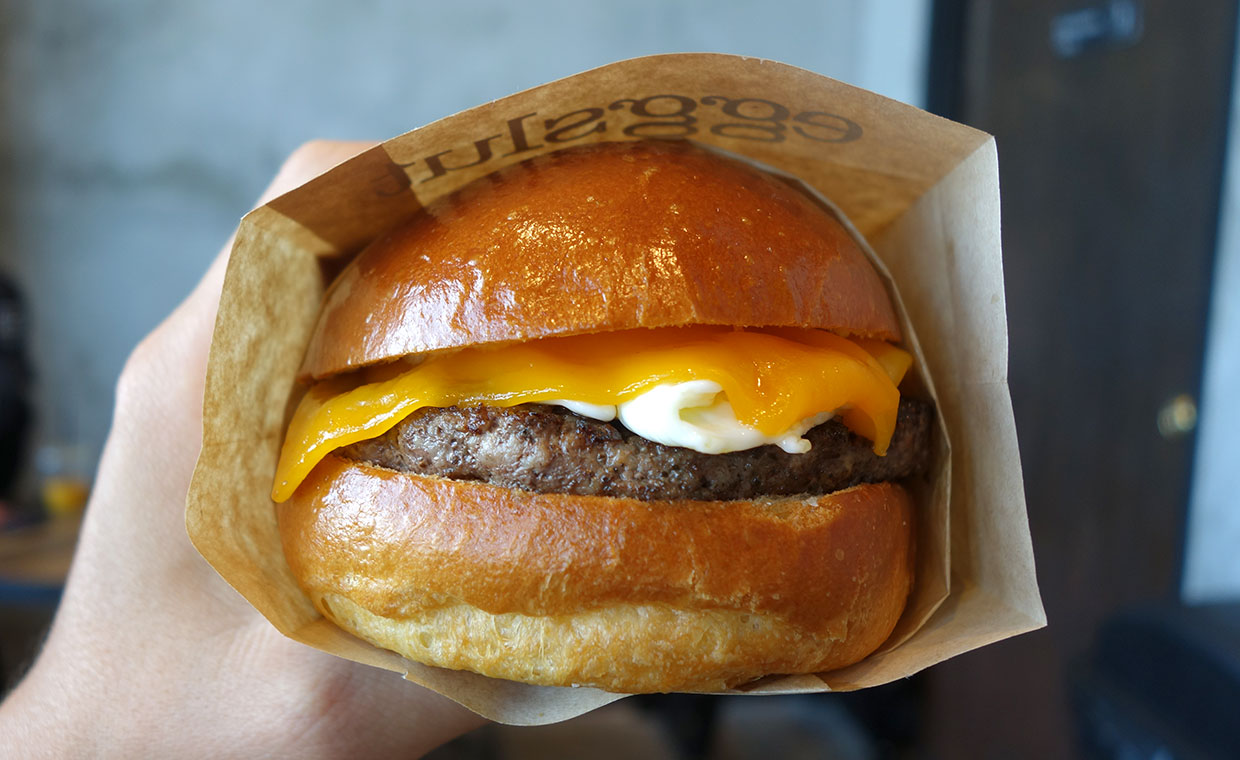 Eggslut har tagit Los Angeles med storm, och återfinns numera på flera platser runt om i världen. Vi besökte deras lilla restaurang vid Venice Beach, och tänkte först inte ta en hamburgare. Men efter att ha testat deras andra fantastiska rätter, som Fairfax (äggröra i brioche med ost, karamelliserad lök och srirachamajonnäs) och Slut (pocherat ägg med potatismos i en liten glasburk) kunde vi inte hålla oss och beställde deras cheeseburgare.
Hamburgaren serverades i ett fluffigt men ändå spänstigt briochebröd, och innehöll ost, karamelliserad lök, pickles, dijonnaise och ett stekt ägg. Vi brukar inte vara särskilt förtjusta i ägg på burgare, men här var det helt perfekt stekt och superkrämigt. Det fungerar ju bra när restaurangen vet vad de gör.
Tyvärr så var själva köttet rätt tråkigt. Det skulle serveras medium, men då det både var genomstekt och riktigt tunt så smakade det knappt något. Som tur var räddades måltiden av de andra ingredienserna, bland annat den härligt krämiga osten.
Eggslut serverar en godkänd burgare, men Los Angeles har många andra bra hamburgarrestauranger. Vi rekommenderar helt klart ett besök, men främst för att testa deras många andra fantastiska äggrätter.
In English
Eggslut has taken Los Angeles by storm, and also have a restaurant in Las Vegas. We visited their Venice Beach location, and weren't planning to order a burger at first. But after sampling their amazing menu items such as Fairfax (scrambled eggs in a brioche bun) and Slut (coddled egg in a jar with mashed potatoes) we just had to order their cheeseburger. Served in a fluffy brioche bun with cheese, caramellized onions, pickles, dijonnaise and a fried egg, we were blown away by the creamy cheese and the amazing egg. Unfortunately, the actual patty was overcooked and lacked taste. As a burger joint, Eggslut is OK but not amazing. But they're totally worth a visit if you also order their fantastic egg dishes.