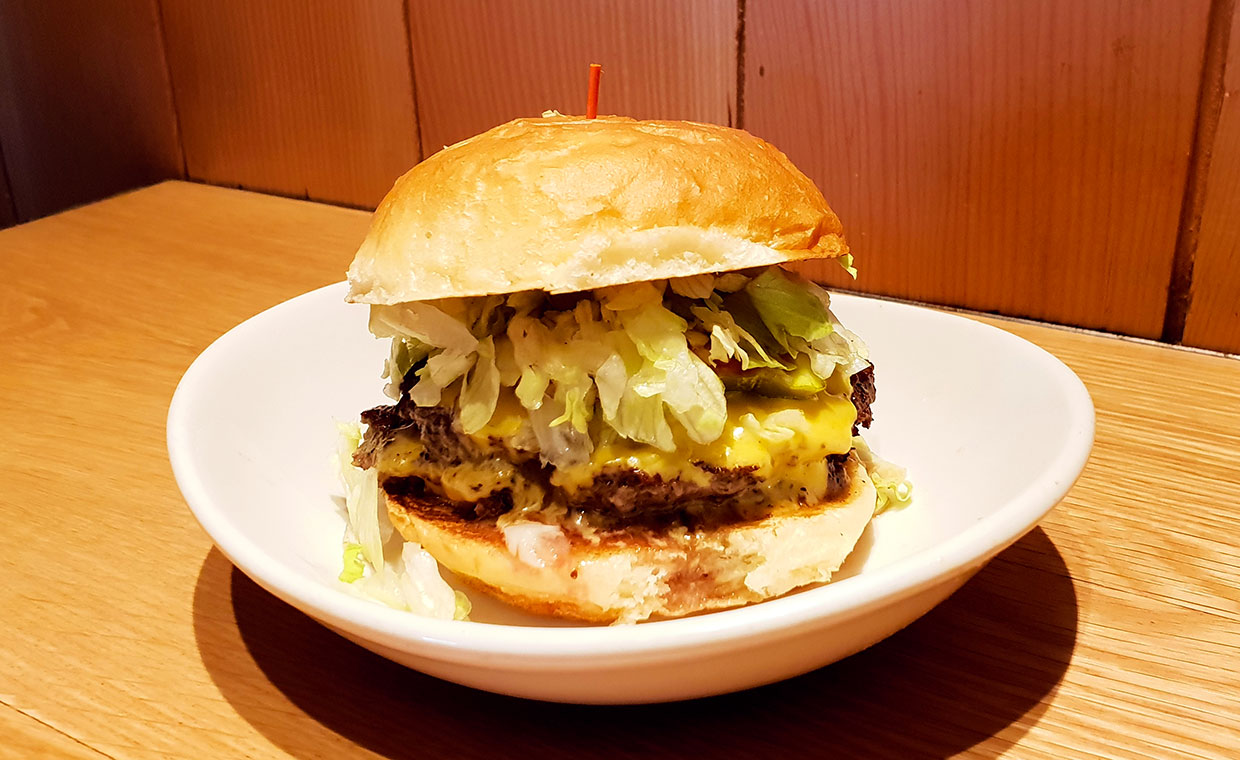 HiHo Cheeseburger öppnade i Los Angeles Santa Monica-distrikt under 2017, och har sedan dess hajpats rejält av flertalet burgarkonnässörer. Därför hade vi såklart väldigt höga förväntningar på HiHo, som enbart använder 100 procent färskmalet Wagyu-kött i sina burgare. Menyn är föredömligt kort med två olika burgare att välja mellan; en klassisk cheeseburgare med ketchup, samt deras "HiHo Cheesburger" med senapsgrillat kött, ost, ketchup, senap, löksylt, sallad och pickles. Båda varianterna går att få med två eller tre köttpuckar, och vi valde en dubbel HiHo Cheeseburger med 150 gram kött för 7 dollar (ca 65 SEK).
Vårt första intryck av burgaren var att den såg helt fantastiskt inbjudande ut. Och redan vid första tuggan förstod vi varför det här stället har blivit så omtalat. Snacka om att leva upp till hajpen! Köttet var helt perfekt tillagat och hade en yta som var rejält pågrillad utan att bli bränd, samtidigt som den var fint medium inuti. Köttsmaken var verkligen något utöver det vanliga, och kvaliteten på Wagyu-köttet gick inte att ifrågasätta. Köttsafterna fångades fint upp av det perfekt fluffiga brödet som var frasigt uppvärmt.
Vår oro att det skulle vara för många smaker på burgaren kom också på skam. Alla ingredienserna var mycket välbalanserade, med en fin balans mellan sötma och sälta. Löksyltens härligt djupa sötma imponerade och American Cheese-osten var snyggt nersmält med en fin smak. HiHo Cheeseburger lagar den godaste burgaren vi har ätit i Los Angeles, och de är väl värda sitt toppbetyg på fem stjärnor.
In English
HiHo Cheeseburger opened in Los Angeles' Santa Monica district in 2017, and have been hyped by most burger aficionados out there. So our expectations were of course high when we visited HiHo, who use only 100% grass-fed and freshly ground Wagyu beef in their burgers. Their short but sweet menu consists of two burgers (double or triple); a classic cheeseburger with just ketchup and their "HiHo Cheesburger" with mustard grilled beef, cheese, ketchup, mustard, onion jam, lettuce and pickles.
We ordered a double HiHo Cheeseburger with 1/3 lb beef for 7 USD, and our first impression was that it looked really appetizing. And it only took one bite for us to realize why they have so many rave reviews. The hype is real! The meat was perfectly grilled, with a great char without being burnt on the outside, and cooked nicely medium in the centre. The meat flavour from the Wagyu beef was amazing, really proving that it can be used in a burger if you know what you're doing. And the fluffy bun was nicely heated and managed to handle all the juices.
Our initial concerns that there would be too many ingredients on the burger were unfounded as well. Everything fit well together, with a nice balance between the salty and sweet components. The onion jam had a deep sweetness, and the creamy American Cheese was nicely melted. HiHo Cheeseburger serve the best hamburger we've eaten in Los Angeles, and definitely deserve their 5 star rating.