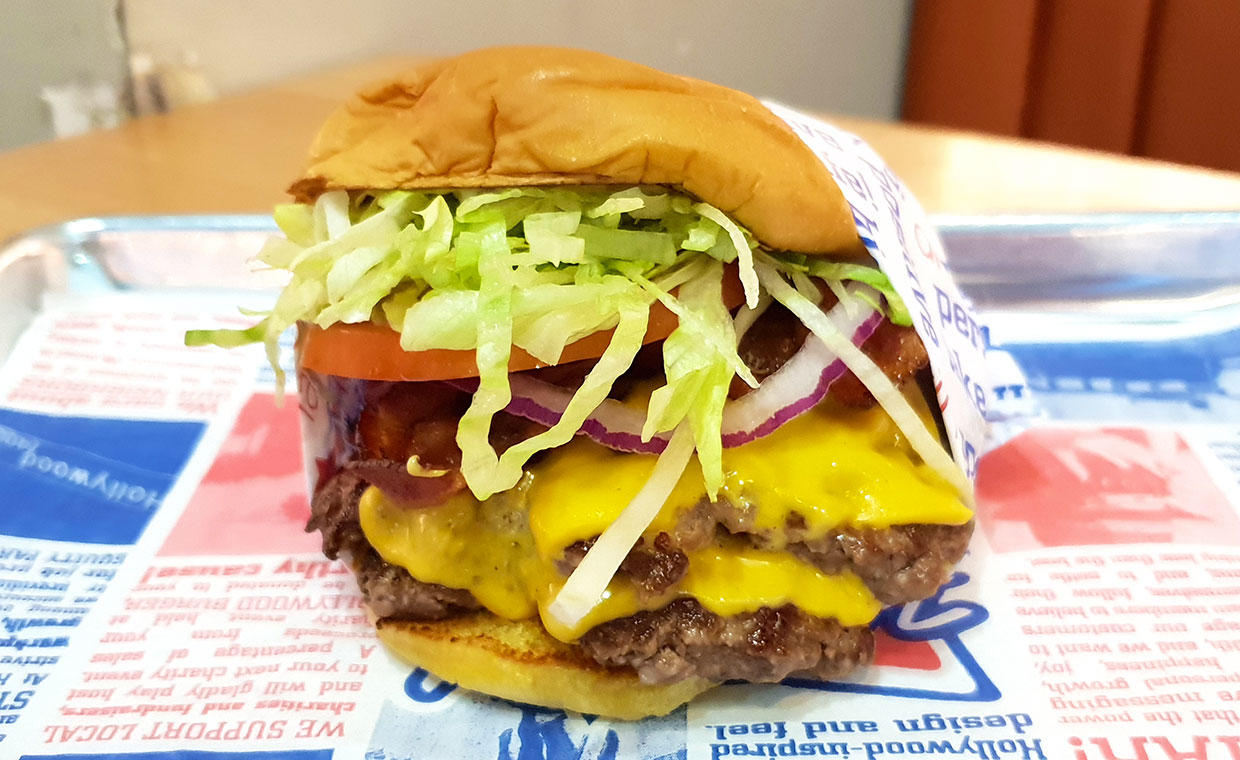 När vi ramlade in på glättiga Hollywood Burger på Hollywood Boulevard så var det med en viss skepsis. Ett mer turistigt ställe är nog svårt att hitta på den en av Los Angeles mest kända gator. Men vi hade fått tips om att de serverar goda hamburgare, så vi beställde deras dubbla VIP Bacon Cheeseburger för 10 dollar (cirka 90 kronor). Bara namnet sätter ju ribban rätt högt, och denna innehöll 225 gram nötkött från Harris Ranch, äpplerökt bacon, sallad, tomat, rödlök, dressing och dubbla skivor amerikansk ost.
Utseendemässigt var hamburgaren lite en vattendelare. Vissa tyckte att den var snygg medan andra uppfattade den som lite väl slabbig. Men efter första tuggan så var alla på gott humör. Det smakrika och saftiga köttet gifte sig fint med den fräscha strimlade salladen och den smakrika, välsmälta osten. Baconet var rökigt med en härlig textur, och deras dressing var helt klart godkänd, även om den var lite karaktärslös och påminde om en klassisk burgardressing. Men allt kändes välbalanserat, och vi uppskattar alltid att få våra burgare i en mjuk och följsam Martin's Potato Roll (som bl.a. snabbmatsgiganten Shake Shack använder).
Hollywood Burger må kännas lite som en turistfälla, men de har bevisat att de tar sina hamburgare på allvar och är mer än bara en gimmickrestaurang. Vi kommer gärna tillbaka nästa gång vi måste besöka den klassiska gatan.
In English
We must admit that we were a bit sceptical when we rolled into the almost painfully cheerful Hollywood Burger on Hollywood Boulevard, since this is one of the more tourist trap looking places on the iconic Los Angeles street. But we'd heard good thing about their burgers, so we ordered a double VIP Bacon Cheeseburger for 10 USD. The name said it all; and it came with 1/2 lb of beef from Harris Ranch, apple smoked bacon, lettuce, tomato, röd onions, dressing and two slices of american cheese.
Lookswise we weren't too sure, since some of us found it to be good looking whilst some thought it was a bit too sloppy. But everyone was happy after their first bite. The flavoursome and juicy beef worked great with the crispy shredded lettuce and the tasty and melty cheese. The bacon was crisp and smokey, and the dressing was quite alright for a regular burger sauce – albeit a bit ordinary. But everything was well-balanced, and we always appreciate getting our burgers wrapped in a soft and squishy Martin's potato roll (made popular by the fast-food giant Shake Shack).
Hollywood Burger may feel a bit gimmicky, but they've proven that they take their burgers seriously. We'll happily return the next time we're forced to visit the classic street again.