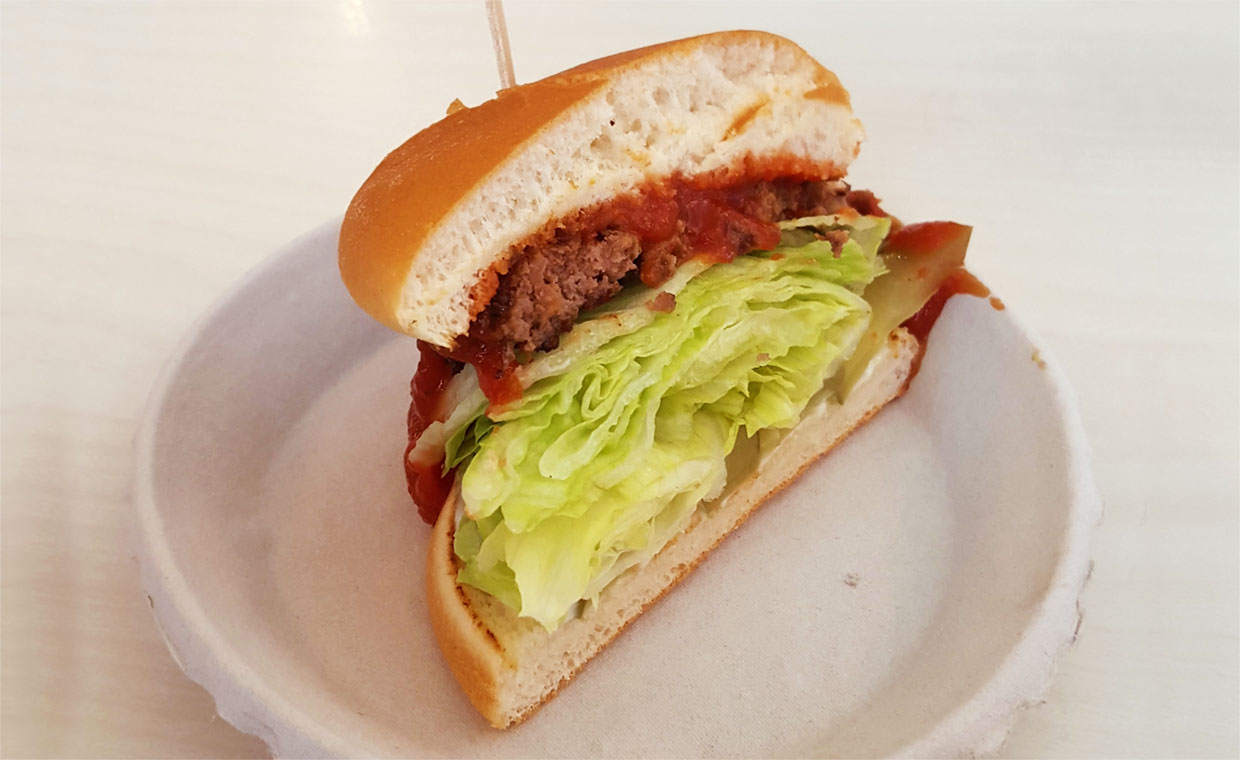 Under vår senaste USA-resa  var det äntligen dags att prova den smått legendariska Los Angeles-dinern "The Apple Pan", som har serverat hamburgare till sina stammisar sedan 1947. Med sin U-formade bardisk med endast ett 20-tal platser får du vara inställd på att köa.
Det finns bara två burgare att välja mellan; Steakburger med en särskild relish och Hickoryburger med hickorysås. Vi valde den senare och satt förtjust och tittade på när de äldre herrarna i köket bakom bardisken stekte våra hamburgare. Efter några få minuter kom burgarna ut i klassiskt vaxpapper och med läsk i en klassisk kon av papper.
Köttpucken var rätt tunn, men var saftigt och hade en härlig köttsmak. I sann Apple Pan-tradition låg den på ett rejält lager av krispigt fräsch isbergssallad. Deras hickorysås var mycket god, men smakade olikt alla andra barbecuesåser vi har provat med en mycket speciell balans av sötma och syrlighet, fast med knappt någon rökighet. Brödet var mjukt och gott uppvärmt på stekbordet innan servering, men annars stack det inte ut nämnvärt.
The Apple Pan serverar en rätt unik och mycket god burgare i en härligt klassisk och trevlig miljö, och vi kan inte annat än rekommendera det till alla burgarälskare som besöker änglarnas stad.
In English
We finally had the chance to to try the legendary L.A. diner "The Apple Pan" on our latest trip to the U.S. They are one of Los Angeles' oldest restaurants, and have served great burgers since 1947 in their crowded restaurant. But their two burgers are well worth queuing for. We ordered a Hickoryburger with hickory sauce. The patty was quite thin, but it was juicy and packed with flavour. The iceberg lettuce added some great crunch, and the hickory sauce was refreshingly sweet and tangy. The bread was soft and heated on the griddle, but nothing special. We really recommend a visit if you're in the city of angels, and we're already looking forward to trying the steak burger next time.