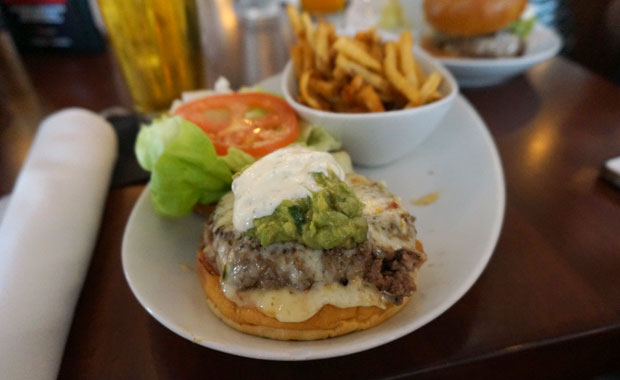 5 Napkin Burger är en kedja med hamburgarrestauranger med fem adresser, varav tre i New York. Burgarna påstås vara så stora och saftiga att man kommer behöva avverka fem servetter under måltiden – därav namnet.
Menyn lockar med tio olika burgare, inklusive en vegetarisk, en tonfiskvariant samt en inslagen i sallad istället för bröd för den glutenkänslige. Valet föll på Avocado Ranch – en variant med avokado, ranch dressing samt pepper jack-ost. Det vi fick in var en generös skapelse med 230 gram kött. Den gick att äta med händerna, men det var en kladdig upplevelse. Vi räknade aldrig servetterna, men namnet passar absolut.
Man får mycket mat, men tyvärr är är delarna såväl som helheten bara ok. När mättnaden släppt är minnet av burgaren också så gott som borta. Det är inte dåligt, men i en stad som New York finns det betydligt bättre burgare att njuta av.
In English
5 Napkin Burger has five locations in the US, three of them in NYC. The burgers are generous with a 10 ounce patty. They also have alternatives such as a veggie burger and a tuna burger. We tried the Avocado Ranch version and it was as big and messy as promised, but tastewise it was only so-so. There are far better burger alternatives in NYC.