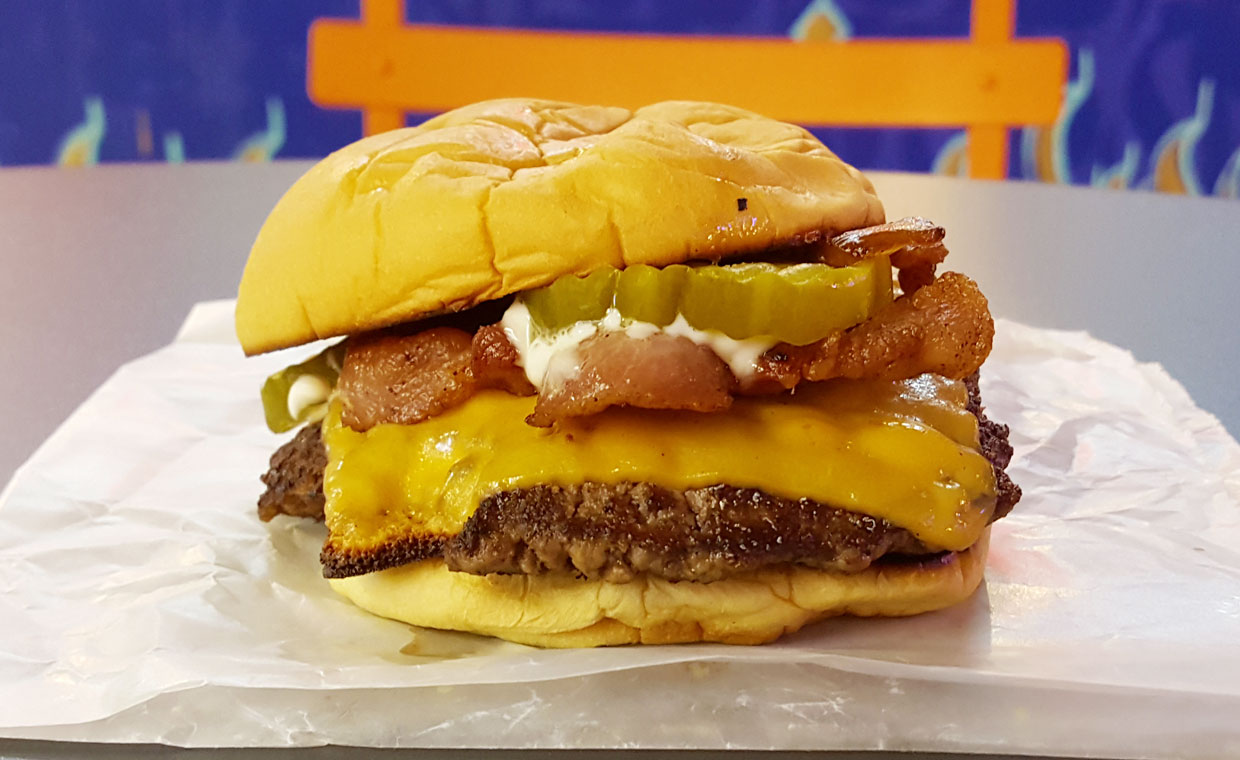 Hard Times Sundaes i New York har två fasta restauranger och en prisvinnande foodtruck. Under vår senaste resa till det stora äpplet besökte vi deras nyaste restaurang i DeKalb Market Hall-foodcourten i Brooklyn. Förutom deras signaturburgare har de ett enkelt upplägg där du får välja mellan en, två eller tre köttpuckar samt önskade tillval, med priser som sträcker sig mellan 6 och 11 dollar (cirka 50-95 kronor).
Köttet som är 100 % högrev kommer från välkända leverantören Schweid & Sons, som förser många av New Yorks burgermeckan med kvalitetskött. Vårt val blev en enkel burgare med american cheese, bacon, pickles, senap och majonnäs, och redan vid första tuggan förstod vi att det här var en riktig höjdare. Det mediumstekta köttet hade en kraftig stekyta utan att vara genomstekt och var otroligt saftigt. Osten passade perfekt på burgaren och baconet var bland det bästa vi har ätit på länge. Riktigt bra pickles och en majonnäs med rätt vinägerkick var pricken över i:et. Brödet som var av potato roll-typ var fint påstekt och smakade lika smörigt som ett bra briochebröd.
Hard Times Sundaes serverar försvinnande goda burgare som är på gränsen till fenomenala, och vi ångrar mest att vi inte beställde dubbla eller trippla burgare. Fast nu har vi all anledning i världen att göra ett återbesök.
In English
Hard Times Sundaes in New York have two fixed locations and one award-winning food truck. During our last trip to The Big Apple we visited their DeKalb Market Hall location in Brooklyn. In addition to their signature burger, the menu lets you build your own hamburger and choose between 1-3 pattys and your preferred condiments, with prices between 6 and 11 dollars. Our single burger with American Cheese, pickles, bacon, mustard and mayonnaise was excellent. The meat had an amazing char without beeing overcooked and tasted great with loads of juices that thankfully remained in the squishy and buttery potato roll. The 100% quality chuck patties come from the renowned meat supplier Schweid & Sons, and the bacon was some of the best we've had for a long time. We also enjoyed the vinegary kick from the mayo and the creamy American Cheese. Hard Times Sundaes serve fantastic hamburgers on the verge of greatness, and our main regret was that we didn't order a double or a triple burger that time. But we'll be back, that's for sure.