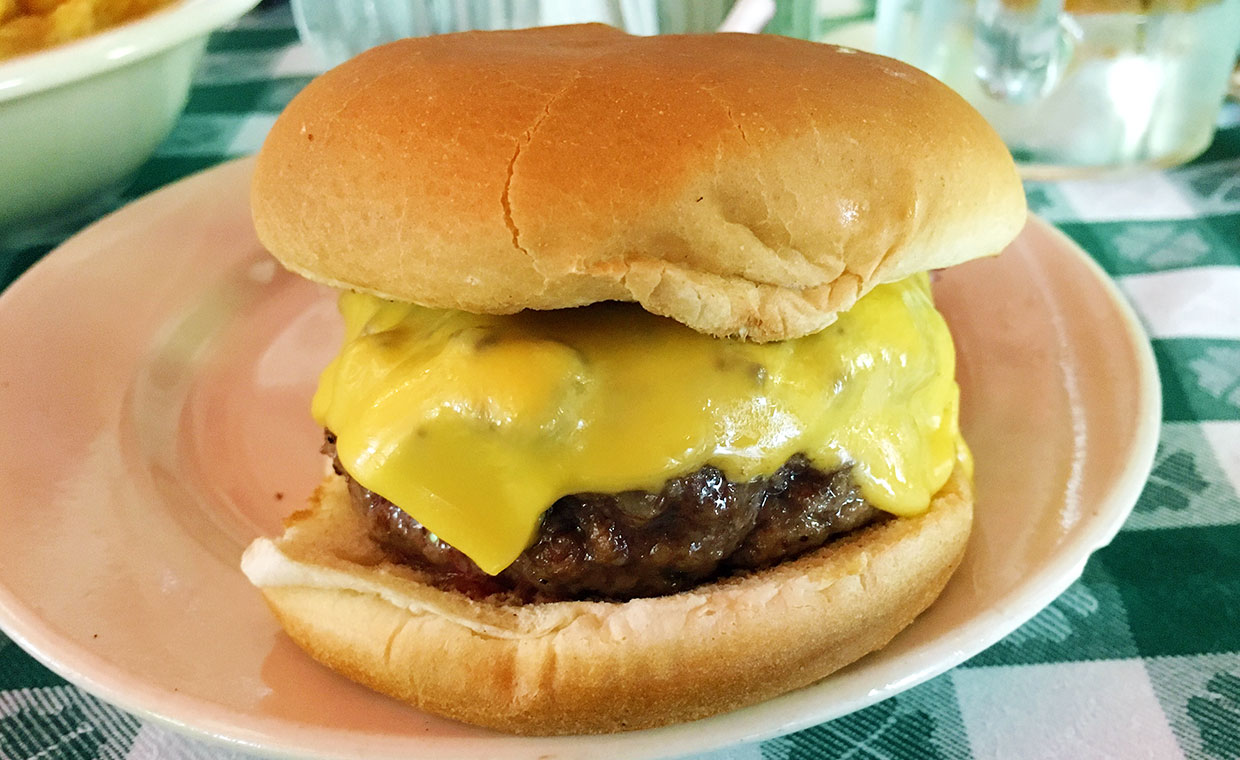 Ända sedan 1972 har J.G. Melons cheeseburgare varit en institution i New Yorks ständigt växande burgarscen. Deras hamburgare har utsetts som den bästa burgaren i New York av flertalet publikationer, och har en näst intill legendarisk status bland burgarentusiaster.
Vi besökte deras nyöppnade inkarnation av originalrestaurangen i Greenwich Village och möttes av deras klassiskt gröna bordsdukar samt melondekorationen de har blivit kända för. Vi beställde en klassisk cheeseburgare för tolv dollar, tillsammans med pommes frites för sex dollar extra.
Burgaren serverades dekonstruerad tillsammans med picklad gurka och rå rödlök vid sidan av. Brödet var ett fluffigt och sött potatisbröd som hade rostats lätt för hantera det saftiga köttet. Köttpucken i sig hade en fin stekyta, var löst packat och hade framförallt en riktigt fin köttsmak. Ovanpå köttet fanns en vackert smält ostskiva.
Texturen och smaken för denna enkla burgare var helt enkelt perfekt. Köttsmaken var dominerande, och både osten och det fluffiga brödet bidrog med en härligt mjuk känsla till hela måltiden. Det är enkelt att förstå varför J.G. Melons burgare är så omtyckt, då de inte försöker göra något nytt utan bara tillagar sin klassiska burgare så bra det bara går. Det är äkta burgarkärlek om något.
In English
Since 1972 the burgers from J.G. Melon has been an institution in the ever-growing burger scene in New York. Their burgers have been voted the best in New York multiple times from several publications, and it's easy to understand why. Their cheeseburger is close to perfection with a fluffy and slightly roasted potato bun, a juicy patty with a nice crust together with a melted slice on cheese on top. Sometimes less is more, especially when done right like they do. A true example of burger love, and definitely one of the best burgers in New York.