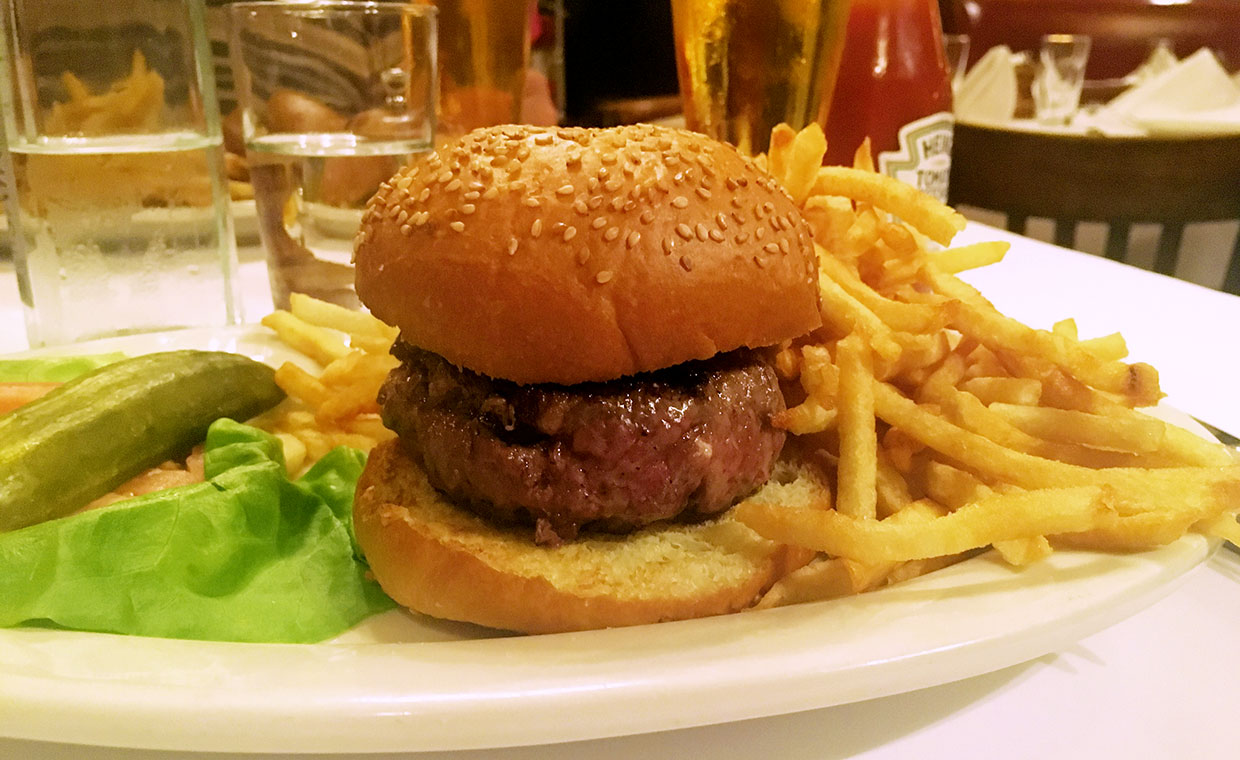 Den anrika och Michelinbelönade restaurangen Minetta Tavern öppnade sina dörrar redan 1937, och har sedan dess förgyllt Greenwich Village i New York med sin goda mat. Men det är deras gourmetburgare som har gjort dem till ett hushållsnamn över hela USA, och de har figurerat på topplistor över världens bästa burgare flertalet gånger.
Lokalen osar av historia och väggarna pryds av fotografier av kända personer som har ätit på restaurangen. Vi bläddrarde symboliskt genom deras meny, men vi visste redan vad vi vill ha – nämligen deras berömda "Black Label Burger" med hängmörat kött och karamelliserad lök.
Burgaren serverades med salladen, gurkan och tomaten på sidan, och var vacker i all sin enkelhet. Det hängmörade köttet, som kommer från den legendariska leverantören Pat LaFrieda och som steks med talg, var riktigt saftigt och hade en väldigt fet och god smak. Den söta löken fungerade som en perfekt smakbrytare mot den dominerande köttsmaken och det söta fluffiga briochebrödet.
Det enda negativa vi kan säga om upplevelsen var att prislappen på 33 dollar kan kännas lite väl kraftig, men samtidigt har talesättet "man får vad man betalar för" aldrig varit mer sant än här. Minetta Tavern serverar utan tvekan en av de bästa burgarna vi har ätit, och tillhör det absoluta toppskiktet.
In English
The Michelin-starred restaurant Minetta Tavern in Greenwich Village has been in business since 1937, and has a reputation of serving one of the very best burgers in New York. We tried their Black Label Burger, with a dry-aged beef patty that tasted exceptionally good, instantly justifying the hefty 33 dollar price tag. The caramelized onion and the fluffy brioche bun contributed with a nice sweetness to the otherwise dominating meat flavour. This is one of the best burgers we've eaten.