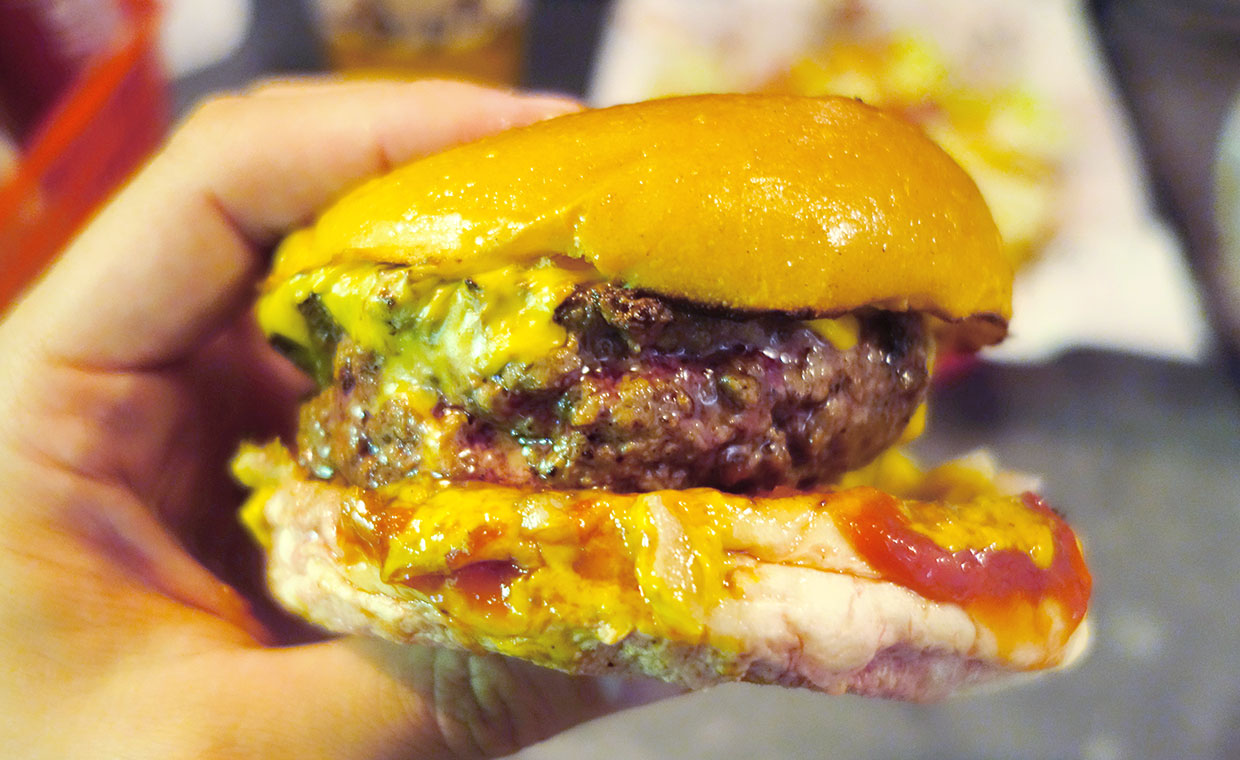 7Bone Burger Co. är en engelsk hamburgerkedja med tiotalet restauranger i den södra delen av landet. Inredningen känns starkt inspirerad av burgarkedjan MeatLiquors rockiga attityd och dåliga belysning, fast med lite mindre egen karaktär. Här serveras burgare gjorda på hängmörat kött, och du får själv välja om du vill ha en vanlig 170-gramsköttpuck eller två smashade 85-gramspuckar.
Vi beställde en Ronald's Revenge med en stor köttpuck, ost, hackad silverlök, pickles, senap och ketchup för 8,25 pund (100 kronor), tillsammans med lite tillbehör. Precis som namnet antydde så var detta en kopia på McDonald's klassiska cheeseburgare, men även här lös jämförelsen med MeatLiquor igenom, mycket på grund av att de hade ett liknande bröd – en mjukfrallig skapelse som höll ihop förvånansvärt bra. Och tur var väl det, då burgaren var ganska hafsigt hopbyggd.
Vi ångrade nästan omedelbart att vi inte valt två smashade köttpuckar, då den större varianten var alldeles för rund för att burgaren skulle hålla ihop ordentligt. Smakmässigt så tog senapen över tillsammans med deras tjockskurna pickles, som visserligen var goda och passade riktigt bra ihop med den finhackade löken. Det hängmörade köttet, som vi beställt medium enligt deras egen rekommendation, var fint och rosa, men varken saftigt eller särskilt smakrikt. Vår portion med Dirty Fries för 4,5 pund (55 kronor) innehöll sås, sallad och kallt bacon, och var mest en soggig röra. De veganska rökta "blomkålsvingarna" – lite varm blomkål med vinägrig hotsauce för 5 pund (60 kronor) – var verkligen supertråkiga och en riktig besvikelse.
7Bone Burger Co. lyckas precis nå en godkänd nivå, och vi gillade deras attityd och stämningen inne på restaurangen. Men det finns alldeles för många småproblem som håller dem tillbaka och hindrar dem från att nå upp till samma nivå som sina förebilder.
In English
7Bone Burger Co. is a British burger chain with about 10 restaurants in the south of England. The interior design is highly resemblant of MeatLiquor's punk-rock esthetics and bad lighting, but here it has been scaled back a bit. Their burgers contain dry-aged beef, and customers are given a choice of one 6 oz (170 gram) regular patty or two smashed 3 oz (85 gram) patties.
We ordered a Ronald's Revenge with a single patty, cheese, minced white onions, ketchup, mustard and pickles for 8.25 GBP (10 USD), and some sides. And just like the name implied, this was a copycat version of the classic McDonald's cheeseburger. But even here the similarities with MeatLiquor shone through, much thanks to the similar bun – a soft roll that held together surprisingly well. For this we were thankful, since the actual burger had been assembled pretty carelessly.
We quickly regretted not ordering two smashed patties, since the larger variety was oval shaped and made the meal difficult to eat. There large amounts of mustard and thickly sliced pickles took over a bit, but at least the pickles they tasted great with the minced onions. The dry-aged beef was medium cooked after their own recommendation, but was neither juicy nor very flavoursome despite being nice and pink in the middle. Our Dirty Fries for 4,5 GBP (5,5 USD) with dressing, lettuce and cold bacon were a soggy mess, and their vegan cauliflower "wings" were a real letdown – smoked cauliflower doused in a vinegary hot sauce for 5 GBP (6 USD) felt like a rip-off.
We appreciated the friendly service and the nice atmosphere over at 7Bone Burger Co., and they just manage to meet our expectations. But there were far too many small mistakes holding them back from reaching the same levels as their role models.