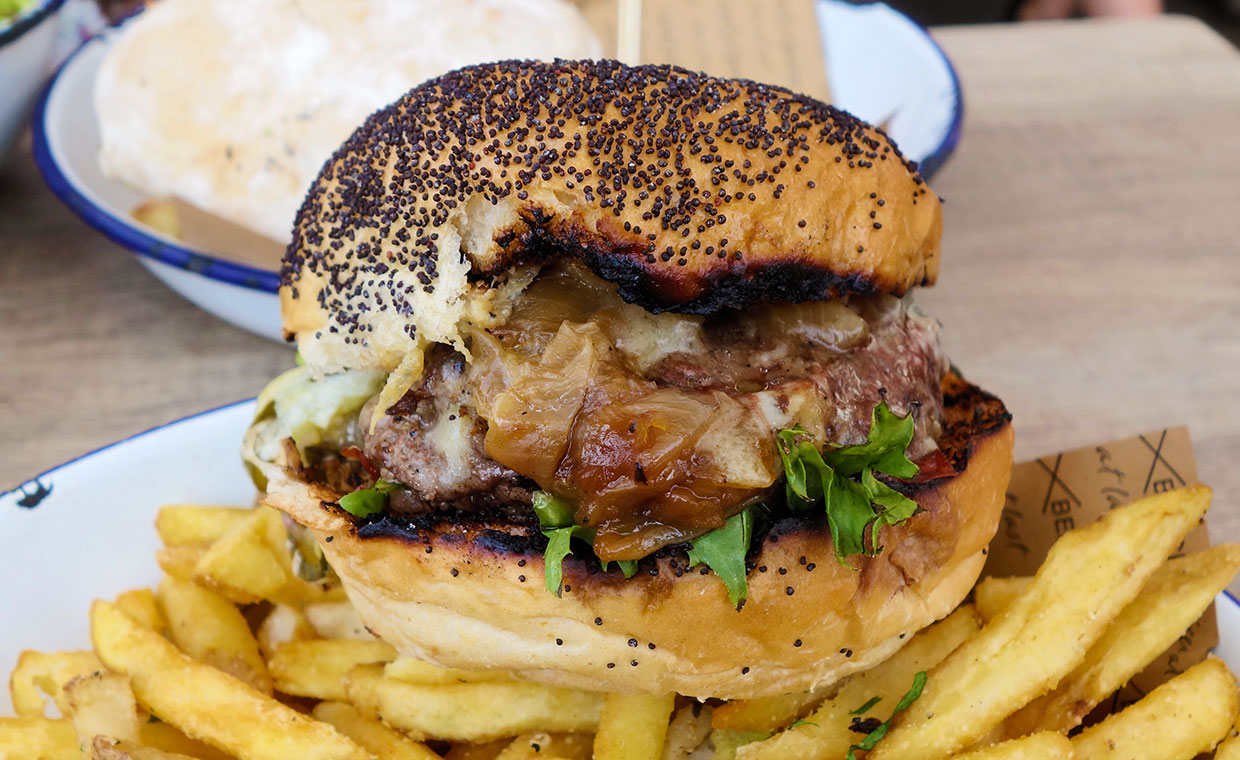 Lucky Beach Café i den engelska kuststaden Brighton ser inte ut att vara ett bra burgarhak vid första anblick. De har två restauranger – en i centrala Brighton och en nere på stranden – och den sistnämnda som vi besökte såg ut som en somrig turistfälla. Men de har gjort ett namn för sig på senare år så vi kände att de var värda att testas.
Vi beställde en Lucky Beach Burger för 9 pund (lite över 100 kronor), med ekologiskt kött, misostekt lök, ketchupläder, smält kombu-ost, pickles och umamismör i ett parmesan- och tryffelkryddat briochebröd. Det lät verkligen lovande, men burgaren som serverades bjöd på ännu fler frågetecken.
Köttet var i alla fall perfekt rosastekt och saftigt, med en härligt djup smak. Ketchuplädret – en fyrkantig skiva med torkad tomatsmet – var ett spännande tillskott som gav mycket smak utan att göra burgaren kladdig. Men tyvärr så var allt annat ganska rörigt, och alla ingredienser som löken och umamismöret smälte liksom ihop. Brödet var dessutom ganska stort och täckt med vallmofrön, vilket fick det att kännas lite som en fralla. Det var visserligen rostat på insidan, men då kökpersonalen hade kört en pinne genom hela burgaren så läckte alla köttsafterna ut genom hålet i mitten. Det resulterade i att brödet ändå blev onödigt blött på undersidan.
Deras veganska "B12-burgare" med blödande vegankött à la Impossible Burger och Beyond Meat var en riktig katastrof, med konstig smak och udda textur. Men trots alla ogenomtänkta missar så smakade i alla fall köttburgaren på Lucky Beach Café riktigt gott. Ambitionsnivån verkar finnas där, så med lite mer finess skulle detta kunna bli en riktig succé.
In English
Lucky Beach Café in Brighton has 2 locations, and we visited the one by the beach overlooking the English Channel. We ordered their Lucky Beach Burger for 9 pounds, with organic beef, miso onions, ketchup leather, kombu cheese fondue, pickles and umami butter in a parmesan truffle brioche. It sounded promising, but the actual burger was a bit of a mess. The patty was excellent though, with loads of flavour and cooked perfectly medium rare. The ketchup leather was nice, giving a lot of tomato flavour without making the burger soggy. But the onions and the butter made up for that, unfortunately, and the skewer that went through the entire burger made the bottom bun soggy with meat juices. What a shame. We also tried their "bleeding" vegan B12 Burger (à la Impossible Burger or Beyond Meat), but it was awful with a strange taste and an odd texture. At the end of the day, we did like how our meat burger tasted, we just wished it had been handled with a bit more care.