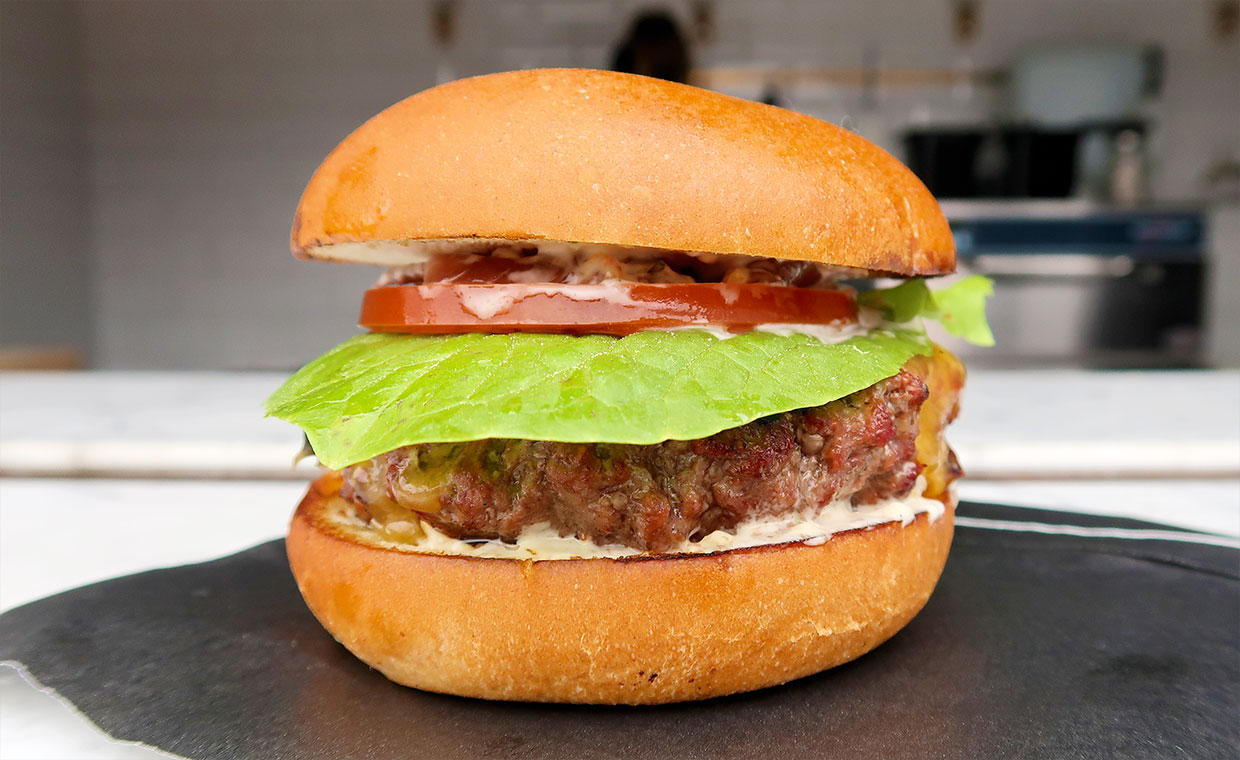 RUOK är en restaurang från Ruka uppe i finländska Lapland som i normala fall serverar mat till hungriga skidåkare. När vi besökte festivalen Burger Lovers Festival 2019 i Helsingfors hade vi möjligheten att testa en "Original Brgr" från deras gigantiska truck som kändes väldigt anpassad efter skidåkarna på berget. Hamburgaren var gjord på finskt nötkött och kom med cheddar, sallad, tomat, inlagd gurka, karamelliserad rödlök och majonnäs. Den kostade 7 euro för en halv burgare vilket ligger nära deras restaurangpris på 13 euro för en hel burgare.
Vår burgare serverades med ett ljust bröd som lyckades hålla ihop rätt bra, trots att den var delad mitt itu. Men visst, majonnäsen och den karamelliserade löken vann till slut med sin slirighet. Smakmässigt så var det köttet som vann, tack vare den rejäla köttpucken som grillats tills den hade en aningen krispig yta samtidigt som den fortfarande var rosa i mitten. Den var saftig med en rejäl köttsmak och en grillyta som gav hela burgaren en god och rökig smak. Rökigheten fick burgaren att sticka ut en del rent smakmässigt, men den fick även de andra ingredienserna att hamna lite i skymundan.
RUOK serverar kanske inte Finlands bästa burgare, men vi kan helt klart tänka oss ett besök hos dem efter en lång dag i backen i Ruka.
In English
RUOK is a restaurant from Ruka from the Finnish Lapland that usually serve burgers to hungry skiers. When we visited Burger Lovers Festival 2019 in Helsinki we got to try the "Original Brgr" from their enormous truck that would have felt more in place up in the mountains. The burger was made from Finnish beef, and came served with cheddar, lettuce, tomato, pickles, caramelized red onions and mayo. Half a burger cost 7 euros (8 USD), which was close to the 13 euros (approximately 14 euros) for a whole burger at their restaurant.
Our burger came in a bun that held together pretty well, despite being cut in half. Sure, the mayo and caramelised onions won the battle after a while, but it performed as well as it could. Flavourwise, the meat was really good, with a hefty patty that had been nicely grilled until it was slightly crispy while still being pink in the middle. It was juicy and tasted really beefy, but almost a bit too smokey since the smokeyness overpowered the other ingredients somewhat.
RUOK aren't the best burger joint in Finland, but we can definitely see ourselves visitin them after a long day skiing in Ruka.