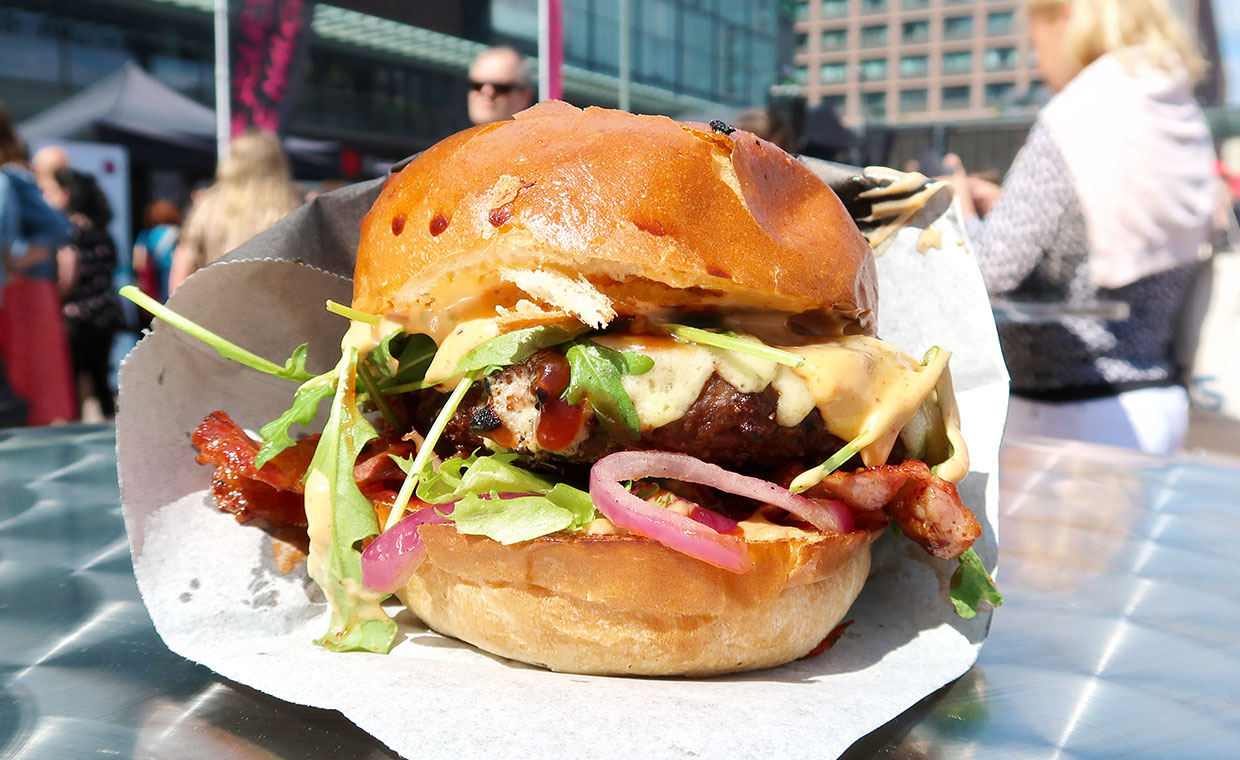 Restaurangen Deluxe Burger & Pizza ligger i Vanda, precis norr om Helsingfors. Där serverar de, som namnet antyder, både pizza och burgare, men av förståeliga skäl hade de endast burgare på menyn på Burger Lovers Festival 2019 i Helsingfors. Vi beställde en Mikko's Burger som kom med bacon, cheddar, grillad rödlök, barbecuesås, ketchup, senap, chilimajonnäs, sallad, tomat och ruccola för 7 euro (75 kronor) för en halv burgare. Vi betalade det dubbla för en hel burgare, vilket var en av de dyrare måltiderna på festivalen.
Första tuggan var aningen svår en då briochebrödet var stort och hade en hård skorpa. Detta bröd kapslade dessutom in en rätt massiv köttpuck, som dessvärre var gjord på gjord på finmalet kött. Köttet hade en lätt rökig smak från grillen, så smaken var åtminstone god. Men kombinationen av finmalet kött och att den hade grillats lite för länge gjorde tyvärr konsistensen rätt torr, kompakt och tuggig. Chilimajonnäsen tillförde ett bra sting och lite välbehövd krämighet, och baconet hade en utmärkt krispighet samt sälta och ytterligare rökighet.
Kombinationen av torrt kött och bröd och väldigt kladdiga såser fungerade inte särskilt bra, och ruccolasalladens skarpa pepprighet samspelade inte heller med de andra smakerna. Så namnet till trots så kändes inte burgaren på Deluxe Burger & Pizza särskilt deluxe alls.
In English
Located in Vantaa, just north of the Finnish capital of Helsinki, Deluxe Burger & Pizza unsurprisingly serve pizzas and burgers. We visited them at the Burger Lovers Festival 2019 in Helsinki, where they for obvious reasons only had burgers on the menu. Their Mikko's Burger included bacon, cheddar, grilled red onions, BBQ sauce, ketchup, mustard, chili mayo, lettuce, tomato and rocket salad for 7 EUR (7,5 USD) for half a burger. We paid the double for a whole burger, which was one of the priciest meals we had at the festival.
We struggled with our first bite, seeing as the large brioche bun had a hard crust on top. The bun also housed a pretty massive chunk of meat, made from finely ground beef. It had a slightly smoky taste from the grill, so it tasted pretty nice. But seeing as this finely ground meat had spent too much time on the grill it was pretty dry, compact and chewy. The chili mayo added some bite and much-needed creaminess at least, and we did enjoy the crispy bacon and its smoky saltiness.
The combination of dry beef and a hard bun with overly sticky sauces didn't really work for us, and the rocket salad's sharp peppery flavours stood out against the other ingredients. Unfortunately, the burger at Deluxe Burger & Pizza didn't live up to its 'deluxe' namesake at all.