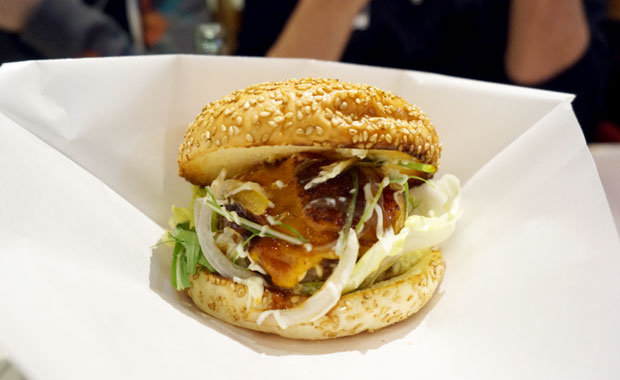 Uppdatering: Kobe Gavly har nu stängt för gott.
Kobe Gavly ligger i Kyoto, på centralstationens tionde våning omgiven av mer traditionella japanska matställen med långa ringlande köer. Stället i sig består enbart av en disk med tre stolar, men det finns ett delat utrymme med fler sittplatser i närheten så att alla besökare kan få plats.
Vi testade en Gavly Burger, vilket innebär en rätt enkel burgare med enbart blandade grönsaker och deras egengjorda sås på köttet. Det speciella med burgaren är att pucken är gjord av Kobe-biff, men sättet som de har behandlat köttet på förtar allt det speciella med wagyuköttet.
Det fetthaltiga köttet är väldigt finmalt och hårt packat till en stor och lite mosad köttbulle som sedan genomstekts totalt. Slutprodukten är en lite konstig smakupplevelse, och det hade kunnat vara otroligt mycket bättre än vad det faktiskt blev. Trots detta lyckas köttet ändå behålla en del smak trots sin hårdföra behandling, men den är mer blöt än saftig. Dessutom är pucken väldigt liten i förhållande till brödet.
Det här ska tydligen vara Kyotos bästa burgare, så om du inte kan åka till någon annan japansk stad rekommenderar vi att du skippar hamburgaren och äter lite sushi istället.
In English
Kobe Gavly is located high up in Kyoto station, surrounded by more traditional Japanese restaurants. Their specialty here is the Kobe beef patty, but the beef is sadly ground very finely and shaped into a compact ball that they then cook well done, resulting in a somewhat wet lump of meat that is too small for the bun itself. Thanks to the high quality of the wagyu meat it still manages to retain some taste, but the result could have been so much better. If you only visit Kyoto during your trip to Japan, and don't visit any other Japanese city, we'd recommend skipping the burger completely.