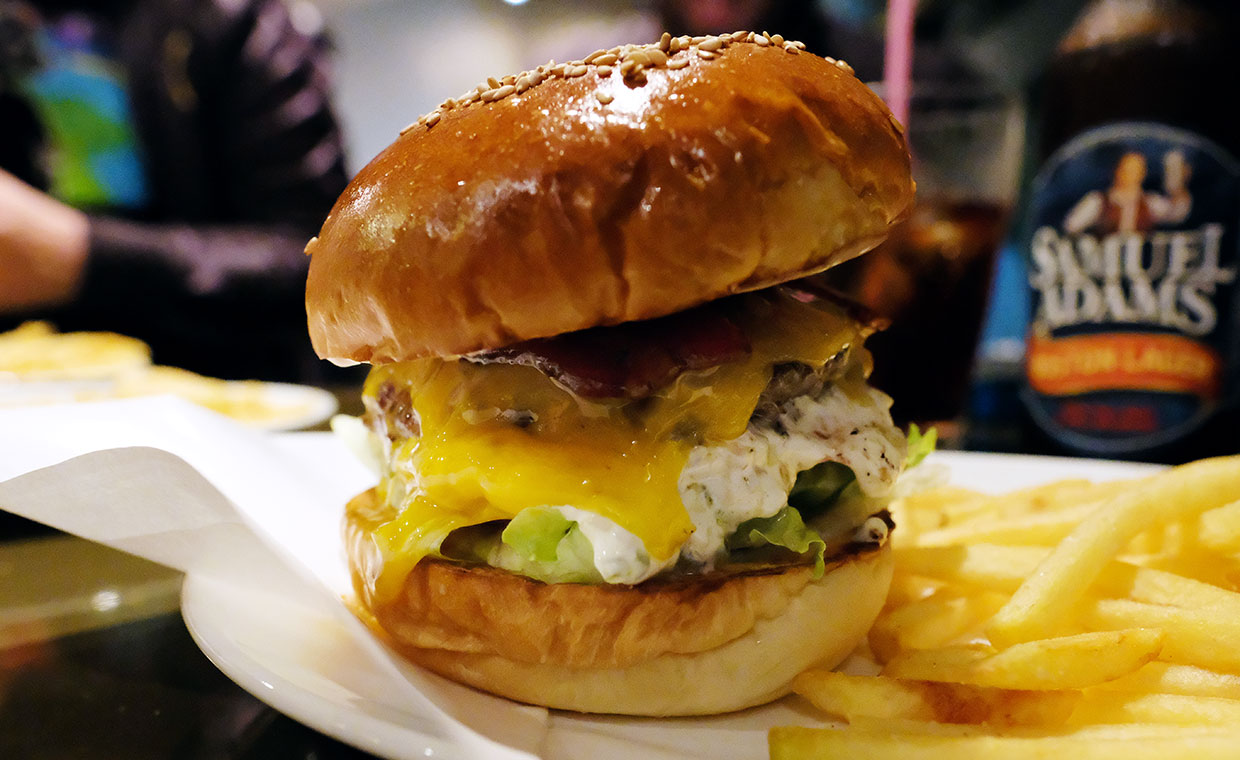 Authentic är ett litet hak som ligger gömd på en bakgata i närheten av Tokyo-distriktet Roppongi Hills, och du kan behöva din GPS för att hitta dit. Där finns cirka 20 platser med köket öppet in mot restaurangavdelningen – en rätt vanlig företeelse i Japan som vi verkligen gillar. Inredningen är enkel med burgarrelaterad kuriosa och verkar försöka ge känslan av klassisk amerikansk diner från tv – precis som många andra japanska burgarhak.
Även på menyn finns likheter; 13 alternativ som går från enkla burgare till de med avokado eller teriyakisås. En som sticker ut från mängden var en broccoli-cheeseburgare som verkade populär, men vi valde en klassiker vi har lättare att bedöma; en cheeseburgare med bacon. Prismässigt landade den på lite över hundra kronor med dagens växelkurs.
Precis som på andra bra ställen i Tokyo var brödet fantastiskt, fluffigt och gott med rätt seghet som stod emot såserna utan att falla sönder. Baconet var riktigt krispigt och gott utan att vara bränt, och samma sak gällde för osten och såserna. Tyvärr var köttet lika kompakt som det brukar vara i detta land, och aningen för hårt stekt. Det smakade visserligen gott och var definitivt inte så segt som vi först befarat, men med varsammare behandling hade upplevelsen kunnat bli fantastisk – i stället för "bara" väldigt bra.
In English
Authentic is a small burger joint on a backstreet fairly close to Roppongi Hills. It looks like quite a lot of other good burger places in Tokyo, with just a few seats, an exposed kitchen, burger-related knick knacks and a general vibe of an American tv-show diner. The menu is a fairly regular one for Japan, with the normal cheeseburgers with avocado or teriyaki sauce, but also a special one with broccoli. The bacon cheeseburger we ordered was really good with its crispy bacon and flavourful cheese and sauces that complemented each other well. The bread was fantastic, fluffy and tasty – the Japanese really know their burger buns! But as always, the patty was compact and grilled a bit too much. Authentic still serve a really tasty burger, but with a juicier patty it would have made it amazing.