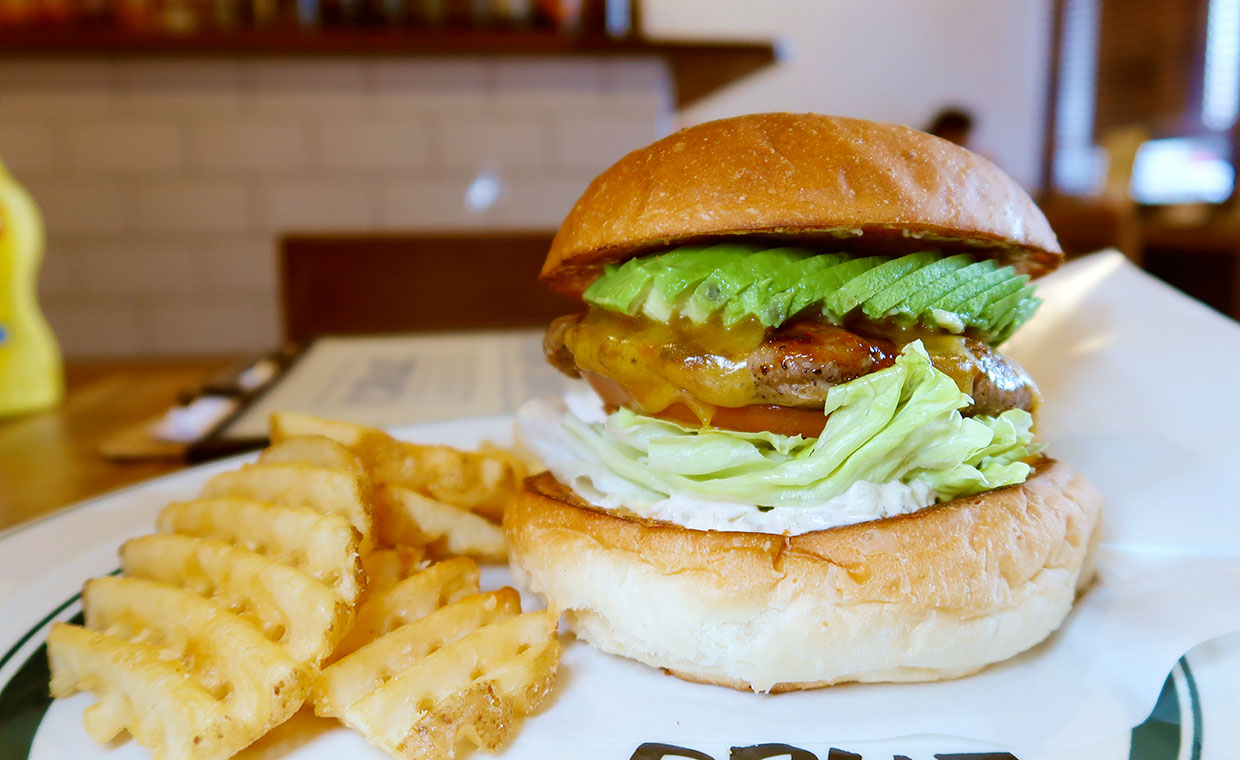 Cruz Burgers i Tokyo ligger på gångavstånd från stationen Yotsuya, i ett av Shinjukus lite lugnare områden. I en ljus och stilren lokal serveras burgare och ett brett ölsortiment. Restaurangen öppnades av en tidigare anställd på Fire House, ett av våra favoritställen i staden och som även har agerat skola åt flera av de bättre burgarställena som öppnat i Japans huvudstad på senare år.
Menyn innehåller ett tiotal olika burgare som kostar mellan 1100-1700 yen (90-140 kronor) inklusive våffelskurna pommes frites. Vi beställde in en Avocado & Cheese med avokado, cheddar, majonnäs, Thousand island-dressing, BBQ-sås, lök, relish, tomat och sallad för cirka 1500 yen (125 kronor).
Den höga burgaren hade en diskret pinne genom sig. Vi är inte fans av detta, men det är ändå ganska vanligt i Japan eftersom hamburgarna bokstavligt talat gärna når imponerande höjder. Bröden var hårt rostade på båda sidorna, vilket tyvärr innebar att locket var lite hårt på ovansidan. Köttet var kompakt i konsistensen och det kändes som att de hade pressat ihop burgarna ordentligt innan de stekte dem.
Trots nämnda irritationsmoment så var det som tur var riktigt gott. Kombinationen av både majonnäs och Thousand island-dressing passade riktigt bra med den krämiga avokadon. Barbecuesåsen märktes inte av särskilt mycket, utan lyfte på sin höjd köttsmaken en aning. Den våffelskurna pommes fritesen var helt okej, och ett trevligt alternativ till den klyftpotatis som annars är så populär på många ställen i Tokyo.
På det stora hela så serverar Cruz Burgers stabila burgare och god öl i en trevlig miljö, och är ändå värda ett besök om du befinner dig i Shinjuku med omnejd.
In English
Cruz Burgers in Tokyo is located a short walk from the Yotsuya train station, which is one of Shinjuku's calmer areas. The bright and modern restaurant serves burgers and a great selection of beers. The owner has previously worked at Fire House, which is one of or favourite burger joints in the Japanese capital and clearly a stepping stone for many of Tokyo's newer burger places.
Their menu contains about 10 burgers costing between 1100-1700 yen (10-15 USD) including waffle-cut fries. We ordered a Avocado & Cheese with avocado, cheddar, mayo, Thousand island dressing, BBQ sauce, onions, relish, tomatoe och lettuce for about 1500 yen (13 USD).
The tall burger was skewered with a small stick. We're not a fan of this practice, but it's quite a regular sight in Japan seeing as their burgers are prone to reaching for the sky, quite literally. Undortunately the buns had been heavily toasted on both sides, making the top lid hard and crusty. The patty was compact as well, and it felt as if they'd smashed the meat before placing it on the griddle.
But despite these irritating details the flavours were all there. The mayo and Thousand island dressing worked great with the creamy avocado. The BBQ sauce wasn't that discernable, but enhanced the meat flavours a bit. The waffle-cut fries were alright, and we at least enjoyed getting to eat something else than the regular potato wedges – something that's become a bit of a staple in Tokyo.
Cruz Burgers serve an alright burger and some excellent beers in a nice restaurant setting, and are worth a visit if you're hungry for a burger the next time you're in Shinjuku.