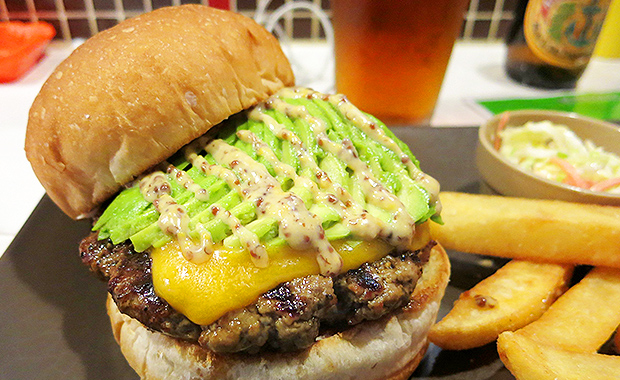 Fatz's har stängt sin verksamhet.
På en innergård fem minuters promenad från Koenjis tågstation en bit utanför Shinjuku i Tokyo ligger Fatz's, som är en liten restaurang med åtta sittplatser. Bakom disken står ägaren Jon Levin, född i Tokyo av amerikanska föräldrar och en passionerad burgarälskare. I sann amerikansk stil och med en bred östkustsdialekt förkunnar han att vi aldrig kommer hitta en bättre burgare i Japan.
Från menyn fick vi välja bröd, storlek på burgare och vad vi ville ha på den. Vi körde vanligt hamburgerbröd, en 120-gramsburgare, lök, ost, avokado och honungssenap.
Vi serverades en kärleksfullt tillagad burgare med mjukt, varmt bröd. Och vi fick äntligen köttet medium rare, något som hör till ovanligheten i Japan! Jon vet vad han gör. Fatz's Burger serverar kanske inte Japans allra bästa burgare, men den håller helt klart väldigt hög klass. Betyget blir en stark fyra och en varm rekommendation.
In English
Fatz's is a small burger joint with only 8 seats, located near the Koenji train station just outside Shinjuku in Tokyo. The owner, Jon Levin, was born in Tokyo by american parents and in true american manners he told us we would never get a better burger in Japan. Okay, so this was maybe not the best burger ever in Japan, but it was really good. And we finally got a medium rare patty. We highly recommend a visit when in Tokyo.